What is Apple One? Apple's All In One Subscription Bundle Explained
Apple One is a monthly subscription service that bundles all of your individual Apple subscriptions together, so you can save money and keep track of everything in one place. It's also a great way to split the cost of your subscription with your family without sacrificing your privacy or personalized recommendations for TV and music.
So, if you've been feeling like you're spending too much money on Apple products, this could be a great way to save some cash.
Here's everything you need to know about the all-in-one subscription bundle:
What is Apple One and what does it include?
Apple One is a subscription bundle that offers savings on Apple's services by bundling them into a single monthly payment. The service is available in individual, family and premier plans. The premier plan includes Apple News Plus and the recent Apple Fitness Plus service. The other two plans are available in more than 100 countries around the globe.
Apple Music, Apple TV Plus and Apple Arcade are all included in individual and family subscriptions, as well as 50 and 200GB of iCloud storage, respectively. Premier plans include all of those services plus News Plus, Fitness Plus and up to 2TB of iCloud storage.
Apple Music: The music streaming service includes access to more than 70 million songs, curated playlists and cloud access to purchased music from iTunes. It usually costs $10.99 a month for an individual plan, but you can get the family plan for $16.99 a month, which includes up to 6 family members.
iCloud: The cloud storage service includes 5GB of storage for free, but you can upgrade to different plans that offer more storage. The 50GB plan normally costs $1 a month, the 200GB plan costs $3 a month and the 2TB plan costs $10 a month.
Apple TV Plus: The TV and movie premium subscription streaming service is full of exclusive shows and movies. It's one of the cheapest video streaming options at just $6.99 a month and it includes up to 6 family members, 4K streaming and media downloads.
Apple News Plus: It is a premium news service that provides access to hundreds of articles from magazines and newspapers as well as curated lists of articles from the company's editors. Available in Australia, Canada, the U.K. and the U.S., it costs $9.99 per month.
Apple Fitness Plus: The fitness streaming service with guided workouts and fitness plans costs $9.99 a month or $79.99 a year. It makes working out more convenient and affordable than ever before by being able to stream workouts and fitness plans straight to your Apple device.
Apple Arcade: This mobile-first game subscription service includes more than 100 games that you can download and play offline on your iPhone, iPad, iPod Touch, Apple TV, or Mac. It costs $4.99 a month and allows up to 6 family members to use the service.
Benefits of subscribing to Apple One
You can choose from several different subscription plans that include different combinations of Apple services, so you can find the perfect plan for you and your family.
Apple One is a convenient way to keep track of all your Apple subscriptions in one place and it can save you money each month on your total bill.
Your recommendations for TV shows and music will not be affected if you choose to share your Apple One subscription with your family.
How much does it cost?
An individual subscription costs $16.95/month. Users get access to Apple Music, Apple TV Plus, Apple Arcade and iCloud (50GB) for one user.
A family subscription will cost $22.95/month. The plan includes Apple Music, Apple TV Plus, Arcade and iCloud (200GB) for up to 6 users.
And finally, the Premier subscription will cost $32.95/mo. Users get access to Music, TV Plus, Arcade, iCloud (2TB), News Plus and Fitness Plus for up to 6 users.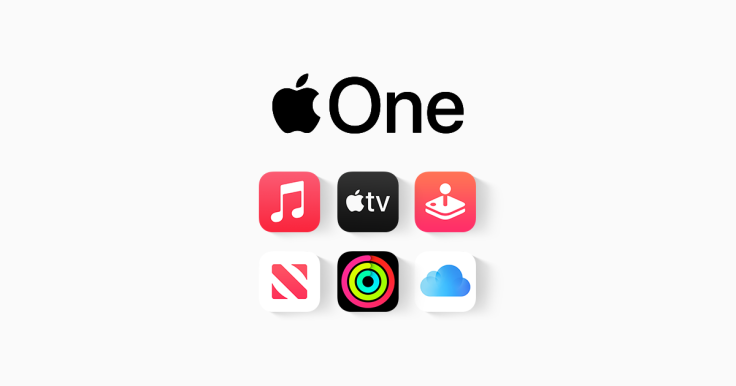 © Copyright IBTimes 2023. All rights reserved.