What Are The Most Popular Wine Grapes In The World?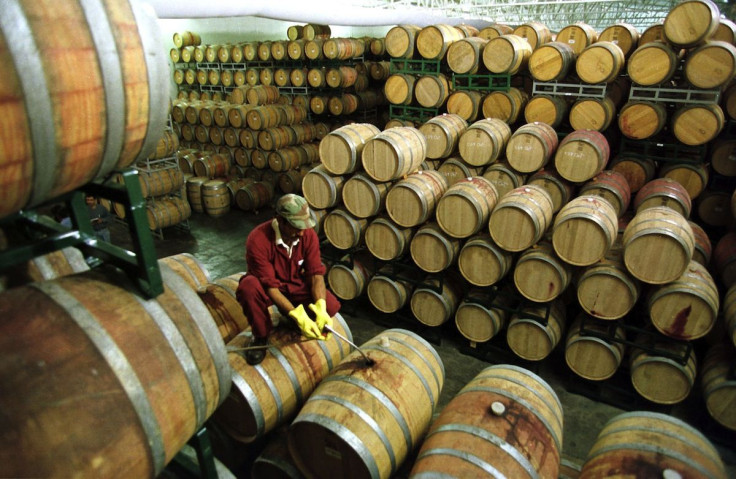 A team of researchers from the University of Adelaide in South Australia has compiled what it's calling the first-ever catalog of the world's wine grape regions and varieties, providing a comprehensive breakdown of the industry that covers approximately 99 percent of global wine production.
Funded by the Grape and Wine Research and Development Corporation, the new database covers a staggering 1,271 different grape varietals from 521 wine regions in 44 wine-producing countries. Kym Anderson of the University Of Adelaide School Of Economics said the catalog fulfilled a longstanding need within the wine industry.
"In the wake of wine's globalization, wine producers need to exploit their geographical and varietal distinctiveness in order to boost their competitiveness. This database, for the first time, offers transparency across the world's wine varieties and regions," Anderson explained.
The detailed database not only reveals which wine grapes are most prevalent throughout the globe, but also uncorks changing trends in consumer behavior. Twenty years ago, for instance, the most widely grown grape in the world was a white wine variety from Spain called Airen. Now it's Cabernet Sauvignon.
Indeed, red grapes now make up the majority of the wine grapes grown on the planet, led by Cabernet Sauvignon (6.3 percent of the market), Merlot (5.81 percent) and Tempranillo (5.05 percent).
"In 2000, white wine grapes were more widely grown; however, in the decade to 2010 red wine grapes increased their share of the global vine-bearing area from 49 percent to 55 percent," Anderson noted. "This is consistent with what we know about changes in wine consumption, with numerous countries moving away from white, and consumption rising in recent years in China where red wine is preferred."
What wine grapes will dominate the market in another 20 years remains to be seen, but Anderson said the new database should help wine growers adapt to a growing threat: climate change. "Wine producers are well aware of the impact climate change is having on their wine grapes," he explained. "They're continually on the lookout for attractive varieties that perform well in climates similar to what they expect theirs to become in the decades ahead."
The world's fastest-expanding wine grape varietals are Tempranillo, Syrah and Cabernet Sauvignon. By comparison, the once dominant Airen grape has shown dramatic declines in production over the past five years.
English-speaking New World nations like the United States, New Zealand and Australia lead the way in terms of increases in vine-bearing area, while Portugal, Georgia and Slovenia now have the largest share of total agricultural crop area dedicated to wine grapes.
France, Italy and Spain still hold on to about 50 percent of the market, but dramatic losses in wine producing area in Spain and staggering gains in developing regions mean that figure will likely decrease considerably over the next decade.
Top Wine Grape Varietals Worldwide (Including Origin and Market Share)
No. 1 Cabernet Sauvignon (France; 6.3 percent of the market)
No. 2 Merlot (France; 5.81 percent of the market)
No. 3 Airen (Spain; 5.48 percent of the market)
No. 4 Tempranillo (Spain; 5.05 percent of the market)
No. 5 Chardonnay (France; 4.32 percent of the market)
No. 6 Syrah (France; 4.03 percent of the market)
No. 7 Garnacha Tinta (Spain; 4.01 percent of the market)
No. 8 Sauvignon Blanc (France; 2.39 percent of the market)
No. 9 Trebbiano Toscano (Italy; 2.39 percent of the market)
No. 10 Pinot Noir (France; 1.88 percent of the market)
Top Wine Producing Countries By Share Of Global Production Volume
No. 1 France (21.19 percent)
No. 2 Italy (16.31 percent)
No. 3 Spain (12.16 percent)
No. 4 United States (8.76 percent)
No. 5 China (5.68 percent)
No. 6 Argentina (5.03 percent)
No. 6 Australia (4.03 percent)
No. 7 Chile (3.40 percent)
No. 8 South Africa (3.40 percent)
No. 9 Germany (2.86 percent)
No. 10 Russia (2.24 percent)
*** All figures are from 2010. For more, visit: http://www.adelaide.edu.au/wine-econ/databases/winegrapes/
FOR FREE to continue reading
✔️ Unlock the full content of International Business Times UK for free
offer available for a limited time only
✔️ Easily manage your Newsletters subscriptions and save your favourite articles
✔️ No payment method required
Already have an account? Log in
© Copyright IBTimes 2023. All rights reserved.