What Is Beer Yoga? Drinking Yoga While Drinking Beer Is Not The First Weird Trend For Yogis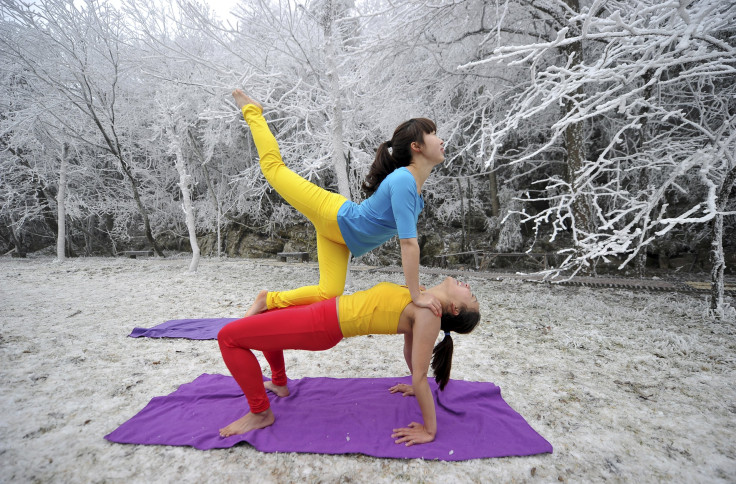 "Beer Yoga" is quickly becoming a hot new trend since capturing international attention after a Mashable story about the practice went viral this week. It's no wonder that for stressed-out souls the combination of beer and yoga seems like a perfect recipe for self-care.
However, beer yoga really isn't new and isn't only practiced in Germany and Australia. The New York Times published a story about a brewery offering yoga classes in 2015. Beer yoga classes are offered across the U.S., from Salem, Oregon to Springfield, Missouri.
Plus, beer yoga isn't the only unconventional way to bend into "downward dog" or twist into "revolved triangle." Yogis attempting to switch up the daily routine have other interesting ways to practice yoga.
Weed yoga That's right, it's yoga infused with cannabis. In Toronto and San Francisco, residents can participate in ganja yoga classes, which revolve around the philosophy that lighting up helps free the mind.
Doga Practicing yoga with a dog can be a way to break a mundane routine. There are plenty of dog yoga classes in New York, while it's also easy to pose with a dog during home yoga practice.
Goat yoga If doga is too mainstream, there's a farm in Albany, Oregon, where for those who love goats and yoga can, well, practice goat yoga. The Oregonian reported that No Regrets Farm (yes, that's the farm's name) had a 900-person waiting list for its goat yoga classes.
Snowga Yoga in very cold weather is another possibility. In Montana, Vermont and New York, someone can fasten snowshoes and bust out yoga moves outside in the frigid winter months.
Voga No, this isn't a yoga class offered by Vogue. It's a fusion of "yoga and voguing, fitness and fashion, set to an 80s House beat and designed to empower," according to House of Yoga, which hosts the classes. Visiting London, Paris, Edinburgh, Mallorca, or Ibiza, offers a fun way to exercise on vacation. It's also not particularly expensive at just £10 in London.
Laughter yoga It's a yoga practice anyone can try. The instructor dictates, "HO HO HO, HA HA HA," which is quickly followed by giggling and stretching. A free guide can be downloaded from the website of Dr. Madan Kataria, laughter yoga pioneer.
© Copyright IBTimes 2023. All rights reserved.