What Is BitTorrent Sync? uTorrent Creator Makes More Competition For Dropbox Data Storage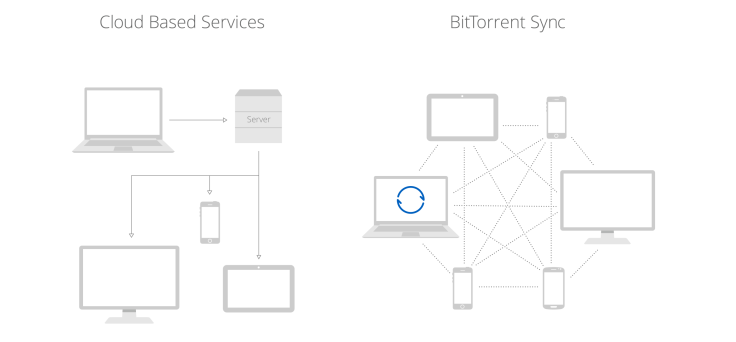 More than 10 million customers have signed up with BitTorrent Sync, a new peer-to-peer service that's distinguished itself as a kind of serverless Dropbox for users concerned about the privacy implications around free data storage.
BitTorrent Inc., creator of the hugely popular uTorrent service, first offered BitTorrent Sync in alpha state last summer but launched a major update this week (known as version 1.4) that makes the app possible for everyday consumers to use. It basically works like a normal cloud service, only instead of entering user data on company servers as traditional storage companies do, BitTorrent relies on the peer-to-peer protocol that's made its previous software so popular.
The technology, currently available for free, isn't as dense as it sounds. If a user has a mobile phone and a computer on the same network, for instance, each device will receive updates from the other over that network. It also utilizes the fastest connection possible, whether that means retrieving the necessary data directly from the source, another device, or both options.
"Skipping the cloud offers inherent advantages in terms of speed, scalability and privacy," Christian Averill, director of communications for BitTorrent, told International Business Times. "As there is no check-in to a cloud, sync speeds are faster. As there is no costly server infrastructure, there are no limits on file size or number of files."
The company is trying to tempt privacy-conscious customers by encrypting all of the files that are distributed through the system. It's also possible to set an expiration date for links after a predetermined amount of time, or after the link has been clicked a number of times. File senders can make it so they have to approve a file's transmission, or use an archiving option in which they can collect previous versions of files.
"User metadata is never exposed to a third-party server, and data is not warehoused in the cloud as with cloud-based services, making it vulnerable to hackers and overreaching government snoops," Averill added.
While it remains to be seen if BitTorrent Sync will thrive as some of the more mainstream cloud services have, it does present yet another threat to Dropbox. The popular startup was expected to fetch hundreds of millions of dollars at an IPO before a slew of big name companies like Google (NASDAQ GOOGL) and Amazon (NASDAQ: AMZN), among others, began undercutting its service. While BitTorrent is expected to introduce paid and premium services to Sync, its free offer just became another headache for Dropbox.
Version 1.4 also includes a clean, streamlined interface and is available on Windows, Mac OS X and Linux.
© Copyright IBTimes 2022. All rights reserved.
FOLLOW MORE IBT NEWS ON THE BELOW CHANNELS