What Is Happening In Aleppo? Russia, Iran, Turkey To Meet In Moscow To Discuss Syrian City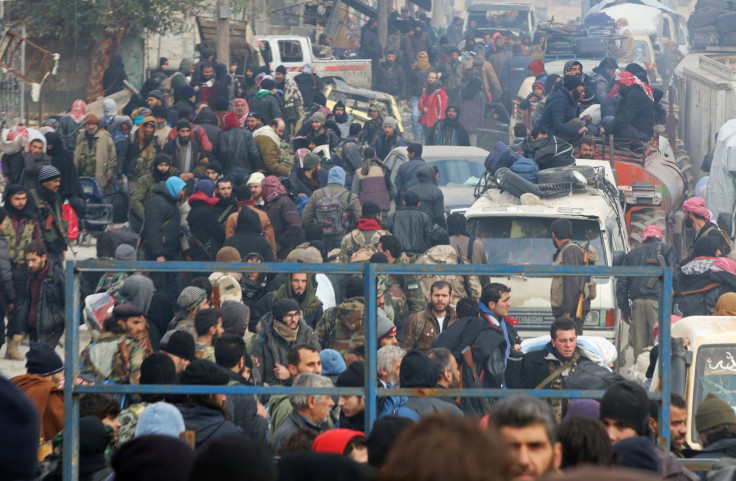 Senior diplomats from Russia, Iran and Turkey will meet in Moscow on Tuesday to discuss the situation in the Syrian city of Aleppo, the Turkish foreign ministry said.
Evacuations from the city resumed Sunday after several interruptions last week over alleged ceasefire violations from both sides. U.K.-based monitoring group, the Syrian Observatory for Human Rights, reportedly said the evacuation proceedings for Monday would involve 50 buses carrying at least 3,000 people away from Aleppo.
"[The meeting] will be to understand the views of all three sides, laying out where we all stand and discuss where we go from here," an official from the ministry told reporters in Istanbul on Monday. "It is not a miracle meeting but will give all sides a chance to listen to each other."
Meanwhile, the United Nations Security Council is expected to pass a resolution Monday that will deploy observers to the city. "We expect to vote unanimously for this text tomorrow at 9 a.m.," Samantha Power, U.S. ambassador to the United Nations, said Sunday.
Russian President Vladimir Putin had suggested holding a national Syria peace talk while on a call with his Turkish counterpart Recep Tayyip Erdoğan on Friday.
"Syrian forces have achieved success in allowing the Syrian people to lead their ordinary lives and return to their homes, next step is an agreement about stopping all the fighting, all the shooting," Putin told reporters in Japan during an official visit.
Aleppo, once Syria's industrial and financial center, became an important battleground in 2012 when rebel forces launched an attack on the government. The result divided Syria's largest city in two, with the eastern portion of the city under rebel control and the west under President Bashar Assad's regime.
In 2016, pro-government forces backed by Russian airstrikes launched an offensive to retake the entire city. Besieged eastern Aleppo was continuously bombarded with airstrikes that destroyed most of its hospitals and prevented the delivery of humanitarian aid while its civilians were trapped with dwindling food, water and medical supplies.
The Assad government succeeded in regaining control of the city last week with the Syrian president describing the recapture as a milestone in the conflict.
Evacuations of civilians and rebels from the war-torn city, under a deal brokered by Turkey and Russia, were suspended several times over the last week and are currently back on with at least 1,000 civilians in 25 buses evacuated Sunday night to the western Aleppo countryside.
© Copyright IBTimes 2023. All rights reserved.
FOLLOW MORE IBT NEWS ON THE BELOW CHANNELS