What Is Mannatech? Ben Carson Connected To Controversial Supplement Company At GOP Debate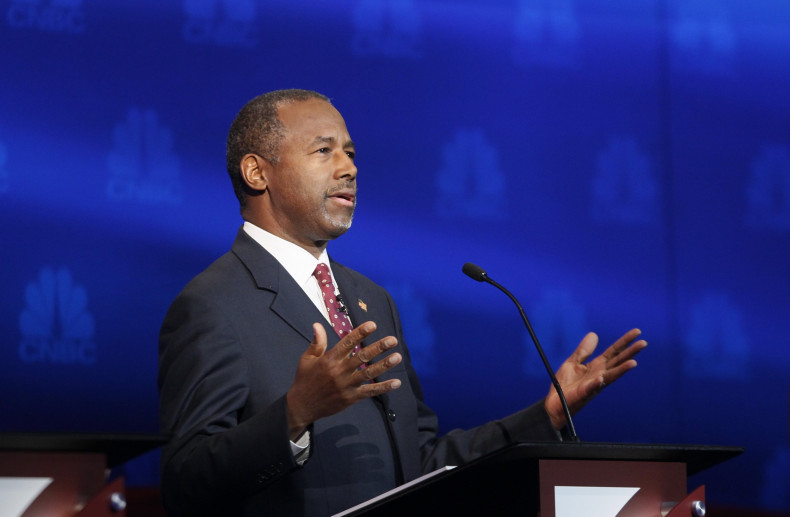 In the third Republican primary debate Wednesday, leading candidate Ben Carson downplayed his connections to Mannatech, a controversial health supplement company based in Texas. The company sells "glyconutritional supplements" that its website says "give your body what it needs to help it grow and stay strong."
But the company has a checkered past, as referenced by CNBC moderator Carl Quintanilla in Wednesday's debate, held in Boulder, Colorado. "There's a company called Mannatech, a maker of nutritional supplements, with which you had a 10-year relationship," Quintanilla asked the former neurosurgeon, via The Atlantic. "They offered claims that they could cure autism and cancer. They paid $7 million to settle a deceptive-marketing lawsuit in Texas and yet your involvement continued. Why?"
Carson quickly denied any involvement with the company, blasting the question. "Well, it's easy to answer," Carson said. "I didn't have an involvement with them. That is total propaganda and this is what happens in our society. Total propaganda."
But he then walked back the severe tone of his answer, admitting some form of a tie to the company. "I did a couple of speeches for them. I did speeches for other people; they were paid speeches," he said, via The Atlantic. But Carson later added that it was "absurd" to say he had relationship with the company while also saying he took the supplements and calling them "a good product."
Quintanilla was referencing a 2009 lawsuit settled by Mannatech that alleged the company had allowed for "deceptive" and "illegal" testimonials at sales meetings and sales materials that suggested the company's products could treat or cure serious medical issues like Down Syndrome, cystic fibrosis, autism and cancer, the Wall Street Journal reported. The suit, filed by the Texas attorney general in 2007, also alleged the company sold a disc entitled "Back from the Brink" that "provided example after example of how 'glyconutrients' (i.e., Mannatech's products) cured, treated or mitigated diseases including but not limited to toxic shock syndrome, heart failure, asthma, arthritis, Lou Gehrig's disease, attention deficit disorder and lung inflammation," via the National Review. The civil complaint noted that the U.S. Food and Drug Administration had notified Mannatech on multiple occasions that its materials had made illegal drug claims, according to the Journal. The company agreed and avoided false marketing claims, and the co-founder agreed to not serve as an officer or director for five years.
In 2005, the company settled another suit for $750,000 after a mother alleged the company used pictures of her son sent in confidence to show the company's products worked, even though the boy later died, the Daily Beast reported. Mannatech has said that it has new leadership now and enforces its rules for proper compliance, according to the Wall Street Journal.
Carson had previously appeared in Mannatech videos, including two from 2013, until this month. In one video that was still on YouTube as of Thursday, Carson praised the company for "trying to find a way to restore the natural diet as a medicine, or as a mechanism for maintaining health" and referenced its use of glyconutrients.
Carson himself said he was prescribed the supplements when previously dealing with prostate cancer. The retired surgeon, now cancer-free, said at a Mannatech event that "within about three weeks my symptoms went away, and I was really quite amazed," according to a YouTube video of the event. In the same video he also said he toyed with not having surgery during his cancer treatment because he had begun to feel his symptoms ease, but he also said he did not advocate for abandoning traditional medicine, instead saying supplements can be complementary.
© Copyright IBTimes 2022. All rights reserved.