What Is Pastebin? How A Quiet Site For Coders Got Thrust Into The Limelight By Hackers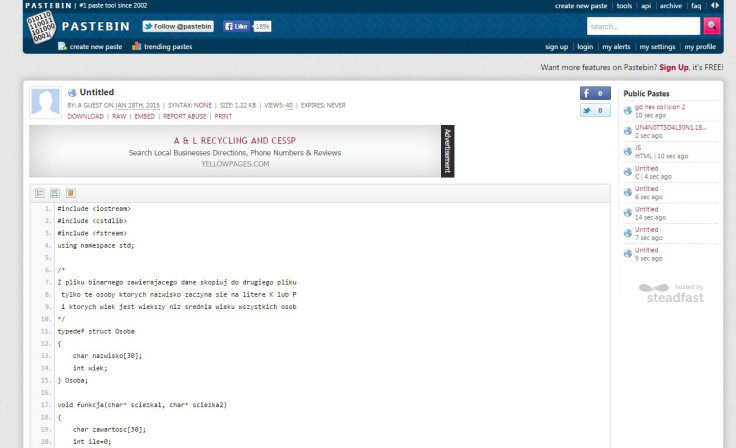 Imagine logging onto your computer at work in the morning and being greeted by furious emails from the most powerful executives at Sony Pictures Entertainment or better yet the hackers who leaked information about police officers at the height of the controversy in Ferguson, Missouri.
Those things actually happened to the small staff at Pastebin.com, an online text repository that's become the first place hackers look to when they're trying to publish the latest round of stolen information. And it's all happened entirely by accident.
Founded in 2002, the site has about 1.7 million registered users, mostly programmers who use it to store pieces of source code or dense configuration information. The entire idea, owner Jeroen Vader says, is to simply make it easier for people to share large text documents online. The only problem is that's exactly what hackers like Anonymous, which has favored Pastebin for years, are looking for when they're in the market for an online holding pen to publish personal information belonging to, say, members of the Ku Klux Klan.
It gets even worse when that group is the Guardians of Peace, the hacking collective that claimed responsibility for essentially shutting down Sony Pictures. The FBI believes the group is sponsored by the North Korean government. All of which put the small website at the center of the biggest news story in the world for weeks.
Vader, a Dutch Internet entrepreneur who bought and updated the site in 2010, said documents that violate the company's acceptable-use policy, like one posted last year that gave any user access to Sony CEO Michael Lynton's entire email inbox, are removed as quickly as possible. At other times, foreign governments have compelled Internet Service Providers to block the site in times of national crisis.
India, for instance, had the site blocked briefly at the end of December, claiming Pastebin was hosting "anti-India" content posted by members of the terror group ISIS. Pastebin was back online after about two weeks without ever being given a more specific explanation about the offending content.
"Reasons for blocks can vary," Vader said. "Blocks get put in place because a government is scared sensitive data will be leaked in the near future, and we've been blocked when no reason at all is given," he said, adding that Pastebin was blocked by the Turkish government last week. "So far we have not been able to get in touch with anyone regarding that matter."
The site attracts about 18 million unique visitors and more 60 million page views per month and while the government-imposed blockades result in temporary drops in traffic, they also help raise Pastebin's profile in the media. Vader doesn't seek out the attention, working instead to promptly respond to takedown requests from governments and corporate interests.
It's possible, though, that hackers have flocked to the site not only because it's equipped to handle large plain text documents, but also because it harkens back to the days before the Internet was centralized. While Vader said site updates are in the works for 2015, the current incarnation of Pastebin shares more in common with the Internet Relay Chats of yesteryear than with popular Web sites of today.
Anonymous still communicates in IRCs, and many of the experienced programmers who rely on Pastebin grew up with a version of the Internet that didn't have the streamlined social networks young people have come to rely on. Pastebin is one of the few remaining sites that continue to use the appeal of the past as an advantage.
"There's much more centralized control than there was years ago. Now that everybody's on sites like Facebook and Tumblr it's much easier to lean on a company to make restrictive policies," Bennett Haselton, founder of the anti-censorship software company Peacefire, said. He noted that the change is just different, not necessarily bad. "I think for a lot of people today the default Web is a lot less anarchic than it used to be."
A previous version of this story stated that Pastebin attracts 18 million page views per month. The site attracts over 60 million page views per month, and 18 million unique visitors. This change is reflected in the story.
© Copyright IBTimes 2023. All rights reserved.