When Is Shark Week 2015? Discovery Channel Programming List Released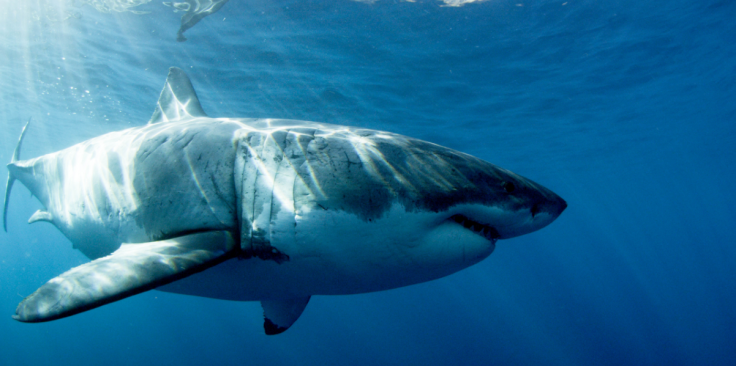 Must be the season of the fish. This July, shark-lovers will circle around their television sets, ready to sink their teeth into another delicious installment of Discovery Channel's Shark Week. And this year, the beloved week-long special will be going gills out as the network celebrates the series' 28th anniversary.
Discovery Channel revealed that the 2015 season of Shark Week will be swimming to a TV set near you a bit early as the show celebrates another shark-tastic show during the Fourth of July weekend. That's means viewers should anticipate to see red, white and blood when the toothy-installments being premiering on Sunday, July 5.
"In addition to kicking off Shark Week earlier than ever before, for the first time, Discovery is introducing a special weekend of all-new Shark Week programming at the end of the summer in August, officially making 2015 the 'Summer of the Shark' with a total of 19 hours of Prime Time Shark Week programming," Discovery Channel announced in a press release.
Curious what types of programs will surface during the 2015 installment of Shark Week? Check out all the upcoming episodes from this year's installment below:
"Tiburones: The Sharks of Cuba" – This program will feature the "first-ever Shark Week expedition to Cuba" as an American and a Cuban scientist attempt to uncover whether or not large sharks still swarm the unexplored sea.
"Filmmaker Ian Shive and a team of shark researchers headed to Havana earlier this year in an attempt to unravel the mystery surrounding El Monstruo while simultaneously conducting a massive expedition to the north and south coasts of Cuba, including areas previously unexplored," the episode synopsis explains. "Shive and his team for the first time ever satellite tag sharks in Cuba including a rare species of shark."
"Shark Planet" – This program will capture "all-new footage" of sharks' behavior, from how they hunt, to their development and even their socialization.
"Alien Sharks: Close Encounter" – This fan favorite series will be celebrating its third installment during the 2015 Shark Week. This year, shark researchers/scientists "head back into the deepest and darkest unexplored oceans" as they attempt to get close to some of the most "incredible and unusual sharks on the planet, rarely seen on film."
"Shark Trek" – This installment features Dr. Greg Skomal, Massachusetts' senior marine fisheries marine biologist, as he tags Great Whites off the coast of Cape Cod. Dr. Skomal will attempt to figure out the swimming patterns of the sharks once they leave the coast of Massachusetts.
"Monster Mako" – Scientists will outfit a Mako shark with a camera, hoping to unveil the mysteries of the fastest species of shark.
"Island of the Mega Shark" – Shark experts Jeff Kurr, Andy Casagrande and Dickie Chivell will travel to the volcanic Pacific island of Guadalupe, which is home to "some of the largest Great White sharks on earth."
"Return of the Great White Serial Killer" – Shark expert Ralph Collier and Brandon McMillian will try to uncover the reasons behind the shark attacks in Surf Beach, California, which took place in the same month both in 2010 and 2012. "Is the same shark responsible for the previous attacks, will there be more attacks, and why?" the summary for the episode questions.
"Sharks of the Shadowland" – New Zealand divers will tag a Sevengill shark for the very first time in this Shark Week program. "The Sevengill shark remains somewhat of a mystery and a team of shark experts are on a mission to find out how they hunt and more importantly how to better understand their behaviors and prevent shark attacks," the synopsis teases.
"Shark Island" – This program will explore the recent bull shark attacks as experts try to determine what is causing them and how to prevent them.
"Bride of Jaws" – Shark week will search for the "largest female Great White" that's ever been tagged.
"Super Predator" – This program will take a look at a "super predator," located in a sea trench in Australia, that is large enough to take on a Great White shark.
"Ninja Sharks" – This episode of Shark Week will follow the story of six sharks all with "unique adaptations," due to millions of years of evolution, making them the "most lethal hunters in the sea."
"Shark Clans" – Rodney Fox and his team will swim with the sharks as they tag Great Whites off the coast of Australia.
"Sharksanity 2" – Have a weak stomach? Then this episode isn't for you. "Sharksanity 2" will take a look at the most gruesome shark bites, strikes and close calls from all of Shark Week.
"Shark After Dark" – Everyone's favorite after-Shark Week program will return for its third consecutive year with a new host, award-winning director Eli Roth. For five nights, Roth will talk all things fishy with celebrity guests, fans and experts.
The press release for the 2015 season of Shark Week added that the fan favorite installment "Air Jaws" would also be included in this year's programming lineup.
Shark Week will air its 2015 premiere on Sunday, July 5, at 8 p.m. EDT on Discovery Channel.
© Copyright IBTimes 2023. All rights reserved.