Shark Week 2014: VP Of Developing Michael Sorensen Discusses Megalodon Controversy; What Viewers Can Expect From Discovery Return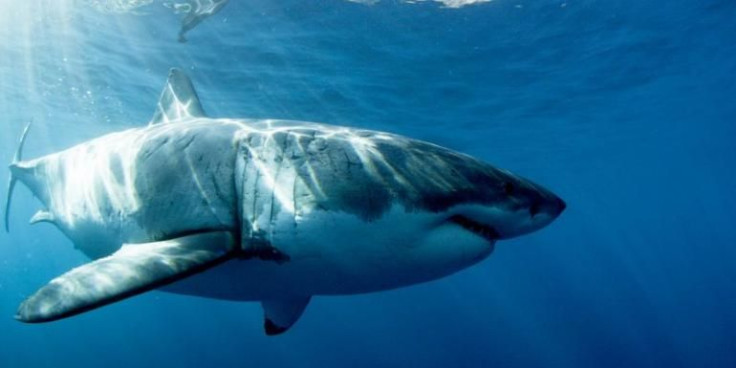 Shark Week has officially returned for yet another blood-soaked season of the hit Discovery Channel's week-long summer series. And while the 2014 season premiere of the beloved fishy show nearly blew us out of the water with "Air Jaws: Fin of Fury" and "Shark of Darkness: Wrath of Submarine," there's one feature in particular from the 27th annual series that we can't wait to sink our teeth into.
That's right, we're talking about the upcoming sequel to "Megalodon: The Monster Shark Lives," which is set to air on Friday, Aug. 15. The original 2013 series, dubbed a docufiction, became Shark Week's highest rated program to date after the episode told the explosive legend of the massive, prehistoric shark named Megalodon that could allegedly bite a whale in half.
Although the gripping-program became – well, the Megalodon of Shark Week episodes, it was also viewed as one of the most controversial features by scientists and ordinary viewers alike. The argument was that the docufiction lacked credible evidence, becoming more fiction than factual.
Sonja Fordham, President and Founder of Shark Advocates International, was one "Megalodon" critic who wasn't hesitant to share her thoughts regarding the Shark Week feature to the International Business Times during an exclusive interview.
"It was particularly disappointing and a step back," she said, only to be surprised when IBT revealed Shark Week was bringing Megalodon back during the 2014 season in a two-part sequel: "Megalodon: The Extended Cut" and "Megalodon: The New Evidence."
"No, really? It's a whole new show?" she questioned IBT, sounding a bit perplexed. "It's a big frustration to see this 'Megalodon' coming back when it really wouldn't be a gamble for them to get out ahead and increase positive programming, real programming and maybe spotlight other species."
So, with that said, why is Discovery Channel bringing back the scandalous Shark Week program during the show's 27th season? IBT reached out to Michael Sorensen, Discovery Channel's Vice President of Development and Production, to get an inside scoop behind the bold decision and other "Megalodon"-related inquiries:
International Business Times: What made Discovery Channel want to run a docufiction-type program like "Megalodon" during Shark Week's 2013 season?
Michael Sorensen: We've been doing this for 27 years now. We've made almost 200 shark programs and I think that coming into last year we wanted to do something a little bit different. We wanted to take the audience on different journey, tell a different kind of story. I think that was the only reason why we decided to [create "Megalodon"].
We've done so many different shows but we've never really done one like ["Megalodon"]. We spend so much money on programming featuring conservation, science and technology that I think we wanted to give something to appease a different audience. I think that was the motivation behind ["Megalodon"].
IBT: Did you think "Megalodon: The Monster Shark Lives" was going to be as successful as it was?
Sorensen: I didn't think it was going to be as successful as it was. There was a little bit of skepticism on my part to be perfectly honest -- like, how well could it do? I think every year you sit back and hope that, 'Oh, man. This year will be the biggest year we ever did.' But last year we had so much momentum. Our marketing campaign was absolutely fantastic with the [Snuffy the seal] launch and that promo spot.
We just had so much momentum [in 2013] that the audience showed up and they saw something totally different. They couldn't believe the story they were going on and I think it took a lot of people by surprise. I think that's why it really worked. But last year we just had a huge swell of stuff go our way honestly to kind of launch last year and make it the highest rated. There was just something special about the whole campaign. "Sharknado" airing a week before, creating all that other shark-buzz -- just a lot of factors were in our favor last year.
IBT: Although "Megalodon" did take some viewers by surprise – in a positive aspect – not everyone was fond of the docufiction program. How did Discovery Channel react to the negative feedback?
Sorensen: [In 2013] we had the most premieres we've ever put on – we had 13 hours. This year we have 14. We're constantly expanding our slate. So, it was just one show out of a whole slate of stuff that focused on natural history, technology, scientists – we work with some of the biggest scientists in the industry – so to us, it's a small piece of what we offered last year.
The second thing we did is we went and we did a lot of research. We talked to a few focus groups, we got a lot of feedback from the audience and we realized there are a lot of people who love this kind of story. They want to go on this journey. They're very curious about whether or not [Megalodon] could be possible. And that's why we made the decision to continue the story – we heard back, 'OK, what's next thing for this story?' And I think there was this clamoring that people wanted to hear more about it. That's how we addressed it. But we did a lot of homework on our end too, to make sure we were doing it the right way.
IBT: So, the follow-up to "Megalodon" wasn't based on ratings?
Sorensen: No, not at all actually. We had a great show [in 2013] -- I think every night last year broke ratings records. After last [season] we looked back at the whole slate and said, 'what shows can we bring back? What are great sequels?' So, we're doing a sequel to "Alien Sharks," we doing a sequel to "I Escaped Jaws," which is a great clip show we did about shark survival stories.
We just felt [that Megalodon was] one show we did – we'll put it away. But then we started to notice the repeat numbers. Every time we put it on it pulled a huge number. And that's when probably about six months ago we started realizing there's people who are still watching the show for the third, fourth, fifth time. There's something about it, something about the story that's being told that people want to hear more and that's when we made the decision: How do we continue that story in a different way that feels satisfactory to the audience?
IBT: How did Discovery Channel create the "Megalodon" sequels in six months?
Sorensen: We just kind of went through stories, pieces and eyewitness stuff that has kind of been out there and found ways to bring that forward. We weren't waiting around for things to show up. We just went back and did some research.
IBT: What can fans expect from "Megalodon: The Extended Cut" and "Megalodon: The New Evidence"? Is Discovery Channel using criticism from the original feature and applying it to the Shark Week sequels?
Sorensen: With the new show we're addressing the skepticism head on and making it a little bit more of a debate, "could this be/could this not be, what is the story here?" I think we're really opening that up a little bit with the host kind of asking more questions, really kind of putting our talent to task. I think that's one thing we wanted to address this year.
In terms of working with scientists and people coming back to us [with critiques] – we want to work at we do work with the best scientists. We want them to bring their projects to us.
Going back to them, 'What should we put on air? What should be out there? What are things that you have always wanted to do?' We've always embraced the conversation with the science community and ourselves. I think if anyone has criticism or wants to come to us with show suggestions or research suggestions we would love that even more. I think the more that we highlight that stuff the better Shark Week is.
IBT: Is Megalodon real?
Sorensen: It's a real shark. There is a lot of real information. I think the one thing about doing these types of shows is that it allows us to build in a lot of takeaway information. There's a lot of great information in that show, there's a lot of details about Megalodon, the creature, how big it was, when it lived, when it reigned, what it ate. If you watch that show again and again you realize that you learn a lot. It's entertainment for sure but there's also a lot of great takeaway information for the audience.
Are you excited to hear the story of Megalodon continue on Shark Week? Make a splash in the comments section below with your thoughts and don't forget to tune into "Megalodon: The Extended Cut" and "Megalodon: The New Evidence," which will air Saturday, Aug. 15 at 8 p.m. EDT and 10 p.m. EDT on Discovery Channel.
© Copyright IBTimes 2022. All rights reserved.
FOLLOW MORE IBT NEWS ON THE BELOW CHANNELS