Which Credit Card Should You Get? Experts Say Cash Back Is Usually Best As Interest Rates, Defaults And Debt Rise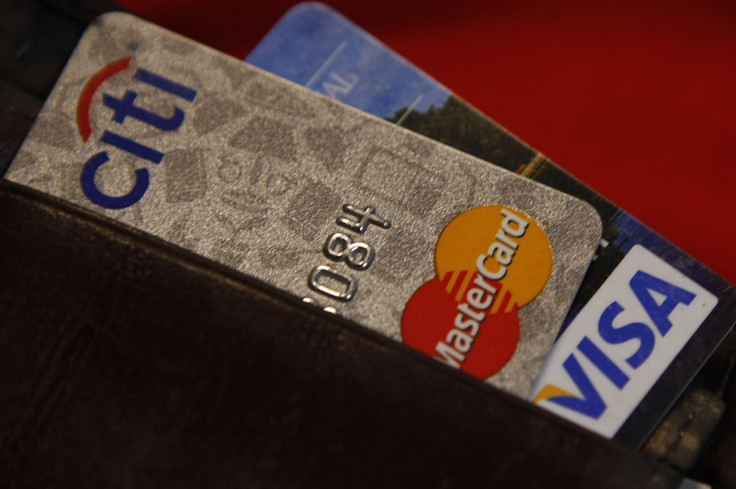 With so many options, picking the right credit card can be an intimidating endeavor for new borrowers. Such a decision is especially daunting in a world where mounting credit card debt continues to balloon, despite Americans' apparent optimism about their finances.
Only 12 percent of U.S. adults think they'll die in debt, which is down from more than 20 percent a year earlier, while nearly 25 percent believe they're debt-free—up from 14 percent about a year ago, according to a study released Wednesday by CreditCards.com. Meanwhile, growth in Americans' aggregate credit card debt has been setting quarterly records and climbing toward a peak total of $1 trillion—a figure the U.S. hasn't reached since July 2008, just before the worst of the financial crisis.
With credit card debt reaching such heights, experts advise consumers to play it safe when shopping for credit cards, rather than buying into the false optimism that can come with what appears to be a healthy economy. The best option, especially for millennials looking to establish financial health, is to choose cash back or balance transfer cards, rather than tempting bonus or rewards cards, which come with higher interest rates and fees.
"People are feeling good about themselves, despite piling up all this credit card debt," said CreditCards.com senior analyst Matt Schulz, adding that consumers might be one medical emergency or bad decision away from financial fallout. "There has to be some kind of tipping point. We're not there yet, but it's hard to imagine that we're too far away."
That tipping point may come sooner than Americans think, as the Federal Reserve plans to hike its federal funds rate target, a bank-to-bank loan rate that influences interest rates on credit card debt, three times in 2017—a factor that, at least cumulatively, is sure to send current delinquency rates up from today's relatively low levels, Schulz said.
As experts told International Business Times, a post-election surge in consumer confidence—aided in part by the news of the unemployment rate's nine-year low in November and the stock market's post-election rally—could lead consumers to opt for rewards cards, assuming they are worth the higher rates and fees.
Credit reporting agency TransUnion has already found a slight rise in delinquency rates among credit card borrowers, up to 1.82 percent in the first quarter of 2017 from a low of 1.2 percent in the second quarter of 2015. Still, that's nothing compared to the 2.97 percent who were unable to pay off their credit card debt in the fourth quarter of 2009.
These changes will compound another factor increasing the risk of delinquency. The Federal Reserve bank of St. Louis reports rising commercial bank credit card interest rates over the past two years, to between 13 and 14 percent since January 2015 from a range of 12.75 and 13.2 percent since mid-2011.
"If you're someone who is struggling with credit card debt, I think it would be wise to go with a balance transfer card, especially before the Fed goes on with this rate raise," Schulz said. As for the cards with bigger rewards or a high amount of cash back, cardholders should only be packing those cards if they're absolutely certain they can pay off the larger fees and higher ongoing annual percentage rates, or APRs.
Both Schulz and the finance information site NerdWallet named the Discover It card as the best balance transfer option for young people who are just beginning to map out their financial lives, or, more generally, consumers at higher risk of delinquency. The Discover It balance transfer card has a 1 percent rewards rate, no APR on balance transfers for a year and a half and a variable APR on purchases of between 11.49 percent and 23.49 percent after the first six months.
The BankAmericard Credit Card and Chase Slate are also solid balance transfer options, according to NerdWallet.
Lauren Lyons Cole, Consumer Reports Money Editor and a former Personal Finance Editor at International Business Times, cautioned that balance transfer cards may be nice for those in debt in the short run, but could seriously hurt them once their variable rates kick in.
"You might think you'd be better off [with a balance transfer card], but sometimes the interest rates are higher," she said, adding that the goal should be to avoid debt in the first place. "If you are carrying a balance, you have to be aware of the interest rates."
Cole suggested cash back cards, specifically the Citi Double Cash Card, as the way to go for people just starting to build up their credit.
"Most consumers across the board are better off with a cash back card, unless you're a very frequent traveler," she said.
In addition to Discover It's cash back option, Schulz recommended Chase Freedom Unlimited, which has a 1.5 percent rewards rate and no annual fee, but a relatively high variable APR of between 14.24 percent and 23.24 percent after 15 months. NerdWallet also listed Discover It's cash back card and American Express's Blue Cash Preferred Card as good alternatives.
For those with the ability to pay off higher ongoing APRs and fees and who wish to cash in on bonuses, Schulz said, the Barclaycard Arrival Plus World Elite MasterCard—admittedly, a mouthful—allows cardholders to win 50,000 miles, or about $500 worth of travel expenses, for $3,000 spent over the first three months. But it also includes an annual fee of $89 and a variable APR of between 16.49 percent and 23.49 percent.
But the best thing consumers can do to avoid the post-election economic hangover and keep their finances steady, according to Cole, is to avoid debt at all costs. But that doesn't mean avoiding credit cards.
"You do need to have a credit card—you do need to develop credit," she said, adding that online tools, like the one at Consumer Reports, can help consumers find cards tailored to their buying habits. WalletHub has a similar tool for consumers looking for a card that fits their unique financial needs.
"The safest thing you can do," Cole said, "is pay your bill on time."
FOR FREE to continue reading
✔️ Unlock the full content of International Business Times UK for free
offer available for a limited time only
✔️ Easily manage your Newsletters subscriptions and save your favourite articles
✔️ No payment method required
Already have an account?
Log in
© Copyright IBTimes 2023. All rights reserved.