Who Is Bernard Law? Cardinal Who Covered Up Clergy's Sex Abuse Dies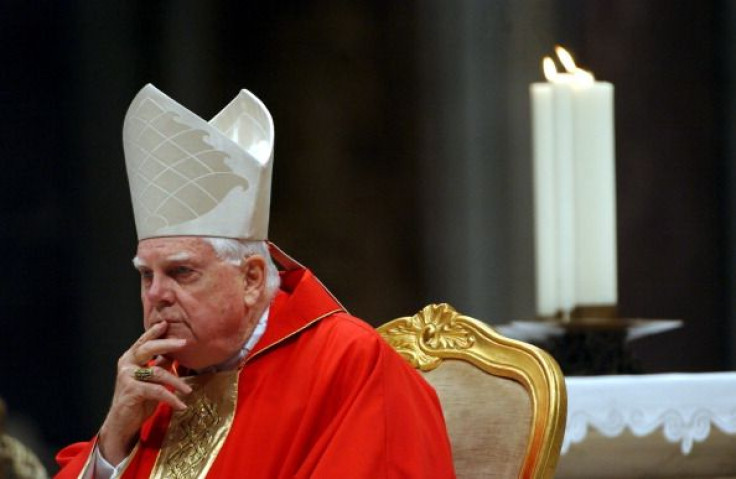 Cardinal Bernard Law, the Archbishop emeritus of Boston who resigned in 2002 amid a clergy sex abuse scandal, died Wednesday at the age of 86.
Law was admitted to a hospital in Rome and was "facing his final illness," New Boston Post reported Tuesday. It added Palma would most probably be buried in Rome.
Law, who was one of the longest-serving archbishops of Boston, fell from grace after it was revealed he was aware of the rampant sexual abuse of children by some priests in his archdiocese and had covered it up by transferring these priests of other parishes, instead of taking the matter to the authorities. One priest, Rev. John Geoghan, alone raped and molested over 130 children after being flitted from one parish to another.
Huffington Post reported about 550 victims came forward with allegations of abuse and added the actual figures could be three times more.
"I am indeed profoundly sorry. … I wish to apologize once again for the harm done to victims of sexual abuse by priests. … It's the most difficult thing I have ever faced in my whole life," Law said, accepting moral responsibility of the behavior in 2002, when the allegations came to the fore, according to WCVB, an ABC-affiliated television station in Boston.
Born Nov. 4, 1931, in Mexico, Law completed his education from Harvard in 1953 and immediately entered the seminary. Some people called his rise through the hierarchy, after being ordained a priest, meteoric. At the age of 42, Law was made a bishop.
In 1984, the then pope, John Paul II, elevated appointed Law as archbishop of the Boston Archdiocese, which had two million Roman Catholics. He gained a group of devoted followers in his archdiocese, who continued to support him even after his reputation was tarnished by the scandal.
The Boston Globe published an article in 2002 detailing the prevalence of sexual abuse of minors by Catholic priests. A series of articles by the Boston Globe detailed the criminal prosecutions of five Roman Catholic priests. This led to many victims coming forward with their allegations.
The stories also mentioned Law was aware of the sexual abuse but decided to keep mum. It was also reported in 1984 Law received a letter from a bishop who had raised concerns about Geoghan.
Law's reputation was tarnished and he was forced to resign in December 2002 after he received a letter signed by 58 priests calling on him to step down. He also resigned as the chairman of the Board of Trustees of the Catholic University of America. In 2003, Massachusetts attorney general said Law and other top officials in Boston's Roman Catholic Archdiocese will not face criminal charges for retaining the abusive priests in the parishes.
Pope John Paul II made him the archpriest of the Patriarchal Liberian Basilica of St. Mary Major in Rome. This was seen mainly as a ceremonial role. Since then, Law spent much of his time in Rome, occasionally returning to the United States.
© Copyright IBTimes 2023. All rights reserved.