Who Is Brian Kolfage? The Man Behind The GoFundMe Border Wall Project
As the debate over the border wall heats up, one man has taken it upon himself to support Trump in his efforts to build it. Brian Kolfage started a GoFundMe page that has raised over $12 million since Sunday with a final goal of $1 billion. With the fundraiser, clearly catching steam, one may wonder who exactly is Kolfage? These quick facts about the war veteran may give you an idea of who the man behind the border wall campaign really is.
Kolfage is a U.S. veteran. He served as a Senior Airman in the U.S. Airforce. He served two tours of duty in Iraq.
He suffered the loss of three limbs while in Iraq and is the most wounded airman to survive his injuries, according to his website. He also said that he walked out of Walter Reed Army Medical Center with the help of prosthetics 11 months after being injured.
Kolfage has posted on his website that he suffered his injuries in 2004 during his second deployment for Operation Iraqi Freedom during a rocket attack that exploded three feet away from him. He was thrown into the air and landed on a wall of sandbags, needing help. His best friend saved his life.
He went back to the air force after receiving treatment for his injuries and was assigned to the Davis Monthan AFB 355 SFS as a base security manager.
He is a motivational speaker that he says on his website that "inspires Americans to a greater success, with a powerful message of being resilient in the face of adversity." His website says he is not currently taking any speaking engagements at this time.
He graduated in 2014 from the University of Arizona's School of Architecture and is currently is an architect, according to his website.
He was awarded the Pat Tillman Scholar award as well as the George C. Lang Award for Courage.
Kolfage ran a conspiracy-theory website and related Facebook page called "Right Wing News," NBC News reported. The 559-page Facebook page was closed in October by the social media platform for "inauthentic activity," according to the news outlet. The multiple Facebook pages were said to "mislead others about who they are, and what they are doing," and used fake account information to drive traffic to the site, NBC reported.
Kolfage's FreedomDaily website included headlines that read, "Money-Grubbing Muslims Stole over $16 MILLION From Needy American's – Trump Has Perfect Punishment," and "Kaepernick Just Released His Own 'Bill of Rights' And Is Forcing Everyone In America To Follow It," the Daily Mail reported.
He also started the Facebook group Fight4FreeSpeech after his Right Wing News page was closed to help raise money to keep his other sites alive, according to NBC News.
Kolfage's GoFundMe page does not mentation any affiliation with the websites or Facebook pages he has created. He told NBC News that he "didn't want it to be a distraction" from the border wall efforts.
He also told The Guardian that he was shocked that his Facebook page was taken down saying, "I've talked with Facebook maybe 50 times in the last few months. Not once did they ever say we broke any rules or did something wrong."
He has started the GoFundMe page "We The People Will Fund The Wall" in an effort to raise money to build the 2,000-mile border wall along the U.S. border.
More than 200,000 people have donated to Kolfage's GoFundMe page, raising over $12 million to date. One donor gave $50,000 anonymously.
Another competitor to Kolfage has created a GoFundMe page to counter the border wall fundraiser project entitled "ladders to get over Trump's wall."
Kolfage was on Congresswoman Gabrielle Gifford's Veterans Advisory Committee, which he says on his website that he helped her make "vital decisions which helped veterans nationally."
He was also Gifford's special guest at the 2012 Presidential State of The Union Address when she announced she was resigning, according to his website.
Kolfage said on his website that he continues to work with his local congressman on the veterans advisory committee and mentors other wounded veterans at Walter Reed.
He said on his GoFundMe page that he has appeared on Fox News several times.
Kolfage is married and has a daughter and a son, according to his website and photos posted on his GoFundMe page.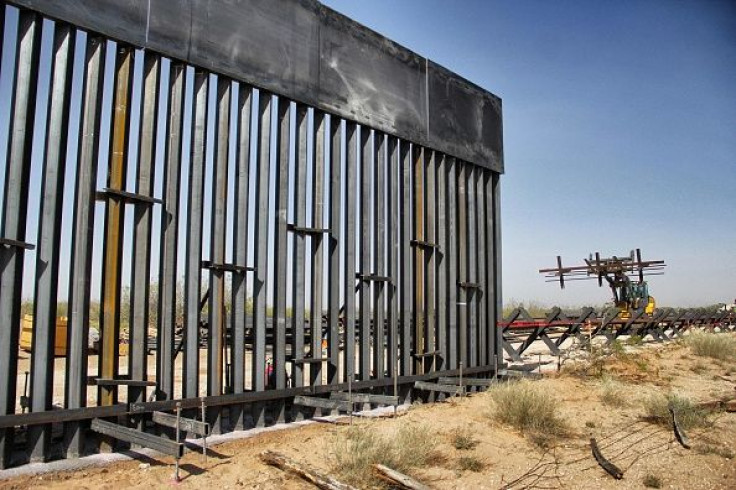 © Copyright IBTimes 2023. All rights reserved.