Who Is Capt. Emily Thompson? USAF Pilot Is First Woman to Fly F-35A Fighter Into Combat
KEY POINTS
Capt. Emily Thompson, recently, became the first woman to fly the fifth-generation stealth fighter into combat
"Banzai" is on her first deployment and the said flight is her first combat sortie
Thompson said she is "honored" to create a history
As a child, U.S Air Force Captain Emily "Banzai" Thompson dreamed of being a veterinarian or a police officer. She "settled" for a more "realistic" dream of becoming an aerospace engineer. She, soon, realized that she could fly the jets in addition to repairing them. In early June, she traded in her tool kit for a fighter pilot helmet and became the first female to fly an F-35A Fighter into combat.
Supporting her on her first combat sortie was an all-female maintenance crew. One member of the four-person launch team was First Class "airman" Ashlin Randolph, a weapons load crew member.
"I always get really nervous, so I had medics, my lieutenants, and intelligence [personnel] and they were all females. They were all there to support me," Randolph said.
Randolph also commented on the Lightning Technician Program (LTP), which allows F-35A maintainers to broaden their knowledge and experience on the airframe.
"The mission, as a whole, I think it's really cool because the LTP program lets me load bombs and missiles and I also get to launch out the jet. So, it's like we are getting all parts of the mission. I feel like that's another thing that's really inspiring because I got to load the bombs and missiles and I got to launch it out, " she said.
Randolph, then, gave some oft-repeated advice aimed at young girls. "I would definitely say be confident and never let anyone tell you that you can't do something because you can," she stated.
Captain Emily Thompson, who was on deployment from the 388th Fighter Wing at Hill Air Force Base in Utah, garnered most of the attention for the historic mission. "This is my first deployment … so for me, it was a pretty big deal, the first combat sortie for me. … Of course, being the first female, it's a pretty big honor. There's a lot of females who have come before me and there's a lot of females already flying combat sorties in other platforms. So just to be the person who gets that honor, that first, it just meant a lot," she said.
The F-35 is a story in itself. It comes in three different variants and is the most expensive weapon system in history. According to Bloomberg News who cited Pentagon assessments, the operating and maintenance cost fo the stealth fighter program around $1.2 trillion. The operating and maintenance cost is around $1.2 trillion.
The Israeli Air Force first flew it into combat in May 2018 followed a few months later by the U.S. who launched a Marine Corps F-35B from the amphibious assault ship USS Essex to strike Taliban targets in Afghanistan. In April 2019, US Air Force F-35As flew their first combat missions against ISIS in Iraq.
Thompson is one of a few F-35A female pilots and she commented on what lies ahead. "I think it's a bright future," she said. "There is a number of us already in the F-35 and I think the number is just going to continue to grow. It's a very supportive community, it's very open, I think the opportunity for women to really excel in the F-35 is definitely there," Thompson added.
She also had some words of advice, presumably aimed at young females, but apt for anyone who dreams of being a fighter pilot. "Know there's a lot of supportive people out there. Just stay positive, work hard, and you can achieve whatever you set your mind out to do, you can get it done," she said.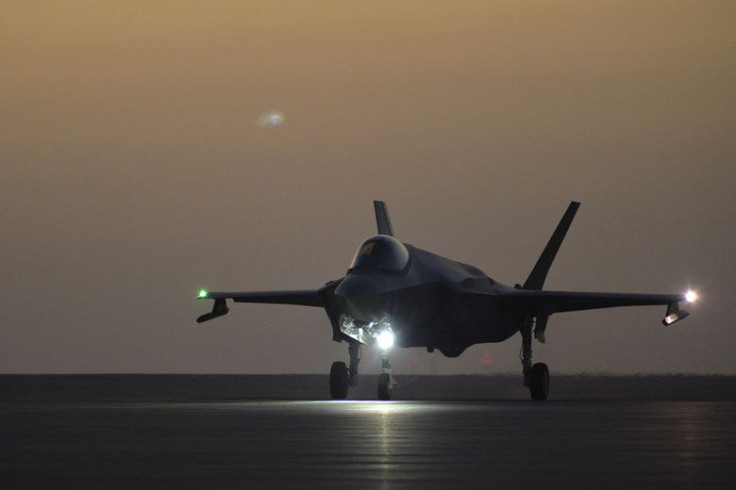 © Copyright IBTimes 2023. All rights reserved.