Who Is Carryn Owens? Wife Of Navy SEAL William 'Ryan' Owens Draws Thunderous Applause At Trump's Speech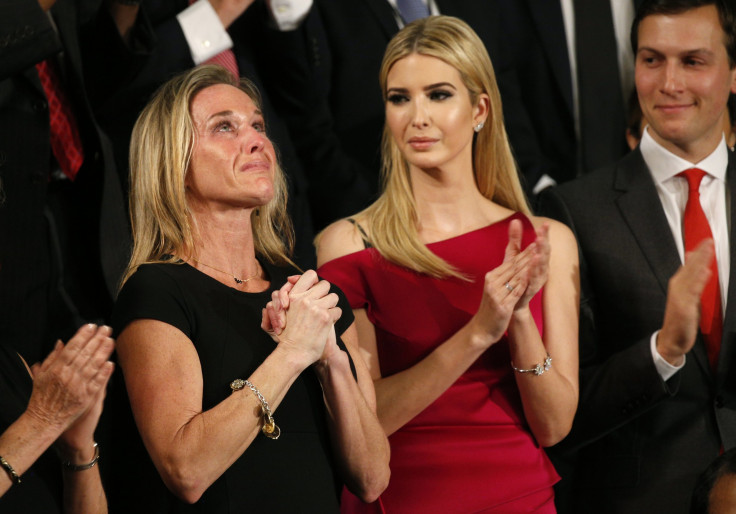 During President Donald Trump's address to a joint session of Congress last night there was little to no question about the moment that drew the largest round of applause. It came when the president mentioned Carryn Owens, the widow of Navy SEAL William "Ryan" Owens, who died during a raid in Yemen.
Owens — sitting next to Trump's daughter Ivanka Trump and her husband, White House adviser Jared Kushner — burst into tears when the president talked about her late husband, who died in a January raid that has been the subject of controversy over its death toll and apparent failure to acquire any real intelligence of substance.
"We are blessed to be joined tonight by Carryn Owens, the widow of a U.S. Navy special operator, Senior Chief William 'Ryan' Owens," Trump said. "Ryan died as he lived: a warrior, and a hero, battling against terrorism and securing our nation."
Owens teared up and looked upward, mouthing the words "I love you." Trump then defended the mission that left some 25 civilians dead. "I just spoke to our great [Secretary of Defense] General Mattis, who reconfirmed that, and I quote, 'Ryan was a part of a highly successful raid that generated large amounts of vital intelligence that will lead to many more victories in the future against our enemy,'" Trump said. "Ryan's legacy is etched into eternity."
The applause flooded down for at least a minute and a half, which Trump commented on. "Ryan is looking down right now, and he's very happy because I think he just broke a record," he said.
While Owen's widow was willing to appear at Trump's speech, his father has spoken out against Trump and criticized the mission that left his son dead. Bill Owens even refused to meet with the commander-in-chief at Dover Air Force Base in Delaware when his son's body was returned to the United States.
"Why at this time did there have to be this stupid mission when it wasn't even barely a week into his administration? Why?" Owens said to the Miami Herald in an article published Sunday. "For two years prior, there were no boots on the ground in Yemen — everything was missiles and drones — because there was not a target worth one American life. Now, all of a sudden we had to make this grand display?"
© Copyright IBTimes 2023. All rights reserved.