Who Is David Petraeus? Is Donald Trump Considering Former CIA Director For Secretary Of State?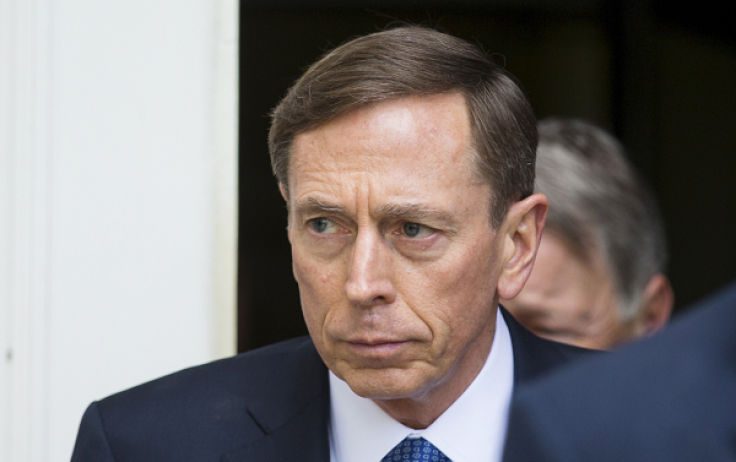 David Petraeus was facing felony charges and prison time a few years ago, but now the former CIA director and wartime general is one of President-elect Donald Trump's top choices to be secretary of state. Officials from Trump's camp said he would meet with Petraeus on Monday in New York, according to reports.
Although one of Trump's top transition officials said the president-elect was "inclined" to pick Petraeus as the new secretary of state, Trump is reportedly concerned about having two retired generals serving in the State Department and Pentagon, since he is also considering appointing General James Mattis to head the Defense Department.
Petraeus, 64, who currently works for a venture capital firm, would still need to be nominated and approved by the Senate. The KKR Global Institute chairman will be thrust back into the political spotlight after having resigned from the CIA in 2012 following the discovery of his extramarital affair with former military officer and biographer Paula Broadwell.
Petraeus, who told BBC Radio 4's "Today" program on Wednesday that he would be willing to aid in Trump's administration if asked, has served under presidents before. The retired four-star Army general worked as a senior officer under President George W. Bush and President Barack Obama before taking on his short-lived role of CIA director. Before leaving military life, Petraeus served as the commander of U.S. and NATO regimes in Afghanistan and Iraq.
Petraeus was once considered a potential presidential candidate before the plight of his affair and email scandal caused him to resign from the CIA in 2012. In 2015, Petraeus pleaded guilty to mishandling classified information, which he initially lied about but later admitted to passing along eight notebooks filled with secret code words, war strategies, names of covert operatives and other sensitive data to his former lover. He avoided prison time, according to reports, however, Petraeus was ordered by a federal court to pay a $100,000 fine and was ordered to serve two years on probation.
Despite his perceived shortcomings, Petraeus has remained a military favorite among high-profile political players, including Sen. John McCain of Arizona, a decorated military veteran.
Former Massachusetts Gov. Mitt Romney is also being considered for secretary of state. Trump will reportedly meet with him on Tuesday following his meeting with Petraeus.
© Copyright IBTimes 2023. All rights reserved.
FOLLOW MORE IBT NEWS ON THE BELOW CHANNELS