Who Is Efraín Ríos Montt? How The Guatemalan Ex-Military Ruler Became The First Latin American Dictator Convicted Of Genocide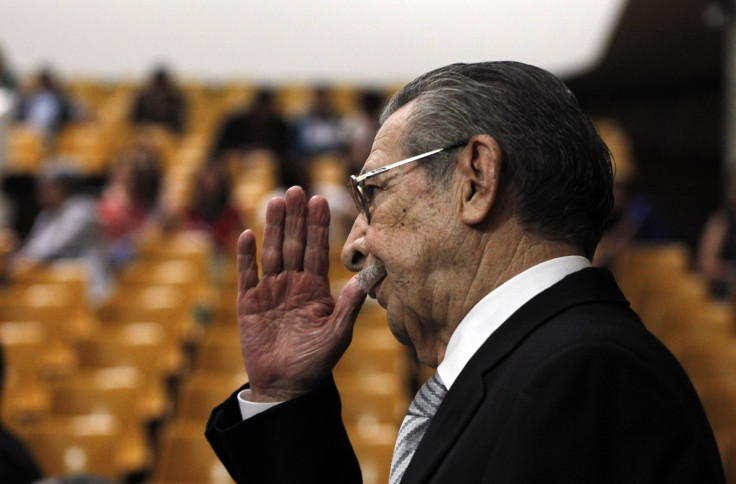 Guatemala can't seem to catch a break. It's the third-poorest country in Central America, with sky-high numbers of refugees and a record-high percentage of people with chronic malnutrition. More than 20 years after the Guatemalan civil war ended, the country is still dealing with the consequences of three decades of conflict, famine and murderous tyrants.
Efraín Ríos Montt was one of those tyrants. An army general and former military attaché in Washington and Madrid, Ríos Montt made history as one of the cruelest rulers in Latin America. He is suspected of being behind widespread human rights abuses committed during his rule from 1982 to 1983, which included two massacres against the indigenous population.
Earlier this month, Ríos Montt was found guilty of genocide and charges against humanity. The 86-year-old was then sentenced to 80 years in prison, marking a breakthrough in the redress of wrongdoings by past governments in the hemisphere.
But the sentence wasn't the end of it. The Guatemalan Constitutional Court overturned the conviction on Tuesday, arguing that two of the judges who voted to convict had an unresolved conflict. Without specifying what that conflict was, the court threw out all proceedings that took place after April 19, the date from which the trial will have to resume.
The end of Ríos Montt's career is a rarity in Latin American history, where many dictators have evaded punishment for the horrors committed during their rule. Augusto Pinochet, whose reign of terror governed Chile in the 1970s and '80s, was acquitted because of dementia in 2002. Rafael Leonidas Trujillo, an egomaniacal military man who ruled the Dominican Republic for three decades, was assassinated in 1961 while still in power. Only three days before Ríos Montt's sentence was overturned, Argentina's bloodthirsty ex-dictator Jorge Rafael Videla, responsible for more than 30,000 "disappearances" in the 1970s, died in prison.
The Guatemalan dictator's beginnings, on the other hand, can be compared to any of his counterparts. Born June 16, 1926, in the town of Huehuetenango, José Efraín Ríos Montt joined the army at 26 and played a minor role in the CIA-organized coup d'état in 1954 against President Jacobo Arbenz Guzmán, which marked the start of Guatemala's 30-year civil war.
In the following years, he rose through the military under the regime of Gen. Carlos Manuel Arana Osorio, reaching the position of chief of staff for the army and attaché to the Washington embassy in 1970.
His first incursion into political life was his candidacy in the 1974 presidential elections, for the Frente Nacional de la Oposición (National Opposition Front). He lost by 70,000 votes. He left for Madrid and the U.S. again, until 1982, when he came to power through a coup that ended the presidency of fellow military man Romeo Lucas García.
With the support of a military junta, Ríos Montt suspended the Guatemalan Constitution, shut down the legislature and started a campaign against political dissidents. The coup was initially welcomed, with the Guatemalan people expecting that safety and human rights would improve.
But they did not. Ríos Montt's political crusade against communism targeted impoverished areas of Guatemala, and particularly peasants and indigenous Mayan communities. Arguing that they were less educated and mature, the government deemed them more vulnerable to the influence of the opposition, and conducted "cleaning raids" to prevent Marxist ideas from reaching the countryside and more remote regions of the country.
More than 10,000 indigenous Guatemalans and farmers were killed in 1982, and more than 100,000 had to flee their homes. The 1999 United Nations truth commission, which examined Ríos Montt's years, detailed the annihilation of almost 600 villages, including the massacres of Plan de Sánchez in July 1982 and Dos Erres in December of the same year, which together killed more than 450 people.
Ríos Montt left power as he had entered it: overthrown by his defense minister, Oscar Humberto Mejía, in August 1983. But the former general stayed in the political arena, founding the Frente Republicano de Guatemala (Guatemalan Republican Front) in 1989. He ran for president again in 1990, but was banned from entering the race due to a provision in the new constitution of 1985 that prevented people who participated in military coups from becoming president.
He did win a seat in Congress in 2007, which granted him immunity from prosecution, and went on to lead the FRG's 15-member congressional delegation during the government of Óscar Berger.
Ríos Montt's immunity ended in January 2012, when his term in office ran out, and the aged general appeared in court two days later, when he was formally indicted for genocide and crimes against humanity. He refused to comment throughout the duration of the trial, and when he finally spoke at the end of it, he maintained his innocence. "I never authorized, I never signed, I never proposed, I never ordered these attacks against people, ethnicity or religion," he said when he was convicted, on May 10.
The reactions to the sentence were mixed. Guatemalan analyst Martín Rodríguez told CNN en Español that the trial was historic for the country: "Many of us remain incredulous that Guatemala's judicial system could handle a trial of this magnitude."
Guatemalan journalist Gonzalo Asturias, on the other hand, stated that Ríos Montt is paying for the "orgy of blood" he inherited from President Lucas García. "He ordered maximum respect for the civil population," he assured the Spanish newspaper El País. Even current Guatemalan President Otto Pérez Molina denied to CNN that there was genocide during the civil war, and even predicted the conviction would be overturned.
Shortly after being convicted, Ríos Montt was taken to a hospital in Guatemala City, after he fainted due to blood pressure problems. He remains there, and no date has been set for the trial to recommence.
Follow me on Twitter: @PReyMallen
FOLLOW MORE IBT NEWS ON THE BELOW CHANNELS