Who Is Emanuel Samson? Tennessee Church Shooter Is A Bodybuilder From Sudan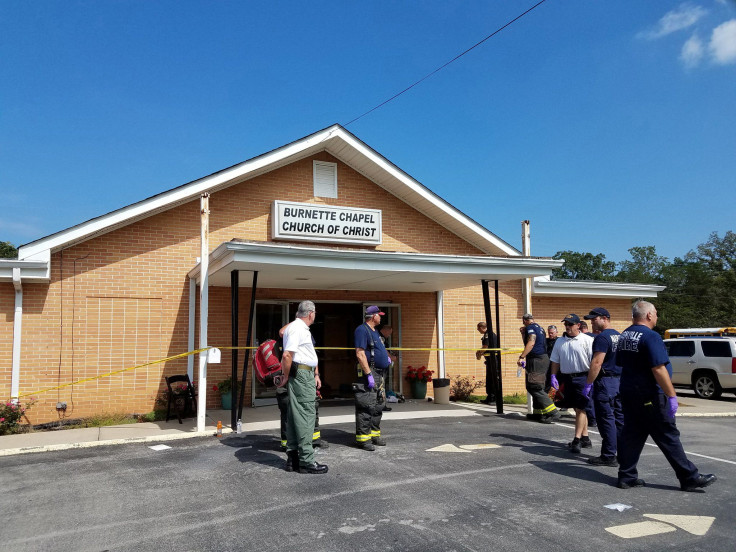 The suspect of a mass shooting Sunday that left one dead and wounded seven others at the Burnette Chapel Church of Christ in Antioch, a town south of Nashville, Tennessee, has been identified and charged with one count of murder, reports said.
The Metropolitan Nashville police tweeted Sunday night that the suspect at the shooting identified as 25-year-old Emanuel Kidega Samson, of Murfreesboro, Tennessee, will also be charged later with "multiple additional charges."
Police said no motive was immediately determined. Church members told the police that the suspect had attended services at the church a year or two ago, said Don Aaron, a spokesman for the Metro Nashville Police Department, according to the USA Today affiliate the Tennessean.
Authorities said that Samson brought two pistols into the church and they also discovered another pistol and a rifle in his vehicle. Police said Samson arrived at the scene in a blue SUV that they later found in the church's parking lot. He was also said to have been wearing a "neoprene" mask covering half of his face. His vehicle had been checked by a police "hazardous devices" unit, they said no explosives were found.
Police said Samson fatally shot a woman, Melanie Smith, who was walking to her vehicle. Then Samson entered the rear of the church and shot six others. An usher in the church confronted the suspect, who accidentally shot himself during the struggle. The gunman was said to have arrived in the parking lot as services were being conducted on Sunday at the Antioch church, the Chicago Tribune reported.
"The gunman was wounded by a self-inflicted shot," Aaron said. "He too has been taken to the hospital. One of the church members, upon seeing the gunman doing this action inside the church, ran up and confronted him. He was pistol-whipped by the gunman," Aaron told reporters.
The suspect was treated for his injuries from gunshots at Vanderbilt University Hospital and was released later on Sunday and he remains in police custody. Aaron said Samson of Murfreesboro, had come to the U.S. from Sudan in 1996 and is a legal resident in the country, but police did not say if he is a citizen.
Samson, who resides in Murfreesboro, completed his graduation from Smyrna High School in 2010, which is also located in Tennessee, according to his Facebook page.
Samson is said to be a native of Khartoum, Sudan, according to his Facebook page. Police said they do not know if Samson has a criminal record.
The FBI has opened a civil rights investigation into the incident, the agency said in a statement Sunday, according to CBS News.
"The Memphis FBI Field Office's Nashville Resident Agency, the Civil Rights Division, and the U.S. Attorney's Office for the Middle District of Tennessee have opened a civil rights investigation into the shooting at the Burnette Chapel Church of Christ in Antioch, Tennessee," the statement said.
It added, "The FBI will collect all available facts and evidence. As this is an ongoing investigation we are not able to comment further at this time."
Samson is a bodybuilder, according to his social media profiles. "I aspire to inspire & lift while UPlifting," he says on his Instagram profile. "Classic physique competitor on a path of domination! Let's Getit!"
In 2013, he graduated from Motlow State Community College in 2013 with an associate degree in psychology and wanted to pursue a career as a counselor, according to his Indeed resume. Samson also competed in the National Physique Committee men's physique competition at Music City Muscle in November 2016.
President Donald Trump removed Sudan from a renewed travel ban imposed last March originally on six Muslim-majority countries also on Sunday. However, excluding Sudan from the travel ban does not change its status on the country's terror list.
© Copyright IBTimes 2023. All rights reserved.