Who Is Janelle Ambrosia? NY Woman Calls Man N-Word In Front Of Kids As He Records Racist Attack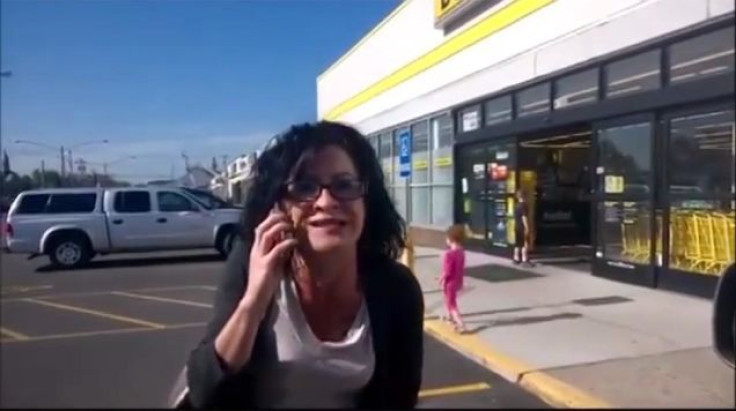 A Cheektowaga, New York, man captured video of a woman's racist, verbal assault on him in a store parking lot. During her heated exchange with the driver, the woman calls the man the "N-word" several times as her children watch.
The argument appears to have begun when the man started his vehicle in a Dollar General parking lot. In the video, posted to YouTube Tuesday, the woman says the man "scared" her kids when he started his vehicle. The clip, more than four minutes, begins following this initial argument, showing the woman calling the man the racial slur several times. She also accuses the man of recording the video so he could post in it up on YouTube, which indeed he eventually did.
She even warns the man she is calling her husband, who she says "doesn't like black people." The man finally rolls up his window when she threatens to throw coffee at him. He ends the video by saying, "racism, alive and well. Amazing."
You can watch the video here. [WARNING, the video contains explicit language.]
According to Mediaite, Reddit users attempted to identify the woman. They eventually uncovered the Facebook and Twitter of the woman suspected of being responsible for the racist tirade, Janelle Ambrosia. The Twitter account allegedly attached to her name was also filled with racist messages, many of which were posted on Wednesday.
Ambrosia eventually confirmed her identity during an interview on Wednesday morning with WBLK's Big Rob, telling the radio host that she harangued the man came after he had almost hit her child with his car. She said that she is not a racist. But she did state that she is bipolar and her ex was trying to use the video to obtain custody of their children.
She continued that she has a black cousin and the man had called her a "crackheaded cracker" before he started recording the video.
When Big Rob asked why she felt the need to use the N-word, she replied:
"Quite frankly, if you look it up, [the N-word] means an ignorant person," she replied. "It has nothing to do with race. But it's okay for him to call me a racist or honky. That's racist."
"I'm really not a racist, I was just pissed off. If he didn't try to almost hit my kids, none of this would have happened," she added.
But when given the chance by Big Rob, she would not apologize for her comments.
The video continues to spread online, sparking discussions on social media about race and Ambrosia's defense of her actions. The man who recorded the verbal attack has yet to offer a comment on the incident.<iframe seamless="seamless" style="border: none; overflow: hidden;" height="450" width="100%" scrolling="no" src="http://assets-polarb-com.a.ssl.fastly.net/api/v4/publishers/IBTimes/embedded_polls/iframe?poll_id=182860"></iframe>
© Copyright IBTimes 2022. All rights reserved.
FOLLOW MORE IBT NEWS ON THE BELOW CHANNELS