Who Is Jim Webb? Democratic Presidential Candidate And Former Virginia Senator Is 'Not A Career Politician'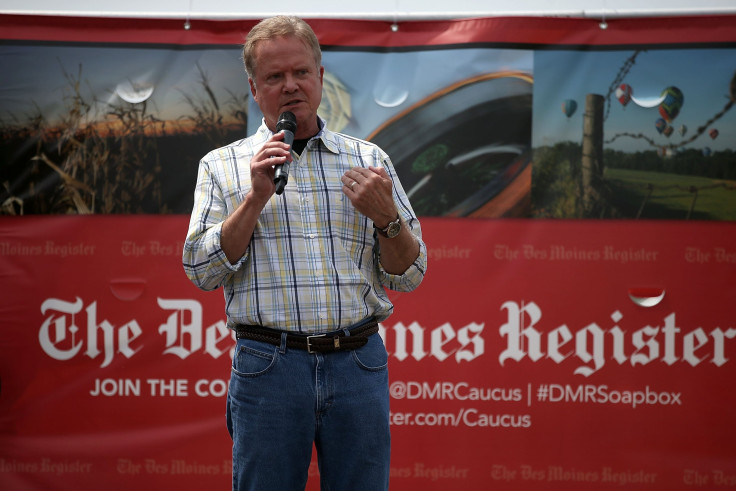 You get one guess: Which Democratic presidential candidate was a combat Marine, secretary of the Navy under President Ronald Reagan and an Emmy-winning journalist for coverage of the Lebanese Civil War in 1983? Answer: Jim Webb.
Webb, 69, a former U.S. senator from Virginia, is one of the overlooked candidates on the Democratic side with the spotlight on Hillary Clinton and Bernie Sanders ahead of Tuesday night's debate in Las Vegas.
In an effort to bolster his low fundraising, Webb called for an "insurgent" presidential bid.
"The time is finally right for our underfinanced insurgent campaign to be taken seriously, in the media, among Republicans and independents, and even in the inner circles of the Democratic Party's power structure," he wrote in September, according to the Washington Post.
However, Webb has largely shied away from the spotlight, with only a few campaign trail appearances in Iowa and New Hampshire. He served only one term in the Senate, prompting him to say he is "not a career politician." He has complained about Washington political gridlock and the compromises that must be made to get anything done.
On the political front, Webb is known for having opposed the Iraq War. He wrote in a 2003 opinion piece in the New York Times that "long experience tells us that this sort of combat brings with it a 'downstream' payback of animosity and revenge." Domestically, Webb has championed prison reform.
A graduate of the U.S. Naval Academy, Webb comes from a military family. He served in Vietnam in the An Hoa Basin and was awarded a Navy Cross and Silver Star.
Friends have described Webb as "not a politician," but someone who feels a deep commitment to serving his country, Bloomberg reported.
Along with his award-winning journalism, Webb has also authored 10 books, including "I Heard My Country Calling," a memoir that was called a "brilliant personal recollection" in a review by another veteran in the Wall Street Journal.
Webb has ranked near the bottom of the Democratic pack, with only 2 percent support in a recent CBS poll. That's still better than fellow Democratic presidential candidates Lincoln Chafee and Martin O'Malley, who both garnered less than 0.5 percent support and will join Webb onstage Tuesday night.
© Copyright IBTimes 2023. All rights reserved.