'Who Killed JonBenét?' Lifetime Releases Creepy Clip From Film Surrounding JonBenét Ramsey's Murder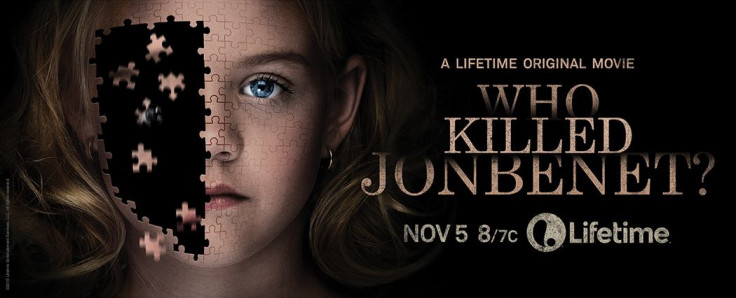 Prepare to examine the mysterious murder of JonBenét Ramsey like never before.
Lifetime announced plans to move forward with an original film called, "Who Killed JonBenét?" in August. Nearly three months later, the network has released a clip which examines the investigation into the killing of 6-year-old JonBenét.
The chilling video takes fans inside the Ramsey family home just hours after John and Patsy Ramsey reported their daughter missing. John (Michael Gill) is shown giving a police officer a tour of his home, taking him through every room in the house, including his son Burke Ramsey's bedroom. The tour is interrupted by the loud sound of Patsy (Julia Campbell) crying. At one point the camera pans to her as she's seen peeking through her fingers, which are covering her eyes, apparently to ensure that the officer saw her in distress. It is in that moment that it becomes clear that Lifetime's film will largely focus on the theory that her own family members were responsible for her death — something they've repeatedly denied.
Lifetime's film is not the only program to take on the murder of JonBenét as the 20-year anniversary of her death approaches. CBS recently released a special in which a team of investigators dove back into the case nearly two decades after the crime occurred. In "The Case Of: JonBenét Ramsey" — a two part special which aired in September — investigators came to the conclusion that JonBenét was killed by her older brother, Burke Ramsey. Burke, who was nine at the time, was eyed as a suspect briefly not long after his sister was found beaten and strangled in their family home. He, along with his parents, were eventually cleared of all involvement, but the experts in CBS' docuseries were none too convinced.
Despite the opinions of those featured in CBS' "The Case Of: JonBenét Ramsey," Burke maintains that he had nothing to do with his sister's murder. In fact, he sat down for an interview on "The Dr. Phil Show," earlier this year to discuss the days after his sister was killed and the effects it had on him. In one segment, Burke told Dr. Phil that it "blows my mind" that people continue to try to pin JonBenét's murder on himself and his parents. He questioned what more evidence the public would need to stop insinuating that he and/or his family was responsible, noting that investigators were able to clear them years ago. Burke suggested that the person responsible for JonBenét's death was "probably some pedophile in the pageant audience."
"Who Killed JonBenét?" airs on Lifetime Nov. 5 at 8 p.m. EDT. Will you be tuning in?
© Copyright IBTimes 2023. All rights reserved.