Who Is Krampus? 4 Facts To Know About The 'Christmas Devil'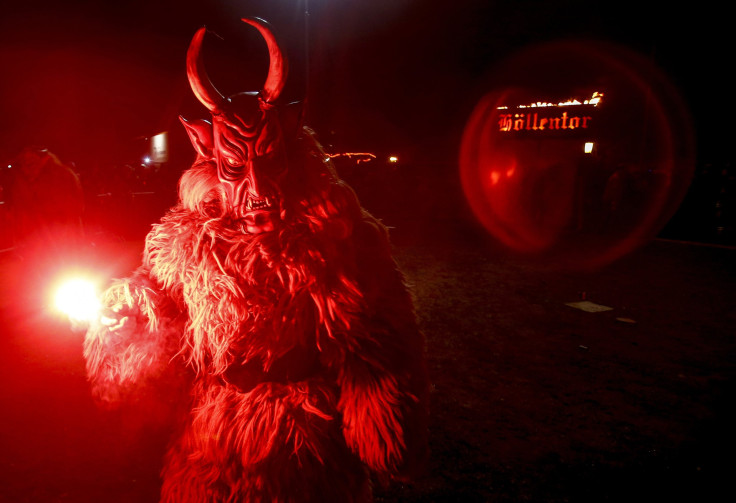 It's Christmas time and that means caroling, stockings, leaving cookies out for Santa and avoiding getting whipped by a half-goat demon. That's right, while American children have to worry about getting a lump of coal in their stocking, children in other parts of the world have to worry about Krampus, the Christmas devil.
Some may have heard that this strange holiday concept is getting his (its?) very own movie in 2015. With that in mind, perhaps it's time to figure out exactly what Krampus is – or, as he's known in some cultures: Knecht Ruprecht, Certa, Perchten, Black Peter, Schmutzli, Pelznickel and Klaubauf.
Where Does He Come From?
According to National Geographic, "Krampus" is derived from the German word "krampen" meaning "claw." With roots in Norse and Greek mythology, Krampus acts as the evil counter to jolly old St. Nicholas. He's described as being half-goat, half-man with some demon thrown in. Basically an all-purpose monster.
What Does He Do?
While the man who became known as Santa is famous for rewarding children who have been nice, Krampus visits naughty children the night before Dec. 6 each year and punishes them with a switch or rusty chain before dragging them to his fiery layer in a sack. Seriously, this is something people tell children. The night is called "Krampusnacht," according to folkore. The tradition has been suppressed over the years by the Catholic Church and later by fascists during World War II, according to The Guardian. This explains why so few people have heard about the horror tradition.
Who Still Celebrates This Tradition?
In modern day, Krampus is considered a pretty bad idea in most cultures. However, in some parts of the world, the tradition is still celebrated today. Some places still honor the pre-Germanic Pagan character by dressing up as Krampus and participating in the Krampusnacht tradition of frightening children in the streets on a nighttime booze-fueled holiday romp. The Atlantic has compiled a slew of high-resolution pictures from last year's event. What better way to spread holiday cheer than by terrifying small children into thinking they'll be beaten and dragged to hell for not eating enough of their vegetables in 2014?
Why Is Everyone Suddenly Talking About Krampus?
As of late, Krampus has made his way into pop culture as more and more people explore alternative ways to celebrate the holidays. In addition to his upcoming film, some iteration of the Christmas devil has been on TV shows like "Supernatural," "American Dad," "The Office," and "Grimm." He was even the subject of a horror movie in 2013, but that is a different project than the upcoming 2015 story.
Tell us what you think about this frightening take on punishing those who have been naughty this holiday season in the comments below. Frankly, we'd prefer the good old lump of coal.
© Copyright IBTimes 2022. All rights reserved.
FOLLOW MORE IBT NEWS ON THE BELOW CHANNELS