Who Is Louie Gohmert? John Boehner House Speaker Rival Accused Obama Of Muslim Brotherhood Ties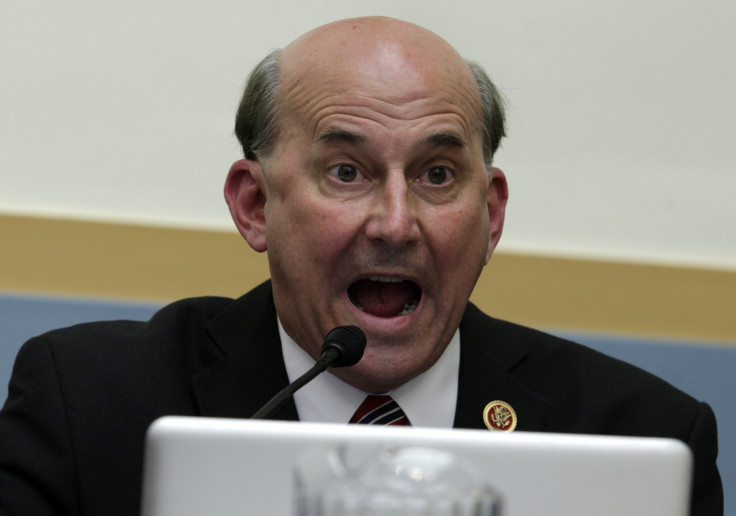 Louie Gohmert, a conservative Republican congressman from Texas, said Sunday he would challenge House Speaker John Boehner, R-Ohio, for that post after claiming Boehner didn't do enough to punish President Barack Obama following the president's executive actions on immigration and for working with Democrats to pass the "crominbus" bill that funded the government through September 2015. Gohmert is one of two tea party Republicans running against Boehner, who is in the party's establishment wing, in a vote scheduled for Tuesday.
"After the November elections gave Republicans control of the Senate, voters made clear they wanted change," Gohmert told Fox News. "We were hopeful our leaders got the voters' message. However, after our speaker forced through the cromnibus by passing it with Democratic votes and without time to read it, it seemed clear that we needed new leadership." The cromnibus was the bill to fund the government and was given that name because it combines an omnibus bill to fund the government with a continuing resolution, which applied only to Homeland Security department funding.
With U.S. Rep. Ted Yoho, R-Florida, also angling for the speakership, it would seem that he and Gohmert would split votes and make it easier for Boehner to hold on to his job. Boehner already won an internal House Republican vote in November. Yoho announced Saturday that he would run for speaker. But Boehner has lost favor with more conservative Republican members who believe he caved on the cromnibus and should have struck back against Obama more than just by only funding the Homeland Security department through March. The department is in charge of immigration enforcement and would play a large role in the executive actions Obama took late last year that protects roughly 5 million illegal immigrants from deportation.
As one of the House's most conservative members, Gohmert is known for making controversial statements, including accusing the Obama administration of having terrorist ties and that al Qaeda operatives are amassing in Mexico and being taught to "act like Hispanic."
"We know al Qaeda has camps over with the drug cartels on the other side of the Mexican border," Gohmert said in April 2013, according to Politico. "We know people are being trained to come in and act like Hispanic when they're radical Islamists. We know these things are happening. It's just insane not to protect ourselves."
It's not the only eyebrow-raising comment Gohmert has made involving terrorism. He also accused terrorists of having the ear of the Obama administration. "It's very clear to everyone but this administration that radical Islam is at war against us. I'm hoping either this administration will wake up, or a new one will come in at the next election before irreparable damage is done," Gohmert said in a April 2013 interview with conservative website WND. "This administration has so many Muslim Brotherhood members that have influence that they just are making wrong decisions for America."
Gohmert is also a big backer of the oil industry, including the proposed Keystone XL pipeline, which if approved will have a refinery in Texas. The Republican elicited some chuckles during a 2012 hearing on the development of an Alaskan oil pipeline by claiming that the pipeline would be beneficial to caribou in the area -- the exact opposite of what environmental advocates argue.
"[W]hen [the caribou] want to go on a date, they invite each other to head over to the pipeline," he said, according to the Washington Post. "So my real concern now ... if oil stops running through the pipeline ... do we need a study to see how adversely the caribou would be affected if that warm oil ever quit flowing?"
© Copyright IBTimes 2022. All rights reserved.
FOLLOW MORE IBT NEWS ON THE BELOW CHANNELS