Who Is Meadow Walker? Paul Walker's Daughter Mourns Actor With Mother Rebecca McBrain After Fatal Car Crash [PHOTO]
Meadow Rain Walker is mourning the loss of her father, "Fast & Furious" star Paul Walker, after the actor, 40, tragically died in a car accident Saturday night in Santa Clarita, Los Angeles. Meadow, 15, is the daughter of Walker and his ex-girlfriend, Rebecca McBrain.
"Meadow is, naturally, very upset by the tragic news," a source has said, according to ShowBizSpy via Christian Post. "But she has her family around her. It's going to be a tough time."
The "Fast & Furious" star and McBrain broke up shortly after the 1999 birth of Meadow, who is Walker's only daughter. McBrain has reportedly been consoling Meadow. "Rebecca is being there for her daughter, who is naturally devastated," a source has told ShowBizSpy. "She and Paul had some good times together. She too is upset by his death."
According to Hollywood Life, the teenager took to Facebook to write about her father's untimely passing: "When I was little, he taught me to walk, taught me to smile, and taught me never to give up," Meadow posted to her Facebook page in a beautiful tribute to her father. "I loved him even before I knew what love was. He was my hero, my REAL life hero! He will always be in my heart! It brings tears in my eyes as I write this!"
Meadow had just moved in with her father, Walker said during an interview with Express News prior to the gruesome car crash, according to Hollywood Life. "I'm grateful I had her at 25 and not 20 because, at 40 and 15, we're matching up sweet!" he reportedly said. "She's been with her mom her whole life and she wants a relationship with her pops. It's working out really well right now."
Walker and his friend/business partner Roger Rodas, who was driving the Porsche they were in, both died when Rodas reportedly lost control of the car. The actor, who celebrated his 40th birthday only a few weeks back, had just attended an event for his charity Reach Out Worldwide. The car burst into flames when Rodas hit a tree.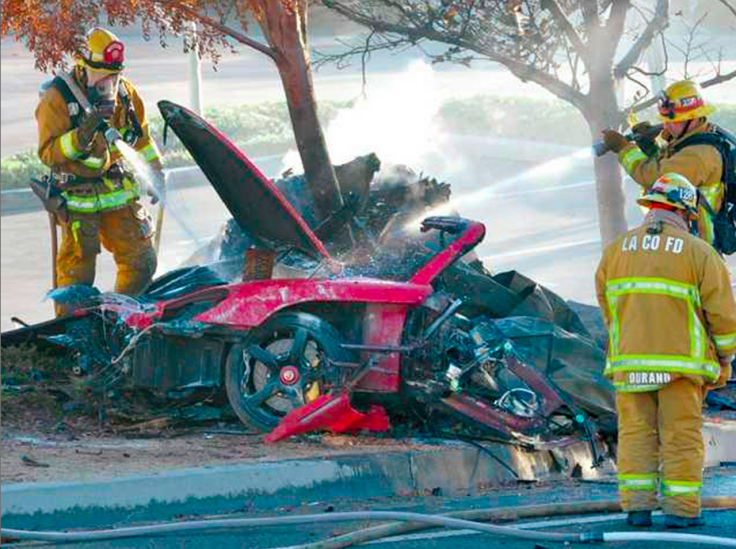 After the accident, police released the following statement: "When they arrived, deputies found the vehicle engulfed in flames. The Los Angeles County Fire Department responded, extinguished the fire and subsequently located two victims inside the vehicle. The victims were pronounced dead at the scene."
Deputy Heischuber of the Santa Clarita Valley Sheriff's Station told People magazine: "This is an ongoing investigation. A solo car crash occurred about 3:30 p.m. in the city of Santa Clarita, on the outskirts of Valencia. A 911 call came in from a bystander."
At first, it wasn't clear if Walker's death was just a hoax, but friends of the actor, like Tyrese and Vin Diesel, soon took to social media to grieve and extend their condolences to Meadow and friends and family of the "Fast & Furious" star.
Walker was in the middle of filming the seventh "Fast & Furious" movie when he passed away. Universal Studios released a statement after his death, but did not say what will happen with the film.
Follow me on Twitter @mariamzzarella
© Copyright IBTimes 2023. All rights reserved.