Who Is Mike Pence Married To? 8 Fast Facts About Vice President-Elect's Wife, Karen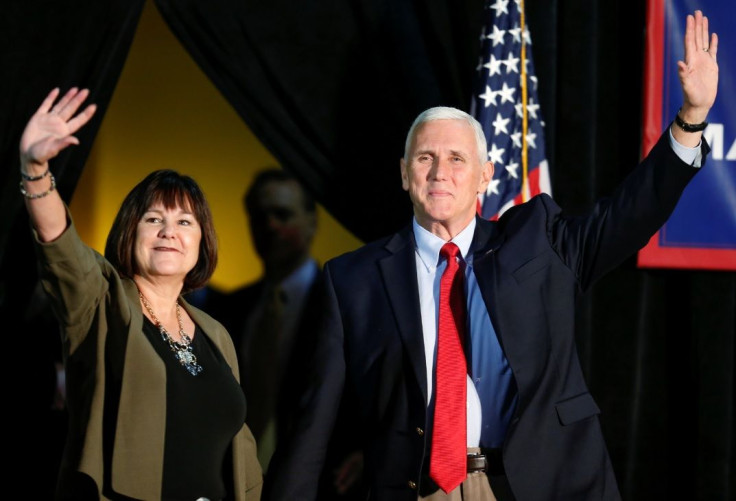 There's a new regime that's about to move into the White House now that Donald Trump was elected president on Election Day Tuesday. Aside from Trump and his wife, Melania, taking residence at 1600 Pennsylvania Ave, Vice President-elect Mike Pence and his wife, Karen, will call Number One Observatory Circle home. To find out more about Karen Pence, continue reading below:
1. She's the first lady of Indiana. The Vice President-elect became the governor of Indiana when he beat Democratic opponent John Gregg in 2012. As first lady, she created the Indiana First Lady's Charitable Foundation, which helps support youth and families in Indiana.
2. Karen Pence is an artist. She specializes in watercolors of historical buildings and homes.
3. She's also an entrepreneur. She founded "That's My Towel!" Charm, Inc. Like the title states, the company sells charms to place on towel. The business is currently "on hold," though.
4. Karen Pence used to be a school teacher. She earned a Bachelor of Science and Master of Science from Elementary Education from Butler University. She worked as a school teacher for more than 25 years.
5. She and Mike Pence have been married for more than 30 years. Even though he couple met at church, Mike Pence looked up his future-wife's number to ask her out to dinner. The first time he called, he hung up on her because he got scared.
6. Karen Pence is a mother of three. She and her husband share son, Michael, and two daughters, Audrey and Charlotte.
7. She's a divorcee. This isn't her first marriage. Death and Taxes unearthed the Pence's marriage certificate from Ancestory.com. The document revealed Karen Pence was married, and divorced, before she married her second husband in 1985.
8. Karen Pence knew her future would involve politics if she married the governor. "From the moment Indianapolis native Karen Batten agreed to marry Mike Pence in 1984, she knew she had signed up for a life in politics," a 2013 article from The Republic reads. "But life as first lady of the state of Indiana was a bit more unexpected."
Follow me on Twitter @mariamzzarella
© Copyright IBTimes 2023. All rights reserved.