Who Is Mujahid Ramzziddin? Off-Duty Cop Fatally Shot Trying To Save Neighbor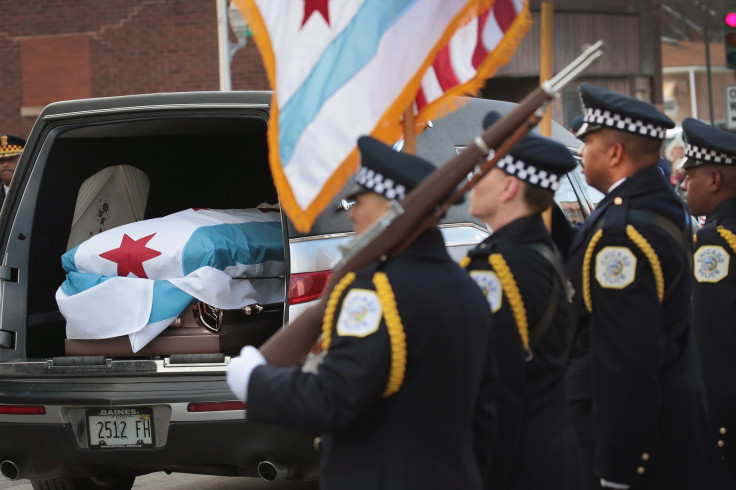 An off-duty police officer was fatally shot in Maryland, Wednesday morning, when he "stepped in to protect a woman threatened in a domestic situation," officials of Prince George's County Police Department said.
Corporal Mujahid Ramzziddin, 51, a former Marine and the recipient of the Medal of Valor was shot by Glenn Tyndell, 37, a resident of Brandywine, Maryland. Tyndell was then shot and killed during a police confrontation.
Prince George's County Police Chief Hank Stawinski said, "He [Ramzziddin] lived a consequential life and suffered a consequential death," New York Daily News reported.
Referring to the woman who Ramzziddin protected, Stawinski said, "But he saved her life by giving his own."
State attorney of Prince George's County, Angela Alsobrooks, said Tyndell was a "gutless coward" who "took the life of a very important member of our community."
According to a report by WJLA, an ABC-affiliated television station, the police officials talked about the case in a press conference Wednesday afternoon.
Preliminary investigations stated Ramzziddin, who was off-duty at the time, came to the rescue of a female neighbor being harassed by her estranged husband outside her home in Chadsey Lane, Brandywine. The police officials added the suspect had a shotgun with which he shot Ramzziddin, who died on the spot.
Unnamed sources said the woman then informed the police her husband had shot an officer.
After shooting Ramzziddin, the suspect escaped from the scene in a black SUV. The police chased him and the pursuit ended on the Indian Head Highway, which was near Fort Washington. There, Tyndell came out of his vehicle and started firing at the police officers. Tyndell was then shot and killed during the encounter, police said.
WJLA report said Ramzziddin was appointed to the National Harbor Unit at the Prince George's County Police Department's Special Operations Division. His duties entailed looking after the National Harbor, the MGM Casino and the Tanger Outlets. Prior to his final assignment with the Harbor Unit, Ramzziddin was assigned to District III, District IV, the Gang Unit and the Wave Unit of the police department.
Ramzziddin, before joining the Prince George's County Police Department, worked with the Metropolitan Police Department from 2000-2003. He worked in the Prince George's County Police Department for 14 years.
He is survived by his wife and four children, New York Daily News reported.
Stawinski said Tyndell had a history of domestic assaults, which took place in various counties. He added the investigation was continuing and notified that in light of the suspect's history of offences, he shouldn't have been able to legally buy a firearm.
"It's another sad day in America," Stawinski added.
The police authorities asked for "patience and respect" as they continued working on the case and added their "sole focus" was on Ramzziddin's family members.
Maryland Governor Lawrence Joseph Hogan Jr. in a statement Wednesday said the "murder" of Ramzziddin was "an unspeakable tragedy," and added "his memory and service will never be forgotten."
© Copyright IBTimes 2023. All rights reserved.