Who Is The Richest Trump? Donald, Don Jr, Ivanka, Melania Net Worth Revealed
KEY POINTS
The bulk of Donald Trump's fortune is derived from his ownership of the Trump Organization
The real estate conglomerate owns commercial and residential properties including condo buildings, hotels and golf courses
The launch of his social media platform, Truth Social, earlier this year boosted his net worth by $430 million, a report says
Former President Donald Trump has amassed a great fortune from a variety of sources, including business deals, investments and an inheritance from his father Fred Trump, who was a wealthy real estate developer. Here's a look at his and his family's net worth today.
The latest estimate from Forbes shows that the 75-year-old former "Apprentice" host is worth an estimated $3 billion, making him the richest member of the Trump family today and 979th on the magazine's real-time billionaires list.
The bulk of Trump's fortune is derived from his ownership of the Trump Organization, a real estate conglomerate and licensing business that owns commercial and residential properties including condominium buildings, hotels and golf courses in the U.S., Ireland and Scotland.
He was worth around $2.4 billion in 2021, his first year out of office, but the launch of his social media platform, Truth Social, earlier this year boosted his net worth by $430 million, Forbes reported.
The real estate mogul shares three children with ex-wife Ivana Trump: Donald Trump Jr., 44, Ivanka Trump, 40, and Eric Trump, 38. He is also a father to Tiffany Trump, 28, whom he shares with ex-wife Marla Maples, and Barron Trump, 16, whom he shares with his third wife Melania Trump.
Read on to see the net worth of Trump's wife and children.
Ivanka Trump
Ivanka and her husband Jared Kushner have an estimated combined net worth of $800 million, according to Celebrity Net Worth (CNW).
Before joining the Trump Organization, where she was executive vice president of real estate development and acquisitions, Ivanka launched several successful businesses, including a line of fine jewelry and a handbag and footwear collection.
Ivanka was named senior advisor to the president during her father's administration but did not collect a salary for the role.
An April 2017 financial disclosure showed that Kushner and Ivanka are the beneficiaries of a $740 million real estate and investment business, CNW reported.
Donald Trump Jr. and Eric Trump
Don Jr. and Eric are each worth an estimated $300 million, according to CNW. However, a 2019 Forbes estimate showed a much lower figure: $25 million each.
Most of the brothers' fortune reportedly comes from the hefty salaries they earn as longtime executives at the Trump Organization.
Unlike most wealthy heirs, the Trump children haven't gotten their wealth from inheritance. In fact, they own none of the Trump Organization's vast holdings.
But while they do not have a stake in the Trump Organization, Ivanka, Don Jr. and Eric each own a 7.5% stake, worth about $6 million apiece, in Trump International Hotel in Washington, D.C.
Melania Trump
Melania is believed to have a personal net worth of $50 million.
The former first lady modeled in Paris and Milan before moving to the U.S. in 1996 to pursue modeling in New York City. She has graced the covers of several magazines, including Vogue, Harper's Bazaar, InStyle, Vanity Fair and Glamour.
The Slovenian model also made appearances in the 2001 film "Zoolander" and in her husband's NBC reality series "The Apprentice" from 2004 to 2015.
Tiffany Trump
Tiffany has a net worth of $10 million, according to CNW. Unlike the other members of her family, she is not focused on a career in business but has released music, worked as a model and attended law school.
She is set to marry her fiancé Michael Boulos, whose family owns a multibillion-dollar conglomerate of companies in Nigeria, at her father's Mar-a-Lago estate in Palm Beach, Florida, in November, Page Six reported.
Barron Trump
It is unclear how much the 16-year-old is worth at the moment. But Mary Jordan, Pulitzer Prize winner and author of "The Art of Her Deal," claimed in her book that following Trump's victory in the 2016 election, Melania was able "to amend her financial arrangement" with her husband in what the former first lady referred to as "taking care of Barron," the Washington Post reported.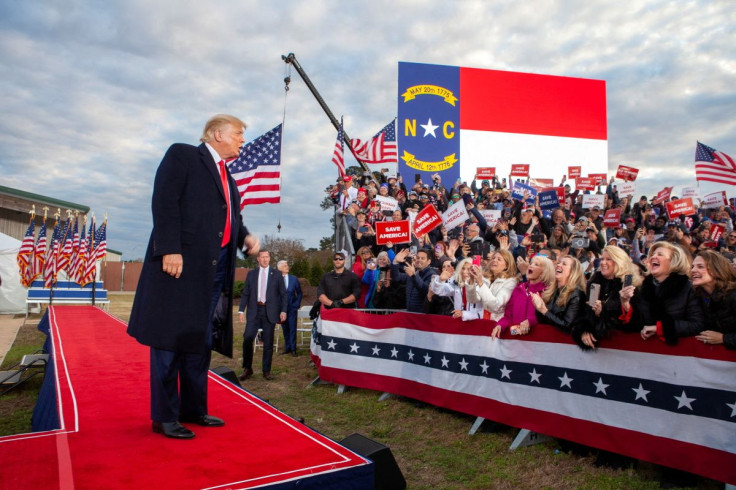 © Copyright IBTimes 2023. All rights reserved.