Who Is Rolando Ruiz? San Antonio Hitman On Death Row Denied Stay On Execution By Supreme Court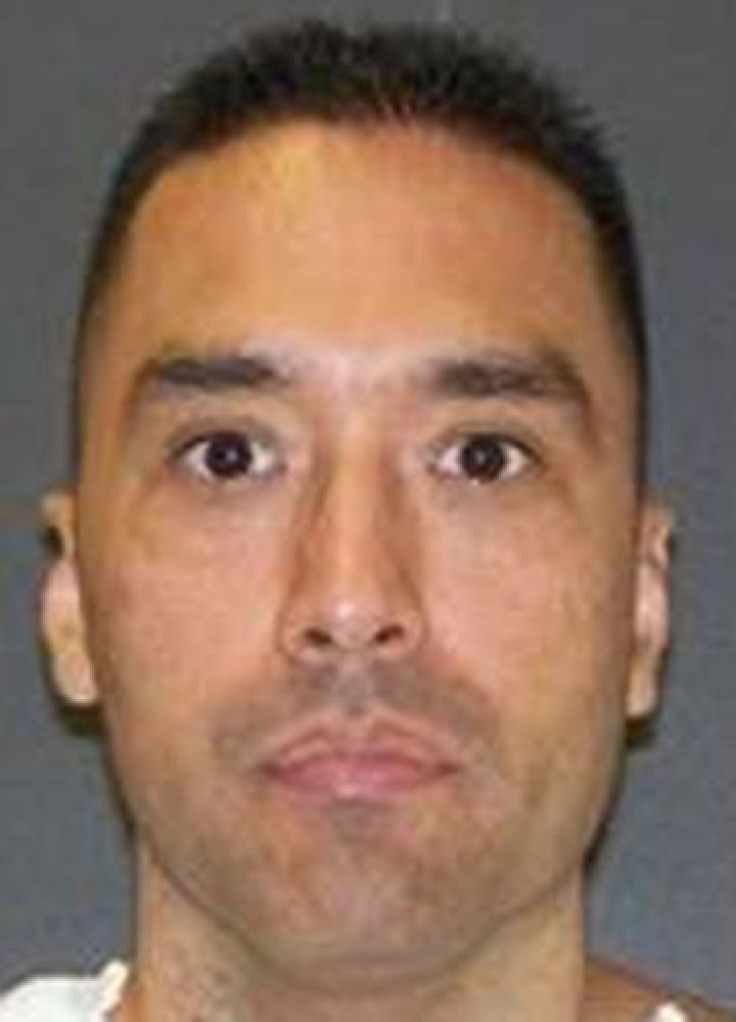 Rolando Ruiz, a 44-year-old contract hitman who has been on death row for 22 years and has spent 20 of those years in solitary confinement for a life insurance murder plot in 1992, will not be granted a reprieve from the Supreme Court, reports said on Tuesday.
In 1992, 22-year-old Ruiz was convicted of shooting and killing a twenty-nine-year-old woman, Theresa Rodriguez outside her home for $2,000. The murder plot was hatched by the victim's husband Michael Rodriguez and his brother Mark, both of whom were present with her in the car when she was shot by Ruiz, who fooled the victim by pretending to ask her for directions.
"As Theresa Rodriguez was getting out of the car, Ruiz put a .357 Magnum revolver to her head and fired," CBS reported. Her husband Michael Rodriguez stood to earn around $250,000 in life insurance from his wife's death.
Both Michael and his brother Mark were given life sentences. Mark was given parole in 2011 and Michael was executed in 2008 following a prison escape that involved the slaying of an officer in an unrelated case according to Associated Press.
"It's not going to bring her back, so it really doesn't mean very much," Susie Sanchez, mother of the victim said Monday according to CBS news, adding that some of her children may attend the execution.
Ruiz was not executed 7:00 PM Tuesday, Eastern Time (ET) as planned because the Supreme court did not issue a decision denying Ruiz's requests for a stay of the execution until then. Dissenting with his peers on the verdict, Justice Stephen Breyer sided with the arguments presented by Ruiz's lawyer.
"At this point, a quarter-century has elapsed since Mr. Ruiz committed a contract murder in 1992, two days after he turned twenty years old. … Mr. Ruiz has lived for over two decades under a death sentence, spent almost twenty years in solitary confinement, received two eleventh-hour stays of execution, and has received four different execution dates," Ruiz's lawyers wrote in his petition, according to BuzzFeed.
"Mr. Ruiz argues that his execution 'violates the Eighth Amendment' because it 'follow[s] lengthy [death row] incarceration in traumatic conditions,' principally his 'permanent solitary confinement. … I believe his claim is a strong one, and we should consider it," Breyer wrote in his dissent.
"This I believe is an appropriate case to conduct that constitutional scrutiny. … If extended solitary confinement alone raises serious constitutional questions, then 20 years of solitary confinement, all the while under threat of execution, must raise similar questions, and to a rare degree, and with particular intensity. That is why I would grant a stay of execution, allowing the Court to examine the record more fully," added Breyer in the dissent.
Before murdering Theresa Rodriguez, Ruiz worked as a laborer, having dropped out of the school in 10th grade. "Rolando has previously been arrested and served time for assaulting his ex-girlfriend and stealing her vehicle. While in prison, he assaulted a jailer," reported Death Penalty News.
He was also allegedly abused as a child, "which led him to be addicted to drugs and alcohol. Rolando also claims that because of his excessive use of drugs and alcohol, he has difficulty distinguishing between fantasy and reality," according to Death Penalty News.
© Copyright IBTimes 2022. All rights reserved.
FOLLOW MORE IBT NEWS ON THE BELOW CHANNELS