Who Is Tameka Harris? 6 Facts About Rapper Clifford 'T.I.' Harris And Wife Tiny's Divorce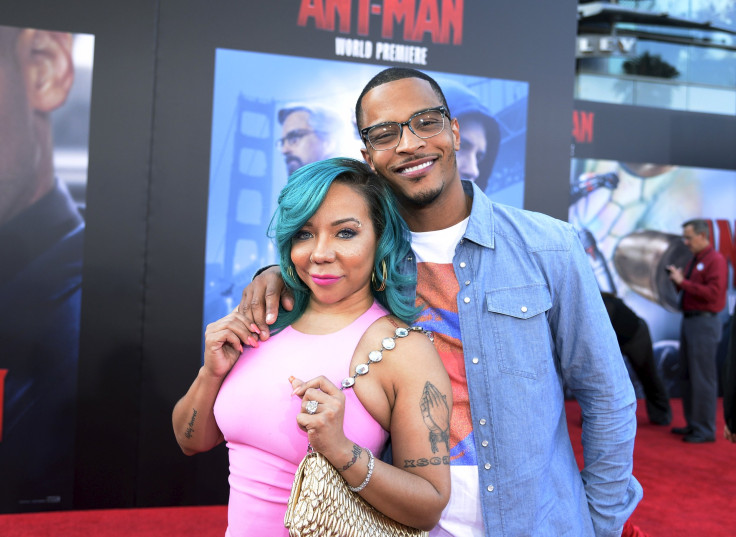 "T.I. and Tiny: The Family Hustle" stars rapper Clifford 'T.I.' Harris and wife Tameka 'Tiny' Cottle Harris may be splitting soon after the birth of their youngest child after Tiny filed for divorce at the Superior Court of Henry County in the state of Georgia on Dec. 7, reports say.
Here are six things you need to know about their relationship and the supposedly impending divorce:
How long were they together?
T.I. and Tiny exchanged vows on July 30, 2010, in Miami Beach, Florida. However, they had been in a relationship since 2001.
How many children do they have?
The former Xscape singer and the "Money Talk" rapper have three children together — King, 12, Major Philant, 8, and nine-month old Heiress Diana.
T.I., 36, has three other children — Messiah, Domani and Deyjah — from his previous relationships, while Tiny, 41, has an older daughter, Zonnique Pullins, from a previous relationship.
What is Tiny asking for?
T.I. and Tiny are currently separated and their marriage is "irretrievably broken with no hope of reconciliation," ET quoted court documents.
Tiny has asked for joint legal custody and primary physical custody of the couple's children, along with both temporary and permanent child support and alimony. She has also requested for the property acquired by them while they were married to be split equally. However, Tiny has requested for T.I. to be responsible for all debt acquired when they were together, because of his "high earning ability."
Cheating rumors
A fake Facebook post which hinted at Tiny admitting to cheating on her rapper husband went viral recently but a tweet by T.I. attempted to silence such rumors.
"I hate when people assume [things] 'cause of something they've seen on social media. If you want to know, ask. That way, when you find out the truth you won't look/feel [stupid]," T.I. said on Twitter.
That Floyd Mayweather picture
Mariah Carey's Halloween party became another scene of controversy for the couple after Tiny was spotted with retired boxer Floyd Mayweather, who does not share a very friendly relation with T.I.
Tiny and Mayweather joined Carey and Brittney Rashen for a group picture and along with a video of Cottle and the boxer dancing together at the party, giving rise to speculation over Tiny's marriage.
However, Tiny explained that the picture was clicked on the request of the host and she had nothing else to do with it. Cottle told TMZ in October: "Man I was walking out the party and Mariah and them were taking pictures and she asked me 'Tiny come take this picture with me.' And I'm just not going to tell the queen no and like make a big scene out of it. I just took the picture and kept it moving. "
T.I. and Mayweather were involved in a brawl at a Fatburger on the Las Vegas Strip in May 2014, but no reason was provided for the altercation.
Christmas video
Despite the ongoing divorce, the couple seemed to be getting along well enough and spent Christmas together. Tiny posted an adorable video of T.I. and their youngest daughter Heiress driving a toy car. The nine-month-old crashes into a bicycle after which the rapper pretends to be a police officer, asking her whether she's been drinking in the holiday video.
© Copyright IBTimes 2023. All rights reserved.