Why Beyoncé And Jay Z Skipped Kim Kardashian Wedding: It Was Too 'Low-Rent' For Their Brand, Says Report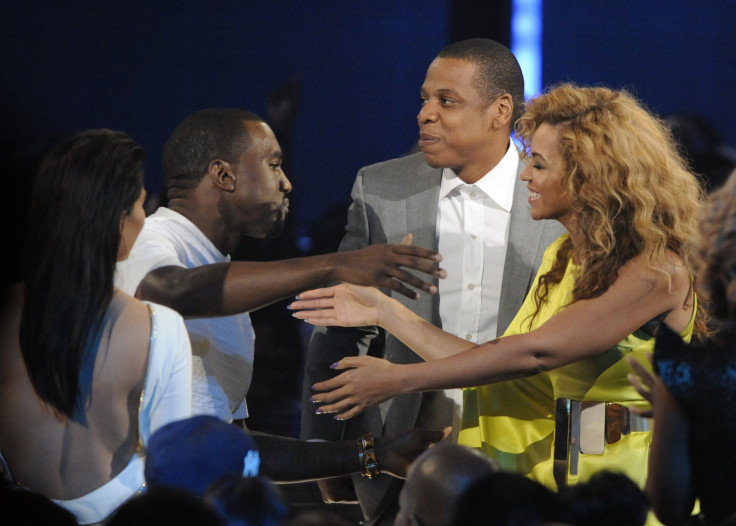 Jay Z and Beyoncé may have said they skipped Kim Kardashian's wedding to Kanye West for work reasons, but that may not be the truth. According to most recent reports, the celebrity power couple actually passed on the lavish Italy wedding because the ceremony was not up to par with their self-presumed status.
The New York Post's Page Six claims they "shunned Kanye West and Kim Kardashian's wedding because it was too low-rent for the Jay Z/Beyoncé brand." A source says "they are guarding like hell their status" and that "Beyoncé wasn't going to allow a Kardashian to socially climb her. And Jay didn't want Kanye with Kim -- he thinks it's bad for business. I think Jay lost a little respect for Kanye there."
Instead of attending the couple's wedding on May 24 in Florence, Jay Z and Beyoncé chose to relax in the Hamptons. Kris Jenner and Kanye West have since addressed their absence. During a radio interview on Australia's KIIS 106.5 FM breakfast show last month, the bride's mother said their absence "was the last thing on anyone's mind. There was so much commotion and excitement. I never really gave that a second thought," the 58-year-old matriarch of the Kardashian family said. Jenner said Jay Z and Beyoncé sent their best wishes to West and Kardashian, and she "just assumed they were working."
This month, in the latest issue of GQ, which features West on the cover, the 37-year-old musician is asked how he felt about Jay Z and Beyoncé spending the weekend of his wedding ceremony in the Hamptons.
"It doesn't even matter to me whatsoever, who would show up. Because the most important person to show up there, to me, was Kim. And that's all that matters to me. I had to fight for that for seven years," West said.
© Copyright IBTimes 2023. All rights reserved.