Why The 'Black Panther' Set Had 'More Pressure And Angst' Than 'Infinity War'
"Black Panther" is a massive success with over $1 billion at the box office, but the stars didn't know it would be so successful and stressed about getting the movie right. Star Chadwick Boseman revealed that he was much more relaxed on the set of superhero epic "Avengers: Infinity War."
"There's a certain amount of comfort with 'Avengers,' because it's been done before," Boseman explained to Entertainment Tonight. "Although this is a different version of it — there's some new challenges — we're all comfortable with each other and we have a lot of fun."
It seems launching a franchise was a bit more demanding for the actor, who plays the titular Black Panther. "Not that we didn't have fun on the 'Black Panther' set, but it was a new thing," Boseman added. "You don't quite know what it is, what it's supposed to look like, what it's supposed to sound like and feel like. It's a lot more pressure and angst on the 'Black Panther' set."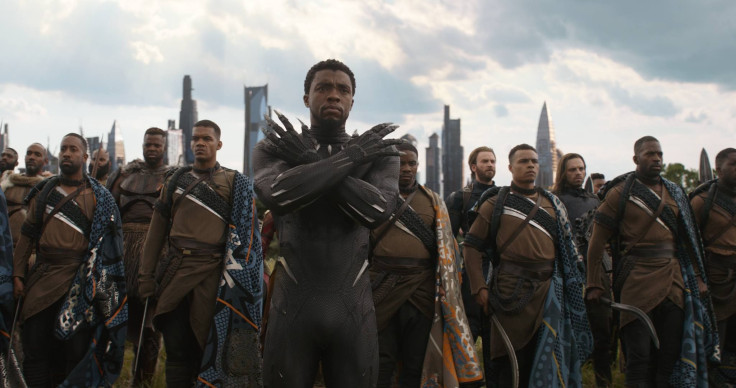 Expect T'Challa to be a little more relaxed in "Avengers: Infinity War" as well. The solo film took place just after the events of "Captain America: Civil War." While the third "Avengers" is being released only a couple months after "Black Panther," the films are set quite a while apart (probably about two years, but no official timeline has been released). Team Cap has been on the run for a while, and T'Challa will have adjusted to his new role as King of Wakanda.
The fictional African nation will play a large role in "Avengers: Infinity War." After they discover that Thanos (Josh Brolin) is coming, the Avengers will gather in Wakanda to try to defend Earth from the purple alien.
It isn't clear why Thanos set his sights on Wakanda, though the big rumor is that the soul stone could be there. It's the only Infinity Stone that has yet to be introduced in the Marvel Cinematic Universe, and until T'Challa expanded the nation's outreach, Wakanda would be the last place anyone would look for something valuable.
Joining T'Challa in "Infinity War" will be his tech wiz sister Shuri (Letitia Wright), Jabari tribe leader M'Baku (Winston Duke), Okoye (Danai Gurira) and the Dora Milaje.
"Black Panther" is out now. "Avengers: Infinity War" hits theaters April 27.
© Copyright IBTimes 2023. All rights reserved.