Why Is Chelsea Peretti Leaving 'Brooklyn Nine-Nine'? Gina's Goodbye Airs Jan. 31
Gina is making her grand exit on "Brooklyn Nine-Nine" on Thursday. The administrator will be leaving her job since actress Chelsea Peretti is leaving the show.
The actress told fans in October that she didn't sign on for the full season. "I won't be doing a full season of 'Brooklyn Nine-Nine' in Season 6," she wrote. "But that doesn't mean I won't ever be back, winky face emoji, heart emoji. I want to thank you for the hours you spent watching Gina be Gina: confident, idiotic-but-smart, pithy, and infused with rhythm and cell-phone radiation."
Peretti told TVLine that leaving "wasn't fully just my decision. It's hard to get into the weeds of what exactly transpired and how it all shook out, but it kind of came together to be this timing that presented itself. So I kind of knew that it was going to be happening for a while… [and was] holding on to this feeling of, like, 'I'm going away from this family' in my head."
Last week's episode of the NBC sitcom introduced Gina's exit arc when Jake (Andy Samberg) suggested that she had outgrown her job and needed to do something that challenged her.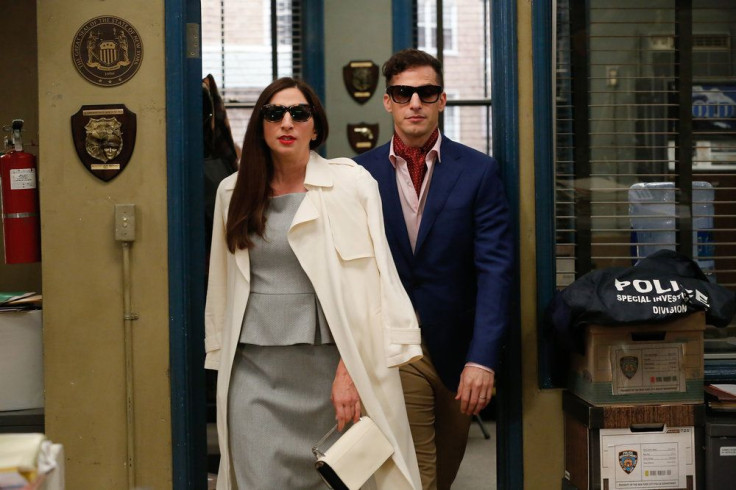 The Jan. 31 episode of "B99" will likely show Gina deciding on a new career path. However, it won't be something that takes her away from the team forever. This is not Peretti's final episode. The actress and the comedy's writers have made it clear that the character will return for guest spots.
Executive produce Dan Goor told Entertainment Weekly that he sees Gina as always being part of the "Brooklyn Nine-Nine" world. "I was sad that a member of our family was leaving but excited and happy for her to think of all the Chelsea comedy that she would be doing and that I would be getting to see," he explained in December. "We have plans to bring her back in a future episode after she leaves — and I would imagine as long as 'Brooklyn Nine-Nine' continues, Gina would be popping in and out of it."
Watch Gina's goodbye (for now) on "Brooklyn Nine-Nine" Thursday at 9 p.m. EST on NBC.
© Copyright IBTimes 2023. All rights reserved.