Why Defense Secretary Mark Esper Prepped His Resignation Letter Before Election
KEY POINTS
Esper has long been at odds with the president
He left the Army with the rank of lieutenant colonel
Sen. Tim Kaine, D-Va., urged Esper to stay on for the sake of the nation
At odds with the president and fearing he'll be shown the door, U.S. Defense Secretary Mark Esper planned his exit with a pre-election resignation letter.
Without quoting sources directly, NBC News on Thursday cited unnamed defense officials as saying Esper drafted an undated resignation letter before Election Day because he feared he would be fired by President Donald Trump once the final tally was recorded.
Esper has clashed with the president in the past, particularly over the use of active-duty military personnel to quell protests over alleged police abuse during the summer. A controversial photo-op at a Washington church, where Trump posed holding a Bible in July, only raised the tensions after security personnel used flash-bang grenades to clear out demonstrators.
Pentagon spokesperson Jonathan Hoffman said in a statement that Esper continues to serve at the pleasure of the president.
"The speculation about potential resignations of Cabinet officials is a well-worn, D.C.-insider, post-election parlor game," he added.
Esper served 21 years in the U.S. Army's elite 101st Airborne Division, leaving the military in 2007 with the rank of lieutenant colonel. A graduate of the West Point military academy, Esper served briefly as the U.S. Army Secretary, was a chief of staff at the conservative Heritage Foundation and had a role in government relations at defense contractor Raytheon.
Officials at the U.S. Defense Department told NBC News on condition of anonymity that Esper is worried about his legacy, earning the moniker "Yesper" because of his reputation of doing President Trump's bidding.
"He cares about his legacy and prefers to be remembered as someone who was fired because he stood up to the president, rather than being remembered as 'Yesper,'" one defense official said.
With demonstrations marking an already-tense year, Esper was urged to stay on for the sake of the nation.
"For the good of our country and the brave men and women in uniform, I hope he will continue to serve for the remainder of the Trump presidency," Sen. Tim Kaine, D-Va., a member of the Senate Armed Service Committee, was quoted by Politico as saying.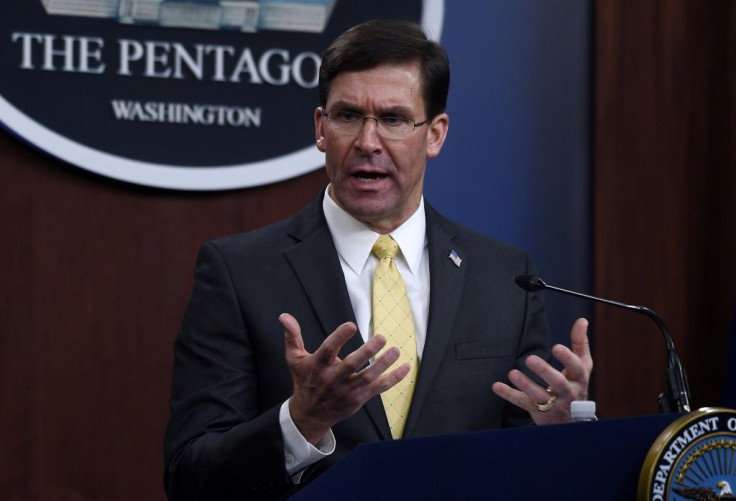 © Copyright IBTimes 2023. All rights reserved.