Why Jennifer Aniston Hasn't Found New Boyfriend After Brad Pitt, Justin Theroux Divorces
Jennifer Aniston is focusing on her career and many projects rather than love after her divorces from Brad Pitt and Justin Theroux.
In an interview for Harper's Bazaar's June issue, the "Friends" star, 50, dished on whether or not she has tried finding love through dating sites like OkCupid. According to Aniston, she has "zero time" to date a new man and jump into another relationship despite having announced her split from Theroux early last year.
"My focus has been on the show, so dating has not been one of my first priorities," Aniston explained. "I feel like whatever [romance] looks like, it will present itself, and it's not about seeking it out, you know?"
But while she may not be actively looking for someone new at the moment, Aniston said she will always welcome love if it "comes knocking." The actress explained that she hasn't given up on finding love again.
"My time on this planet has been about…It hasn't looked a certain way. It's my way; it's what I've been given this round. But I would say I don't find any of my past has given me a reason to harden up and create a shell or a wall of 'No more, that's it, I'm closed,'" she dished.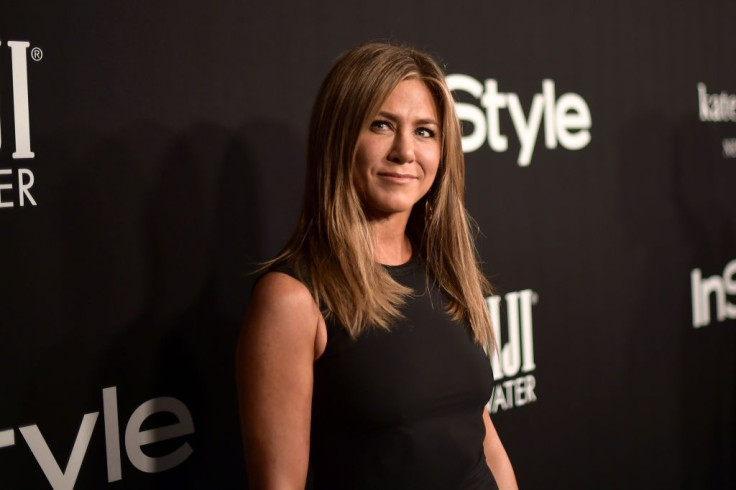 Aniston, who has also dated John Mayer and Vince Vaughn, went on to say that she believes every person has several people in their lives who are compatible with them.
"I think we have many soul mates. I don't think there's one and one only. I think we have soul clusters," she explained. "I've had some of my friends for 35 years. I think we've all made some sort of unconscious agreement. It's like when certain groups of people meet, they form a little soul cluster—a sort of common group of souls who have been put together."
Meanwhile, the actress has indeed been very busy over the past several months. Aniston has been working on a new show with Tig Notaro titled "First Ladies" and has also been filming her upcoming Apple TV series, "The Morning Show," with Reese Witherspoon and Steve Carell.
Just last week, Aniston was spotted shooting what appeared to be an intense scene with Witherspoon in New York City, Entertainment Tonight reported. In photos from the set, Aniston could be seen yelling at a man on the street who is trying to grab something from her, while Witherspoon looks on with a shocked expression on her face.
"The Morning Show" will be Aniston's first big TV role since "Friends" ended in 2004. This will also mark Aniston and Witherspoon's first TV collaboration since "Friends," where the "Big Little Lies" star made a guest appearance as Rachel Green's little sister.
© Copyright IBTimes 2022. All rights reserved.
FOLLOW MORE IBT NEWS ON THE BELOW CHANNELS