Why Russia Is Backing Assad's Regime In Syria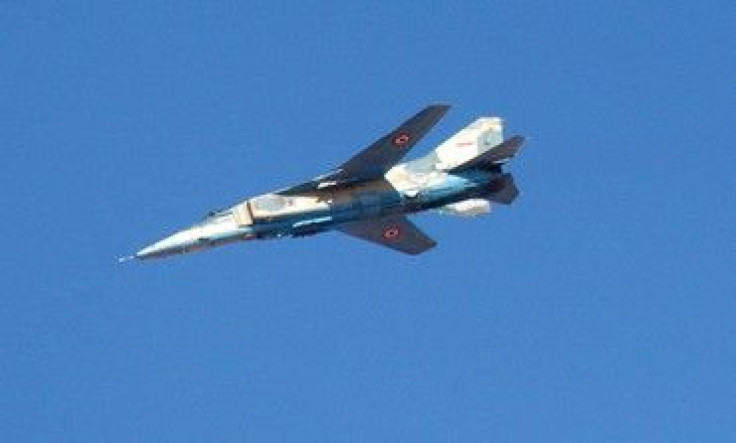 CAIRO -- During the 18 months of Syria's popular uprising, the embattled regime of President Bashar al-Assad has found one staunch supporter: Russia. Moscow, for the most part, has continued business as usual with Damascus, honoring existing arms contracts and vetoing United Nations resolutions that would have allowed tougher sanctions on the Syrian regime a total of three times, along with China.
Turkey's Prime Minister, Recep Tayyip Erdogan, is among the most vocal critics of Russia's stance. "The main source of disappointment is Russia. Let alone raising its voice against Syria, it stands by the massacre," Erdogan said on Thursday in an interview on the Turkish television station NTV.
In response to criticism and overtures from Turkey, the Obama administration and European governments, President Vladimir Putin's Kremlin has been unwavering in its position and has fired back at the West's approach to Syria. "The main thing is that our partners cannot stop," Putin said last week. "Having already created an atmosphere of chaos in many countries, they are now continuing that policy in others, in particular Syria."
As Syria's civil war continues to escalate, why has Putin's stance on Syria remained largely unchanged? While arms contracts are a part of it, Russia has much broader economic ties with Syria, as well as geostrategic considerations over its future role in the Middle East.
Planes, Choppers and Bombs
The conflict has grown increasingly complex, with boundaries blurring between non-violent and armed factions, secular and Islamist factions, and Syrian and foreign fighters. One thing has been a constant: Russian-made weapons are the staple of Assad's army, with MiG warplanes, helicopter gunships and bombs appearing in many YouTube videos shot by the Syrian opposition. Those Russian weapons are the product of a growing arms trade that is difficult to trace and document.
Russian munitions companies have signed a total of $6 billion in contracts with Syria since 2006, of which only $1 billion worth of weapons was actually shipped, according to the Centre for Analysis of Strategies and Technologies, a Russian nonprofit organization tracking arms sales.
While the overall value of Russian arms deals with Syria more than doubled in three years, from $2.1 billion in 2007 to $4.7 billion in 2010, Syria is a relatively small customer for Russia's arms industry. In 2011, Russia's arms exports to Syria comprised only 5 percent of the total, according to CAST data.
Syria, unlike other Arab nations, doesn't have huge oil revenues to pay for the advanced weaponry it buys, and as a consequence has it has incurred huge debts with its main supplier. In 2005, Russia decided to write off 70 percent of Syria's Soviet-era debt, a decision that fueled the increase of arms and energy contracts allocated to Russian companies. (The write-off reduced Syria's Soviet-era debt from $13.4 billion to $3.6 billion, according to CAST data and analyst estimates.)
As for the specifics on what business Russia has been doing with Syria since the conflict began 18 months ago, top officials have been vague. "Russia has its obligations to Syria under contracts that had been previously signed," Vyacheslav Dzirkaln, deputy chief head of the Military Technical Cooperation agency, said in July. "We are supplying arms and hardware of a purely defensive nature; it cannot be said that we have introduced an embargo on military supplies to Syria."
Yet Russian authorities continued to sign agreements last year, with the Syrian conflict already under way. Russia's principal military export agency Rosoboronexport signed a $550 million contract last December to ship 36 Yak-130 combat trainer aircraft to Syria. Those jets, while primarily used to train pilots, have the ability to drop bombs and launch missiles.
Russian companies also scrambled to ensure the delivery of Mi-25 helicopter gunships that had been sent back to its manufacturer by the Syrians for maintenance, said Paul Holtom, director of the Arms Transfers Programme at SIPRI, a Stockholm-based arms and military research center. Pieter Wezeman, a senior researcher at SIPRI focusing on Syria, added that the Assad regime is also buying top of the line fighter-bombers: "A major ongoing deal is for 24 MiG-29SMT combat aircraft, although those are more likely to be delivered from 2013," he said.
Energy Crossroads
Besides exporting weapons, Moscow also has energy interests in Syria. The country's oil production has been declining for years and gas reserves are limited compared with the region's biggest players, but Russian energy companies have been able to secure long-term oil and natural gas exploration contracts that may end up changing that picture. (Admittedly, the size of Syria's reserves, 8.5 trillion cubic feet of natural gas according to the latest International Energy Statistics, pales in comparison to Qatar and Saudi Arabia, which hold 890 tcf and 283.5 tcf, respectively.)
Since most of these contracts are long-term, Russia is keen to avoid a Libya-style scenario, in which the ouster of Moammar Gadhafi (a longtime commercial partner of Moscow's) and his replacement by a rebel government cost Russia an estimated $4 billion.
Russia's natural gas commitments in Syria are valued at approximately $20 billion by Oxford Analytica, a New York-based consulting firm. These commitments include construction work on the Arab Gas Pipeline linking Egypt to Turkey and a natural gas production facility, located about 125 miles east of Homs, a city that has been the scene of brutal combat. The Arab Gas Pipeline has been plagued by supply disruptions caused by attacks in Egypt, for which the local government accuses Bedouin tribesmen.
The pipeline highlights Syria's strategic significance as an energy transit, located at the crossroads of the Middle East and next door to the fast-growing, and energy-hungry, Turkish economy. Immediately beyond Turkey lies another big natural gas customer, the European Union. Russia wants to keep its foot in this all-important door. Russian engineering company Stroytransgaz, along with the Syrian Gas Co., renegotiated late last year the terms for a natural gas facility and reasserted its commitment to complete construction of a gas processing plant in central Syria.
This commitment may go beyond engineering and construction, too. According to Cairo-based Syrian opposition activists, Russia has been conducting military training of government forces, which Moscow denies. There are also reports of Russia and Lebanon providing media training to Syria's state television channel to influence public opinion, according to a source inside Syria, though this could not be independently verified.
And then, beside the hardware and the energy deals, there's symbolism. For Russia, Syria is about much more than just arms or energy trade: it is Russia's last historical Cold War ally in the Middle East. In 1971, Assad's father, Hafez, gave the Soviets use of the Tartus military facility, a large base on Syria's coast, which is also the only Mediterranean fueling spot for the Russian Navy. It would be a significant strategic loss if the Assad regime falls.
Fear of Al Qaeda
The fear of the spread of radical Islam by an increasing number of foreign fighters in Syria is also of particular concern to Moscow, especially the possibility of an al Qaeda presence. Earlier this month, Putin offered some of the sharpest criticism of international actors in Syria, alleging they backed al Qaeda-linked elements inside the country. He didn't name names, but the criticism was clearly directed at some Arab states like Saudi Arabia and Qatar that finance their fellow Sunni Muslims who make up the bulk of the Syrian rebel fighters, some of whom are known to be Islamic extremists.
"Today some want to use militants from al Qaeda or some other organizations with equally radical views to accomplish their goals in Syria," Putin said in an interview with the pro-government Russia TV. "This policy is dangerous and very short-sighted. If that's the case, one should unlock Guantanamo, arm all of its inmates and bring them to Syria to do the fighting. It's practically the same kind of people."
At the end of the day, Russia has little to lose through its stance on Syria. "During the Soviet times they would have probably issued a vague, or even not so vague threat if their ally had been attacked," said Gennady Shkliarevsky, a professor of Russian and Soviet history at Bard College in New York. "They do not make any threats now, just warn against possible consequences."
Inside Syria, there are fewer anti-Russian protests compared with a year ago, when opposition groups still believed Moscow could pressure Assad into accepting reform. "There is no more hope that there will be a change of stance, so you don't see those demonstrations," said Rami Jarrah, a Cairo-based Syrian opposition activist. Jarrah said Russia's position is bound to isolate it from the growing, if fractured, opposition forces, and that it may come to regret its position. "It's damaging because now you have extremists in Syria who will accept nothing that involves Russia," he said. "If that sector of society grows, it becomes impossible for Russia to have any hand in the situation."
© Copyright IBTimes 2023. All rights reserved.