Why Toyota Prius Lost The Top Slot As California's Best-selling Car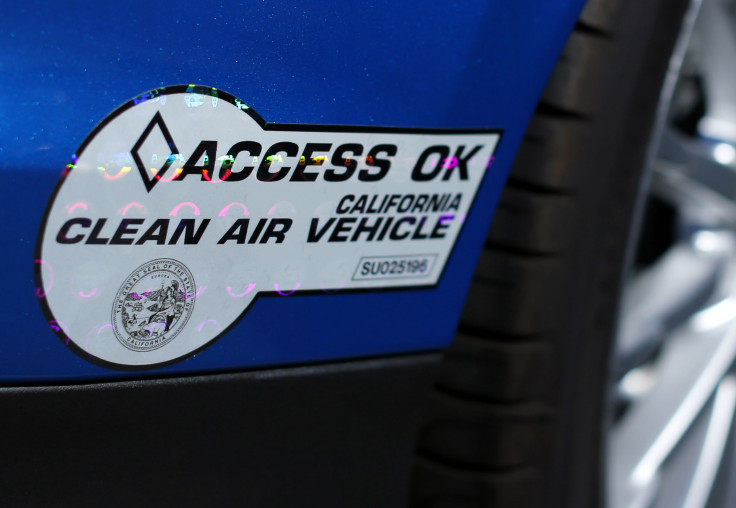 The Toyota Prius, the first mass-produced hybrid car and a model that has become synonymous with the technology, has been the best-selling auto in California since 2012. But in the first three months of this year, it was overtaken by Honda and faces an uncertain future with competitors touting newer and flashier models.
Helped in part by Honda's new hybrid version, the automaker's dealers sold 15,611 Accord sedans between January and March, nearly 300 cars more than Prius dealers delivered to California buyers, according to the California New Car Dealers Association.
"The Prius is getting a little long in the tooth in its production cycle," said Jack Nerad, executive editorial director of Kelley Blue Book, the automotive pricing and information provider.
First introduced into the U.S. market in 1997, the Prius has only seen two significant redesigns; the most recent one in 2009 kept a similar look to its previous version. Consumers often lose their enthusiasm for a car's features and gravitate to newer versions of models from competitors. The Accord entered its ninth generation in 2013 by offering a hybrid version in the 2014 model year.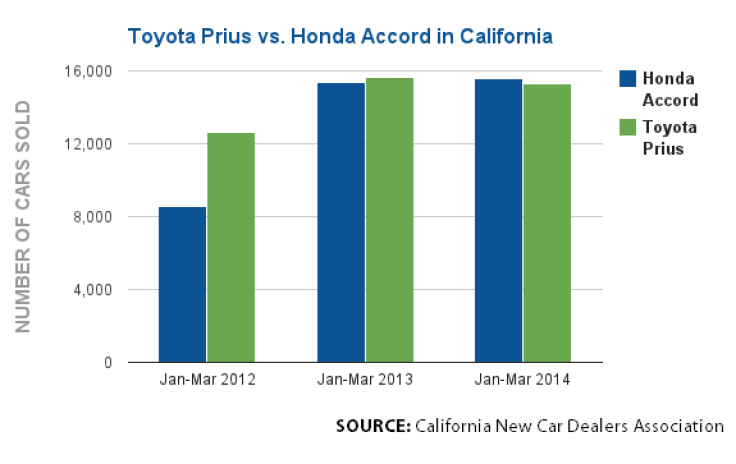 Toyota has maintained a consistent look with the Prius, and a decade ago it won the favor of environmentally conscious consumers wanting to make a statement. Driving a Prius clearly identified the driver as someone driving a hybird car. Now that the hybrid market has become crowded and the technology has lost its novelty, consumers are increasingly focused on fuel economy and overall design.
"The Prius was once a status thing, but now, especially out here in California, people are not as likely to be looking for a particular hybrid to show off their progressive mentality," said Jeremy Acevedo, an automotive-industry analyst at Edmunds.com.
Instead, car buyers today are getting used to viewing hybrid technology as an option rather than a brand. A decade ago, if you wanted a hybrid you bought a Prius. Today you can purchase a hybrid version of a Ford Focus or a Nissan Pathfinder. Honda has recognized that consumers are paying more attention to hybrid fuel economy now that there are many more choices in the hybrid car market than there used to be just a few years ago, says Eric Lyman, vice president of industry insights for automotive site TrueCar.
"Before, Honda used to emphasize performance, but it has pivoted in its execution," he said. "Now Honda has a car that's toe-to-toe with the Prius on fuel economy, and people who are looking purely at efficiency – who don't care whether the car looks like a hybrid – have that option to go to Accord's more traditional sedan styling."
The 2014 Prius still leads in fuel economy: 50 miles per gallon compared to 47 mpg for the 2014 Honda Accord Hybrid. The Insight, Honda's first attempt at competing with the Prius by focusing on a lower price, reached only 42 mpg since its U.S. debut in 2000. It's being discontinued this year.
Honda still has a long way to go towards beating Toyota in the U.S. market for hybrids. Toyota has sold more than 61,000 units of the Prius in the U.S. in the first four months of the year, while Honda has delivered about 4,200 Accord hybrids (most of them in California) during the same period. Prius sales are falling, however, down nearly 20 percent over the first four months of 2013, according to company sales data.
California has the most generous incentives to buy electric and hybrid cars in the country, offering the highest state tax rebate and allowing green-car drivers access to high-occupancy vehicle lanes without passengers. This has helped boost sales of hybrids and plug-in electrics.
Whether Toyota can re-take the No. 1 position in California will depend on how aggressive both automakers will be in offering incentives to buy, such as manufacturer rebates. The more a company spends on incentives, the less it makes in profit.
"It's not unusual to see this back-and-forth in this kind of arms race between automakers," said Lyman.
California's car market is different from the rest of the country. Nationally, the Ford F-Series pickup truck is the best-seller, followed by the Chevy Silverado. But compact and mid-sized Japanese sedans do better in California, and Japanese brands make up nearly half of all new car sales in California, compared to 38 percent nationally.
California outpaced the national average in new-vehicle registrations (how auto sales are measured) in the first quarter at 5.4 percent growth compared to 2.7 for the whole country.
© Copyright IBTimes 2022. All rights reserved.
FOLLOW MORE IBT NEWS ON THE BELOW CHANNELS