Why Tumblr Isn't Instagram For Yahoo And What Marissa Mayer Plans To Do About It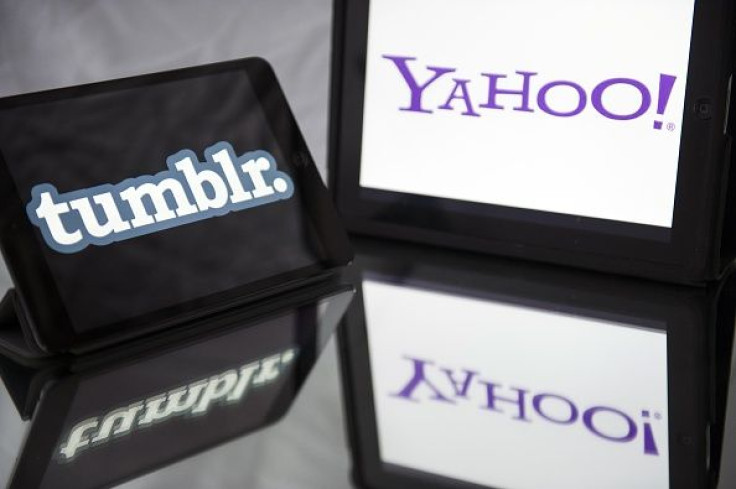 Three years ago, Yahoo bet big on social media with its $1.1 billion acquisition of Tumblr, a social blogging site with 300 million monthly users that was going to bring youth and the potential of native ads to Yahoo. Fast-forward to 2016: Tumblr's business is stalled on the launchpad, and Yahoo wrote down the value by $230 million.
Now that Yahoo is officially on the block, and the board is pursuing a breakup or sale of the core business, attention turns once again to the startup that David Karp built. At the time, Yahoo CEO Marissa Mayer promised not to "screw it up," but Tumblr languished under Yahoo ownership.
For 2015, Yahoo publicly announced and so analysts expected that Tumblr would generate $100 million, which would have barely moved the needle on Yahoo's $5 billion ad business. Yet in the fourth-quarter earnings, Yahoo revealed that Tumblr had missed those expectations. "While we experienced a slower ramp in monetization than we initially expected, we've seen continued growth across all areas of the business, including revenue, users, and engagement," a Tumblr spokesperson wrote in an email Wednesday.
Meanwhile, Facebook just started to monetize Instagram late last year and it's already estimated to be a $110 million business.
Tumblr does not have the user numbers of Facebook nor the real-time hook that Twitter has nor the mobile-first play of Snapchat and Instagram. "Tumblr isn't dominating mobile. Plain and simple. And that's where this generation is leaning. Mobile first not mobile compatible," said Vincenzo Landino, chief marketing office of Fifty 2 Creative. "My thing with Tumblr is that it's basically a blog. There are much better blog-only options."
Yahoo is aware of the problem, and told International Business Times that Tumblr will soon have its own Tumblr-only salesforce dedicated to the unique nature of the service. "Since the acquisition, Tumblr has introduced a number of innovative ad products to maximize value for our advertisers and best meet their needs," a Tumblr spokesperson wrote in an email. "To further support these efforts moving forward, we have returned to a dedicated direct sales team."
The product team at Tumblr has worked to improve the desktop site and the app. Tumblr added a new messaging component in November. Earlier in the year, the team built more filtering tools and added the ability of users to create secondary blogs. Mobile daily active users are up 34 percent year-over- year, Yahoo reported on Tuesday.
And yet, several marketers told IBT that they have lost faith, in part due to a lack of a convincing sales pitch. "It remains difficult to convince brand managers to devote a significant portion of their social media ad budgets to native advertising for niche, hard-to-reach audiences," said Nick Macri, associate director of data at Code And Theory.
The comparison to Instagram is instructive: both acquired at roughly the same time by different companies, Wall Street values Instagram at $34 billion to $37 billion while most Wall Street models value Tumblr at zero. "I would have thought they would have marked [Tumblr] down to zero," said Eric Jackson, managing director of SpringOwl Asset Management, an asset management firm in New York that owns Yahoo shares.
Mayer's execution on Tumblr has been seen by many analysts as failure. Tumblr has fallen out of the top-100 on the App Store. Its highest rank came a month after the acquisition, as Jackson noted in a 99-page report on Yahoo in December.
It's not that Tumblr's user base is small; it has grown to 550 million monthly users, which is more than Instagram's 400 million. The problem is they're largely PC-based (not mobile) and much of the content isn't exactly brand-friendly. "A lot of the traffic was centered around NSFW content. You can't sell ads against it," Jackson said.
However, even in the inventory that Tumblr has to offer, marketers say the company has failed to present a compelling case. Back in August, Yahoo held a mobile developers' conference in New York, where the company touted its success in the long-tail. One-third of all reblogs occur 30 days after the creator posted the content. "Tumblr isn't like a Twitter. It's not a real-time marketing platform. It's about discovery," said Tom Edwards, chief digital officer of agency business for marketing company Epsilon.
At the time of Yahoo's acquisition, Tumblr generated between $10 million to $15 million in revenue, Ben Schachter, an analyst at Macquarie Securities, told Fortune in October 2014. Since, Yahoo has failed to break out numbers on Tumblr, other than report that it fell under the $100 million goal.
Back in 2013, Tumblr did convince brands to build up a presence, and Tumblr did sell ads. Those failed to impress the community, however. "It looks like an ad unit from the mid-1990s," said Amy Vernon, a content advisor and adjunct professor at New York University on social media, of the first Tumblr ads she saw. "My entire feed was filled with them because people kept screenshotting them and saying, 'What is this?'"
Some say the lack of its own sales force has hampered Tumblr. Before Yahoo's ownership, Tumblr was working hard to establish its ad business. Since then, not so much. "I had an individual representative working with me and pushing the creative," Edwards said. "I haven't seen that effort from Tumblr since 2013 … There's more education required for how people leverage Tumblr."
The question is how big will Tumblr figure when Yahoo's core business -- spun out from its Alibaba stake -- goes on the block. "I can't pretend to understand some of the different modelings that various folks do," said Mayer about Wall Street's valuations on CNBC Wednesday morning. "I don't think they're worth zero."
For his part, Jackson thinks Tumblr should stay with core Yahoo. "I don't think it would get that much money back for you if you were to sell it together," he said.
Facing yet another chaotic year with a turnaround on one hand and a likely sales process on the other, Mayer won't have much time on her hands. "It's not clear how much attention Marissa can really give to Tumblr," said Johnny Won of tech consultancy group Hyperstop. "David Karp has been a great production and user experience visionary but neither of them seem like they have a Sheryl Sandberg to help create advertising driven revenue."
© Copyright IBTimes 2023. All rights reserved.
FOLLOW MORE IBT NEWS ON THE BELOW CHANNELS