Yahoo (YHOO) Q4 2015 Earnings: Yahoo Takes Huge Charge, Confirms 15% Workforce Reduction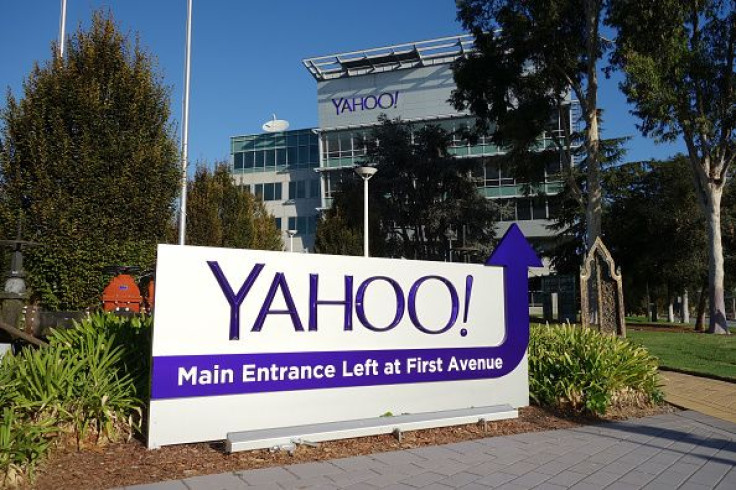 SAN FRANCISCO — Yahoo's plan to reduce its workforce and close numerous units became official Tuesday as the company released its earnings for the fourth quarter of 2015. Despite beating revenue expectations thanks to growth in mobile advertising, Yahoo's share price fell nearly 3 percent in after-hours trading.
Additionally, CEO Marissa Mayer said Yahoo is focused on a reverse spin-off of the company's multi-billion stakes in Alibaba and Yahoo Japan as a way to return that value to investors. That is a move that would enable the sale of Yahoo's core business, a move many investors and analysts have been calling for for years.
Yahoo delivered revenue of $1.27 billion for the quarter on earnings of 13 cents per share. Those figures beat analysts' expectations of $1.19 billion in revenue and matched estimates of 13 cents in adjusted earnings per share for the quarter. Those earnings did not include a $4.5 billion non-cash goodwill impairment charge taken because the carrying value of units around the globe, including Tumblr, "exceeded their respective estimated fair values."
"In short, it is not healthy to see a company have a goodwill impairment charge. It is a sign of weakness, not strength," said Adam Sarhan, CEO of Sarhan Capital.
Driving Yahoo's growth were the company's efforts in mobile, video, so-called native ads and social media, otherwise known as "Mavens." These units grew nearly 26 percent year-to-year to $472 million in the fourth quarter. PC display advertising revenue also grew 6.8 percent year-to-year to $931 million.
Yahoo Inc. (YHOO) Stock Price - 1 Year | FindTheCompany
"We're encouraged that our fourth-quarter results exceeded expectations in all core metrics," said Ken Goldman, chief financial officer of Yahoo, in a statement. "As we look forward to executing a more focused strategy for the company, this is a solid baseline for the actions we're taking to improve performance in 2016 and beyond."
Yahoo said it will reduce its workforce by 15 percent. The company also announced plans to close its offices in Dubai, Mexico City, Buenos Aires, Madrid and Milan. Mayer said these reductions will save the company up to $400 million annually. "These actions are part of a strategic plan designed to simplify the company's business and narrow its focus and to improve operational and cost efficiency," Yahoo said in a government filing.
In a call with analysts and investors, Mayer said Yahoo will focus its efforts around its search, mail and Tumblr products in its U.S., Canada, U.K., Denmark, Hong Kong and Taiwan markets. Yahoo will also continue to grow its verticals in news, sports, finance and lifestyle.
"With these seven products, Yahoo will better guide discovery for users going forward," said Mayer, who sounded nervous through parts of the call. "Together these products will play to our strengths." Disappointingly, however, Tumblr failed to deliver on its goal of $100 million in revenue for 2015, Goldman said.
Yahoo said its also plans to shut down certain products, such as some of the digital magazines launched under Mayer's leadership as well as Yahoo Games and Yahoo Smart TV. The company will also reel in its efforts with other products, such as Flickr. Finally, Mayer said the company will explore certain strategies, such as the sale of real estate.
Yahoo Inc. (YHOO) Quarterly Revenue & Growth Rate | FindTheCompany
"A simplified Yahoo will yield better focus, execution and ultimately better shareholder value," she said.
Our hope is that Yahoo is only revealing half of the story, and that their master plan is not just to cut their way to growth," said Steve Beck, managing partner at cg42, a management consultancy firm. "They need a competitive strategy that reasserts their relevance and takes them away from 'me-too' tactics. Cost-cutting alone is not going to cut it."
Mayer also addressed recent reports that Yahoo spent $7 million on its holiday party and $450 million in free food for employees over her tenure. She said the figures are exaggerated "by more than a factor of three." Additionally, spending on employee perks at Yahoo is in line with the industry's standards, Mayer said.
As for the company's reverse spin-off, Goldman said Yahoo will look to do execute as quickly as possible and in a manner that will yield the most value to shareholders.
"Although an outright sale of the company is the diametrical opposite of the turnaround Marissa Mayer has been hoping to drive for three years now, that's the next best solution, and it needs to happen sooner than later. As in 2016," said James Brumley, analyst at InvestorPlace.com. "If Yahoo is allowed to flounder any longer, there may not be enough of a viable company left to attract a decent suitor at a palatable price."
© Copyright IBTimes 2022. All rights reserved.
FOLLOW MORE IBT NEWS ON THE BELOW CHANNELS