Will 'Amazing Race' Teams Choose Correct Detours In Vietnam?
The competition has been fierce and the teams are starting to do whatever it takes to stay ahead on Season 31 of "The Amazing Race." However, when their journeys take them to Vietnam, they could also wind up standing in their own ways as they deal with a series of unexpected and difficult challenges.
In a preview clip for the third episode of the CBS series, teams will face difficulty with both their detours and their roadblock, which will require them to think critically about their next move—and whether the ones they've made are correct.
In one of the Detours, teams are required to perform a choreographed dance routine that they initially seem excited about—until they realize that the judge is very strict and the challenge isn't as fun for them all as they thought. As a result, front-runner teams could quickly find themselves looking towards being at the bottom of the pack.
"She's the one that keeps messing up," Rachel Reilly says in the clip of her sister, Elissa.
However, the other Detour may also have its fair share of difficulties, as a sneak peek clip shows Tyler and Korey working on it and wondering if they made the right choice.
That task, which involves fishing for and catching 8 prawns, proves to be more difficult than the Youtube stars predicted, and as a result, they will question if they should leave the task behind in favor of the other option.
"We've been here how long? And we have ONE?" Tyler says in the clip.
"Do we switch? Did we pick the right Detour? How long do we truly wait and sit this out to see if we can catch all eight of these things?" Korey adds.
Of course, the Detour won't be the only difficult task, as the Roadblock also pushes teams to work hard in order to obtain their next clue—by singing karaoke.
However, what may truly be difficult about that task is a ploy to be as annoying as possible by Eliza Orlins when she arrives—pushing Victor Arroyo to leave the room and try and complete the task with little rehearsal.
"Eliza shows up and she's yelling non-stop, so I decided to get out of there fast," Victor says in the clip.
"I was just being annoying," Eliza later gloats.
"The Amazing Race" airs Wednesdays at 9 p.m. EDT on CBS.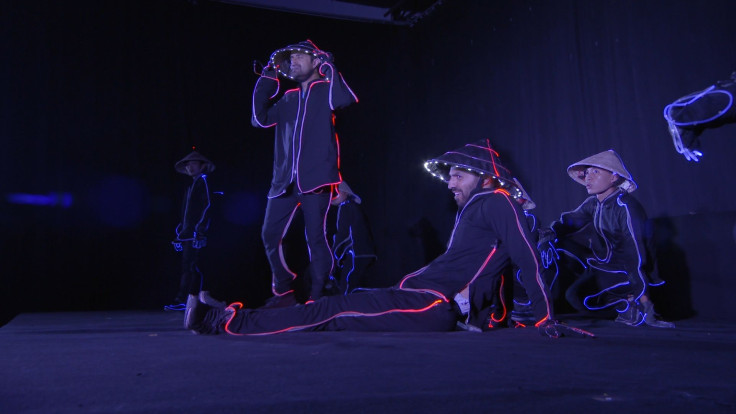 © Copyright IBTimes 2023. All rights reserved.