Will Lydia Cross The Atlantic Ocean? Great White Shark Spotted 'Closer To Europe' Than North America [PHOTO]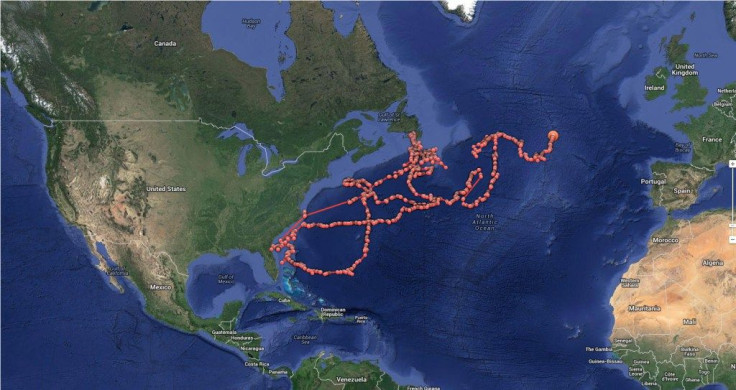 A great white shark may be making a record voyage across the pond.
Lydia, a 14 1/2-foot, 2,000 pound shark, is swimming solo across the Atlantic Ocean. If she manages to cross the mid-Atlantic ridge, she will be the first of her species known to cross from one side of the ocean to another.
"No white sharks have crossed from west to east or east to west," Gregory Skomal, senior fisheries biologist with the Massachusetts Marine Fisheries, told BBC News.
Lydia was captured and tagged on March 3, 2013 by scientists working for nonprofit Ocearch off the coast of Jacksonville, Fla. She has traveled as far north as the Newfoundland coast and racked up more than 19,000 miles since the tracking device was attached. Recently, she was spotted 1,000 miles from the coasts of County Cork in Ireland and Cornwall in Britain, and about 2,960 miles from Jacksonville.
"Although Lydia is closer to Europe than North America, she technically does not cross the Atlantic until she crosses the mid-Atlantic ridge, which she has yet to do," Skomal said. "We have no idea how far she will go, but Europe, the Med, and the coast of Africa are all feasible."
"We thought based on some of our earlier data that [great whites] were much more coastally restricted," Skomal told Global News. "And a couple of sharks like Lydia … are demonstrating some broader movement, and we're surprised. But I suppose we really shouldn't be because we don't really know that much about the species to begin with."
While sharks are known to venture into offshore waters, Lydia's journey north and east came as a surprise to researchers. Lydia's movements, which are tracked by a "ping" sent whenever she surfaces, may shed light on how sharks move in the ocean.
"She's taught us that these sharks spend quite a lot of time in international waters, and that in and of itself is important when it comes to protection of the species," Skomal said.
Lydia's journey sheds light on the global voyage sharks take, suggesting new forms of conservation efforts.
"Lydia's remarkable trans-ocean journey reminds us that no one locality, state or nation owns these remarkable migrators of the sea," Robert E. Heuter, a senior scientist at Mote Marine Laboratory, in Sarasota, who is director of the Center for Shark Research, told the Florida Times-Union. "If we are to save the sharks, we have an obligation not only to protect them in our waters, but also to work with other countries towards global conservation of sharks."
© Copyright IBTimes 2023. All rights reserved.