Will Michelle Gregg Face Charges? Ohio Prosecutor To Decide On Gorilla Harambe's Fatal Shooting In Cincinnati Zoo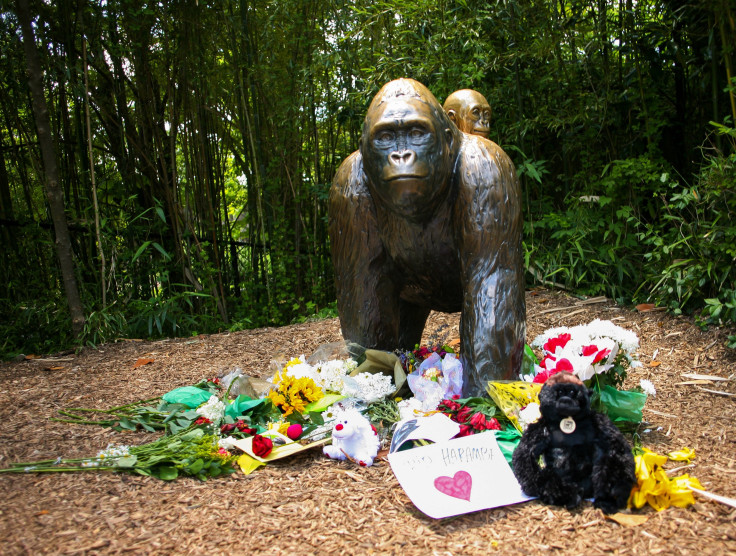 An Ohio prosecutor will announce Monday the decision on whether charges will be filed against Michelle Gregg, the mother of a 3-year-old boy who fell into the Cincinnati Zoo's gorilla exhibit. The incident led to the fatal shooting of the endangered gorilla as authorities rushed to protect the child. Many blame Gregg for the death of Harambe, the 17-year-old gorilla who was shot and killed by the zoo staff.
At an afternoon news conference, Hamilton County Prosecutor Joe Deters will release his conclusions after a review into the family's actions that led to Harambe's death. The boy fell inside the Gorilla World enclosure at the Cincinnati Zoo on May 28 after apparently climbing over the barrier. The boy fell about 15 feet into a shallow moat. Some experts believe that the 450-pound ape could have harmed the young boy, while others argue that Harambe was acting as a protector, not a predator.
Legal experts reportedly believe that prosecution on child endangerment or similar charges seems unlikely for the family. Last week, police released 911 tapes that highlighted the confusion and panic in the moments when the boy plunged into the gorilla exhibit.
"He's dragging my son! I can't watch this!" a woman says in the 911 call.
According to the police report, witnesses said the gorilla initially appeared to be protecting the child, but after onlookers began screaming, he became "agitated and scared" and began dragging the child.
Some experts have raised concerns over why the gorilla was killed instead of being shot with a tranquilizer dart. Authorities said, defending their action, that the tranquilizer dart was not used because it takes at least 10 minutes for the sedative to work, and zookeepers were afraid the shot might have agitated the animal even more.
Meanwhile, a woman who filmed the incident said it was a tragic accident and that people should take caution in assigning blame.
"People are saying things and they have opinions about something they know nothing about," Grand Rapids, Michigan, resident Kim O'Connor told wzzm13.com. "It was not a friendly, 'I'm going to take [the boy] to the zookeeper and let him go.' He was dragging him around like a doll and they had to do what they had to do, that boy only had minutes left, I know he only had minutes left."
The zoo plans to reopen the exhibit Tuesday, with a higher, reinforced barrier.
© Copyright IBTimes 2023. All rights reserved.