Will Pakistani President Asif Ali Zardari Survive the Storm?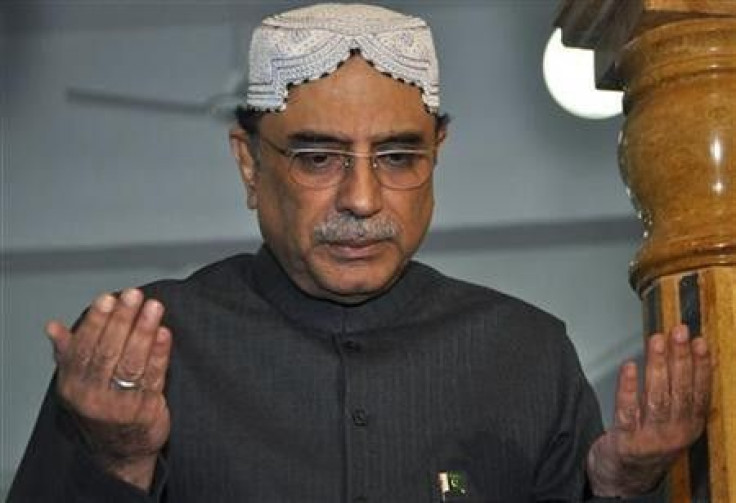 (REUTERS) -- Asif Ali Zardari, under threat from a memo seeking U.S. help in preventing a coup by Pakistan's powerful generals, has never managed to dispel the notion he is an accidental president.
Pakistan's President Asif Ali Zardari, widower of assassinated former Prime Minister Benazir Bhutto, raises his hands in prayer at her grave to mark her death anniversary at the Bhutto family mausoleum in Garhi Khuda Bakhsh, near Larkana December 26, 2011.
Zardari was elected in 2008 on the back of a sympathy vote after his far more charismatic wife, former prime minister Benazir Bhutto, was assassinated shortly after returning from self-exile late the previous year.
His rule has been a rocky one ever since and his relationship with the country's most powerful institution - the military - has become increasingly strained.
The public spilt between his civilian government and the military widened this week after Prime Minister Yusuf Raza Gilani sacked a top defence bureaucrat, prompting the military to warn of grievous consequences.
Speculation has been rife since Zardari's return from medical treatment in Dubai last month that he would step down in the face of pressure from the military.
Military sources say that while they would dearly like Zardari to go, it should be through constitutional means, not another of the coups that have marked Pakistan's almost 65 years of independence.
One route could be the memo, into whose origins the Supreme Court has ordered an investigation.
If a link with him is shown, it would likely cost Zardari his job and throw an already unstable Pakistan into greater turmoil.
The Supreme Court has also threatened his party's government with contempt proceedings that could lead to the fall of senior officials including the prime minister if it does not take action on long-standing corruption cases against Zardari.
Zardari, long plagued by accusations of rampant graft, has never connected with Pakistanis in the way his wife did.
That was all too clear when epic floods raged through Pakistan in 2010, inundating 20 percent of the country and making millions homeless.
The president set off a on a trip to Europe as the disaster was unfolding and made no immediate effort to return home. While in France, Zardari visited a chateau he owns in Normandy.
The election of Bhutto's Pakistan People's Party , which has long opposed military involvement in politics, in 2008 raised hopes the nuclear-armed South Asian nation could shake off the legacy of decades of intermittent army rule and turn back a rising tide of Islamist militancy.
Zardari, however, has failed to deliver since then, dismissed as an uncaring playboy -- another feudal landlord who ignored the needs of the masses -- while Pakistan lurched from crisis to crisis, from crippling power cuts to suicide bombings.
He has always appeared to lack the political resolve to push through reforms that could help the fragile economy and make it less dependent on foreign aid.
But while his job as president has become largely ceremonial, his leadership of the ruling PPP gives him strong political influence.
NUMBSKULL
Some Western officials concluded early on that he lacked the skills to lead a country seen as critical to Washington's global efforts to tackle militancy.
In a 2008 diplomatic cable carried by WikiLeaks, then chief of the British Defence Staff Jock Stirrup said Zardari was clearly a numbskull.
The unpopularity of his government may have only served to strengthen generals after Zardari committed the cardinal sin for any Pakistani politician of alienating the military.
At one point, army chief General Ashfaq Kayani hinted to the U.S. ambassador to Pakistan that he might have to persuade Zardari to step down because of political turmoil, according to a 2009 cable released by WikiLeaks.
But luckily for Zardari, it seemed the military concluded at the time that he was a better option than other political leaders it distrusted even more.
Soon after Pakistan's ambassador to the United States resigned in November after a Pakistani-American businessman accused him of being behind the infamous memo, many wondered if the resilient Zardari's time was finally up.
He is looking more vulnerable than ever. His dwindling popularity at home is matched by the all-time low in relations with major ally the United States.
A unilateral U.S. special forces raid that killed Osama bin Laden in a Pakistani town in May reinforced suspicion that Islamabad is an unreliable partner in the war on militancy.
However, a U.S. cross-border air attack in November that mistakenly killed 24 Pakistani soldiers has given the military a chance to reassert itself after the humiliation of the bin Laden raid, leaving Zardari and other civilian leaders to be blamed for Pakistan's problems.
MR. 10 PERCENT
Criminal cases could also haunt Zardari, who earned the title Mr. 10 Percent while Bhutto was in power, based on allegations he demanded kickbacks on state contracts.
After his wife's government collapsed in late 1996, he was arrested and charged with corruption, such as kickbacks in deals involving a Swiss company.
He was never convicted and denies the charges but spent the next eight years in jail. Zardari was also jailed on corruption charges between 1990-93.
He was also charged with conspiracy to commit murder after his brother-in-law, Murtaza Bhutto, was killed in 1996 but he denied any wrongdoing.
Zardari went into self-exile in Dubai after his release in 2004, returning in 2007 to preside over his wife's funeral.
In 2009, the Supreme Court scrapped a controversial amnesty law that had dismissed corruption charges against thousands of Pakistani politicians, including Zardari.
The big risk for Zardari now is that if what has been dubbed memogate does force him to step down, he would lose his presidential immunity and face corruption charges that could put him back behind bars.
Zardari and Bhutto had three children including a son, Bilawal, a 23-year-old graduate of Oxford University who is a co-chairman of the PPP with his father and looks set to launch himself into Pakistan's turbulent politics.
© Copyright Thomson Reuters 2023. All rights reserved.