Will The US Invade Syria? Defense Department Calls For Possible Ground Troops To Fight ISIS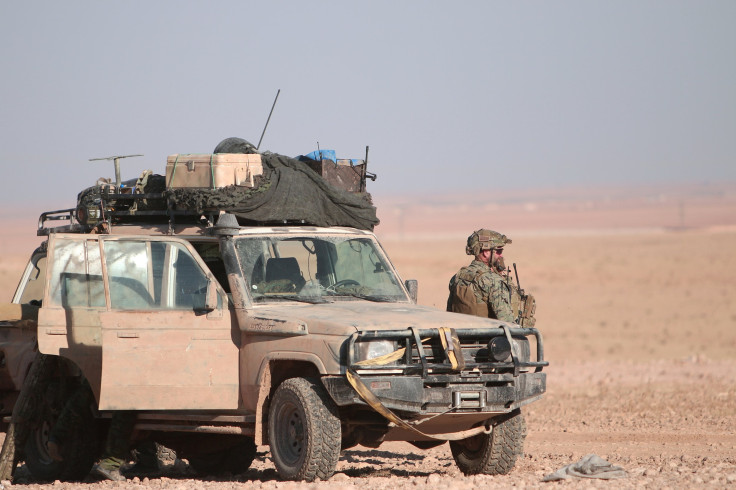 The Department of Defense revealed Wednesday it was considering deploying conventional ground troops in Syria to assist in the U.S.' battle against the Islamic State group, also known as ISIS, according to CNN.
In an executive order signed last month, President Donald Trump gave defense officials 30 days to formulate a comprehensive strategy on battling the jihadist group. Other than certain missions conducted by special forces units, the U.S.-led operation against ISIS in Syria, known as Operation Inherent Resolve, has largely been limited to air strikes on ISIS-held positions. Washington began its campaign against ISIS in 2014 under former President Barack Obama after the militants captured large swathes of land in Iraq and Syria. If accepted, the Pentagon's proposal would be the first major deployment of U.S. infantry in Syria since the conflict began.
"It's possible that you may see conventional forces hit the ground in Syria for some period of time," one defense official told CNN, with Reuters quoting an official as saying, "It's way, way speculative."
Of the multiple forces involved the nearly six-year conflict that has killed hundreds of thousands of Syrians and displaced millions more, it's not yet clear which faction the U.S. would align with. Russian President Vladimir Putin, who backs Syrian President Bashar Assad, has welcomed Trump's suggestion the two countries coordinate in fighting ISIS.
However, Trump has already faced multiple accusations that his administration was in contact with Moscow prior to the election. U.S. support for Russian and Syrian military movements would also mean coordinating with Iran-backed militias, something U.S. forces already do in their fight against ISIS in Iraq, but politically inconvenient given Washington and Tehran's recent escalations over Iran's missile program.
The White House has broken with the previous administration in saying it would be open to working with any country involved in the fight against ISIS, including Russia. Trump has expressed his support for Russia's foreign policy, including its efforts in Syria. However, he has not entered any sort of military alliance with Moscow. Neither has he endorsed Syrian President Bashar Assad, who Trump has joined in accusing the Obama administration of bolstering ISIS by supporting other Islamist rebel groups, which are also backed by Arab Gulf countries such as Saudi Arabia and Qatar.
In his first interview with U.S. media since President Donald Trump's election, Assad said Friday he would welcome U.S. troops into Syria if the operation was coordinated with Damascus' military ally, Russia. Moscow also intervened against ISIS in Syria in 2014, but did so at the request of the Syrian government and their joint forces. The Syrian leader said he saw Trump's commitment to fighting ISIS as "promising."
Meanwhile, Russia and Turkey, which supports opposition forces, have struck up an uneasy truce that has so far survived the killing of three Turkish soldiers last week by Moscow's warplanes under disputed circumstances that both nations agree were unintentional. The Russian-backed Syrian military and Turkish-backed rebel forces have both begun advancing on the ISIS-held town of al-Bab in northern Syria, seen as a gateway to ISIS' de facto headquarters of Raqqa.
As both sides anticipate moving on to Raqqa, nearby Kurdish forces, which are neither aligned to the government nor rebels, have recently requested U.S. support as well. The Kurds, for which northern Syria is home, have cautiously drifted closer to the Syrian government after their nemesis, Turkey began backing Syrian rebels and excluding the Kurdish-dominated Syrian Democratic Forces from U.N. peace talks.
The Pentagon has reportedly not yet presented the ground troops proposal to Trump and said it was one of several being considered for the upcoming administration's military strategy against ISIS.
© Copyright IBTimes 2023. All rights reserved.