Does the US Fund Terror? Erdogan Says Turkey Has Evidence Washington Supports ISIS, Kurds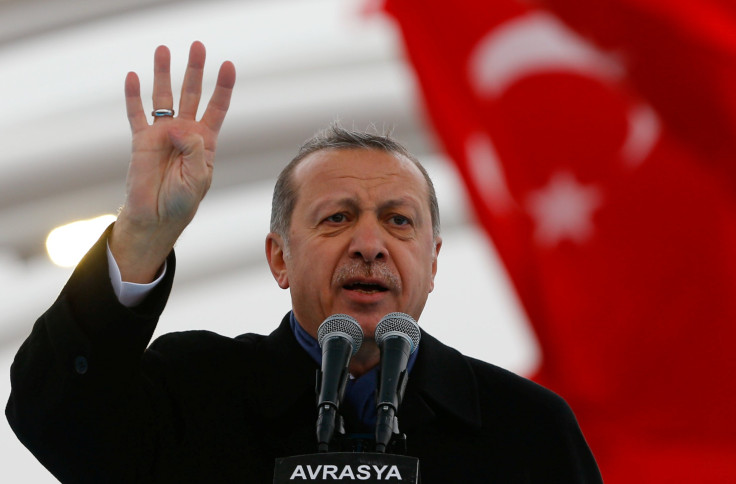 Turkish President Recep Tayyip Erdogan claimed Tuesday he had evidence that the U.S. supported terrorism in the Middle East by providing funding for the Islamic State group and Kurdish militants.
Erdogan told reporters at a press conference in Ankara that he allegedly had proof that the U.S. provided assistance to ISIS and Kurdish militant groups. Many of the Kurdish groups have been labeled by Turkey as terrorist organizations, including the People's Protection Units (YPG) and the Democratic Union Party (PYD). Both groups are active in northern Syria, where Turkey has launched a pro-Syrian opposition operation against ISIS positions.
"They were accusing us of supporting Daesh," Erdogan told members of the media while using the Arabic-language acronym for ISIS. "Now they give support to terrorist groups including Daesh, YPG, PYD. It's very clear. We have confirmed evidence, with pictures, photos and videos."
Turkey is considered a strategic NATO ally in the Middle East. However, Erdogan has previously expressed his discontent with Washington's policy. In October, he vowed to fight terrorism at home and abroad in spite of what he perceived as weakness in his Western allies. He also criticized the U.S.' decision not to include Turkey in operations against ISIS in the Iraqi city of Mosul.
Throughout Syria's five-year civil war, Turkey and the U.S. have been opponents of Syrian President Bashar Assad and have backed various rebel factions against the Syrian army and its allies, which include Russia and Iran. Recent major victories by the Syrian government and its supporters, however, have brought Turkey to the negotiating table.
Since pro-Assad forces expelled opposition militants from their former stronghold of Aleppo, Syria's former commercial capital and largest city, Erdogan has expressed his willingness to work with Damascus, Moscow and Tehran in reaching a solution to the conflict that has killed over 400,000 Syrians and displaced millions more. The Russian Ambassador to Turkey, Andrei Karlov, was assassinated an event in Ankara one day before Turkey, Russia and Iran were scheduled to hold major peace talks in Moscow, an act which both Turkey and Russia labeled as terrorist and an attempt to sabotage negotiations in Syria.
© Copyright IBTimes 2023. All rights reserved.