Windows 8 Release Comes With Upgrade Offer: How To Get Pro Version Starting Next Month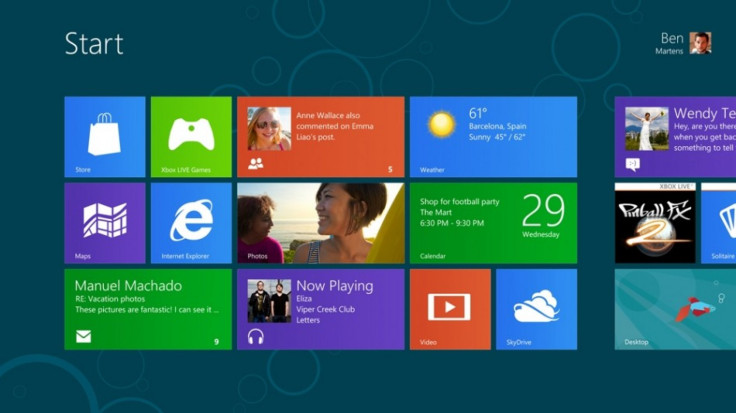 Microsoft's Windows 8 is expected to launch near the end of this year, but details have already leaked about the coming operating system: An offer pricing the Windows 8 Pro upgrade at $14.99 will run from June 2 to Jan. 31 of next year, according to The Verge.
A source familiar with the company's plans told the tech news website that any customer who purchases a personal computer running Windows 7 PC between those two dates will be eligible for the Windows 8 Pro upgrade for only $14.99. This offer does not apply to those who already own PCs running Windows 7.
PC purchasers during the promotional period will be invited to exclusive workshops to learn more about Windows 8. Each Windows fan will also get another reward -- a $20 Microsoft Store gift card for attendance at one of these workshops.
This offer could especially flourish as the back-to-school and holiday seasons approach. A brand-new Windows 7 PC could seem like an appealing Fathers Day gift as well, with the promise of an upgrade luring customers.
However, although a near-final Release Preview will launch in June, eager tech enthusiasts will have to wait before they can get their hands on the completed Windows 8. It is likely that Microsoft will launch its new line of Windows 8-based devices by the end of the year, fueling the rivalry with Google Android competitors.
According to Mobile Bloom, Jensen Harris, director of program management for Microsoft's user-experience team, said in a blog post that the new operating system would specialize in a combination of tablets and laptops. He added the hardware for these types of gadgets is not on the market yet, but it will be by the end of the year.
And it seems as if the company has some big plans in store for its next generation of gadgets. Microsoft Corp. CEO Steve Ballmer has an 80-inch Windows 8 tablet in his office, reported Wired UK.
He's got rid of his phone, he's got rid of his notepaper. It's touch-enabled, and it's hung on his wall, Microsoft Vice President Frank Shaw told the publication while describing Ballmer's lair.
Although a screen this size may appear to be grandiose, it is something the public may be seeing in time. It's his whiteboard, his email machine, Shaw continued, and it's a device we're going to sell.
The massive wall-mounted tablet isn't the primary target device for Windows 8 -- it's just another screen size supported by the OS. Windows 8 is designed for smaller tablets and laptops, and it can be used with low-power ARM-based central-processing units similar to those found in smartphones.
Every screen should be touch, every screen should be a computer and should be able to see out as we see in, Shaw said. That is the way the world is heading, [and] those screens are going to be big, small, wall-sized, and desk-sized.
© Copyright IBTimes 2023. All rights reserved.