Wiz Khalifa, Amber Rose Back Together? Ex-Couple Posts Intimate Snapchat Video; Kanye West Takes Credit For Truce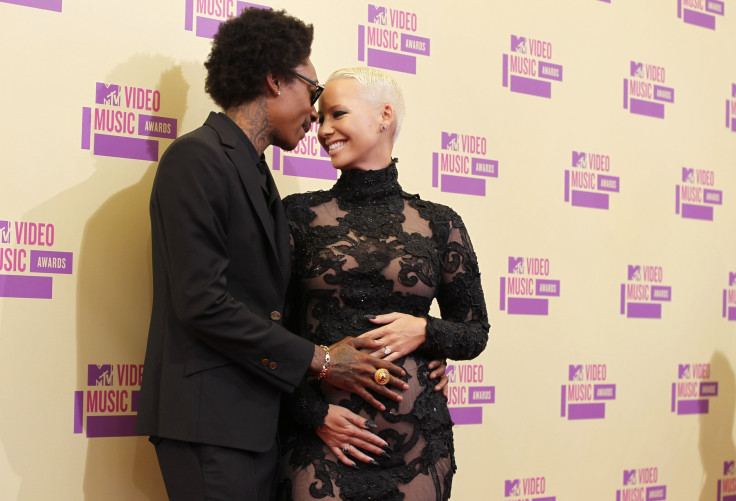 Wiz Khalifa and Amber Rose sparked rumors of getting back together after the former couple posted an intimate Snapchat video in which the model is kissing her ex-husband at a nightclub. Khalifa and Rose have been reportedly spending more time together following a Twitter feud with Kanye West.
Amid reports that the two may be rekindling their romance, a source told TMZ that Khalifa and Rose were not putting their differences aside, despite their display of affection for each other in the latest video.
"The two of them have buried the hatchet," the source told TMZ. "They get along as friends for the first time in a long time ... but that's it."
According to the source, Khalifa and Rose were beiing on good terms for the sake of their 2-year-old son, Sebastian.
"They're a little offended that Kanye West's taking credit for bringing them together ... the whole 'common enemy' thing… They just realized their son would suffer if they continued their war over him," the source told TMZ.
Rumors surfaced that West's feud with Khalifa helped the "See You Again" rapper and his ex-wife get back on good terms.
Rose and Khalifa ended their 14-month marriage in September 2014. Before marrying Khalifa, Rose dated West, 38, from 2008 to 2010.
Tensions between Rose and West erupted when the latter and Khalifa started a beef last month after the 28-year-old ranted about West changing his album title from "Swish" to "Wavy." Things escalated when the "Black Skinhead" rapper wrongly assumed Khalifa took a jab at Kardashian.
The feud heated up after West threw shade at Rose and her son with Khalifa. West also called Rose "mad" in tweets in response to messages she posted that were suggestive of their sex life.
Rose also slammed Kim Kardashian's husband by saying in an interview that she "didn't love" West during their two years relationship.
However, the feud ended as Khalifa said his beef with West was settled. Last week, West took to his Twitter account, writing it was all "positive" between him and Rose's ex-husband.
In a later interview, Khalifa was asked if he was surprised by West's comments that triggered the feud, and he reportedly said: "I think everybody was but it's cool, everything's cool, we spoke it's all good." He added that West apologized for his comments about Khalifa and Rose's child.
Khalifa also commented on Kardashian and Rose settling their feud, saying "they're all good, too."
© Copyright IBTimes 2023. All rights reserved.