Woman Seen Snubbing Meghan Markle In Viral Video Praised On Twitter: 'My Spirit Animal'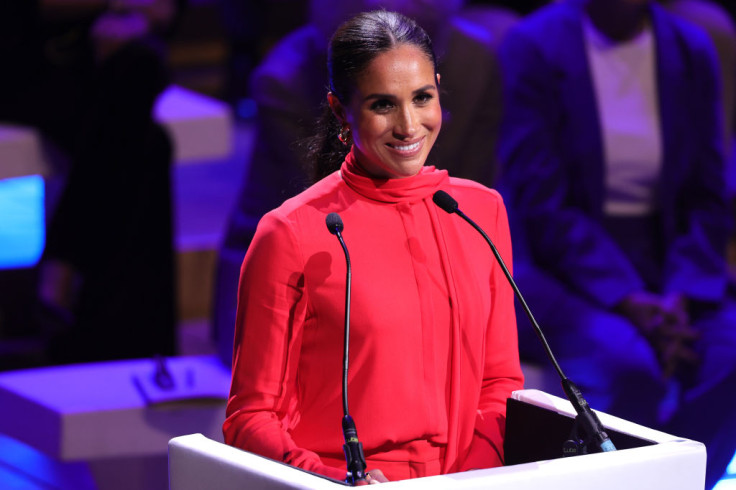 KEY POINTS
One royal well-wisher refused to shake Meghan Markle's hand during a walkabout outside Windsor Castle Saturday
Some Twitter users praised the well-wisher, saying they would do the same
Other royal fans found the woman's actions "rude" and "disrespectful"
A woman who was seen snubbing Meghan Markle in a moment captured by television cameras has received support from other royal fans on social media.
Markle joined Prince Harry, Prince William and Kate Middleton on a walkabout Saturday at Windsor Castle, where they greeted and gathered flowers from local residents paying tribute to Queen Elizabeth II after the monarch died Thursday at the age of 96. But while many of the mourners shook hands with Markle, some ignored the Duchess of Sussex.
In a viral video, one woman dressed in a blue shirt was seen dropping her head to avoid Markle's gaze when the duchess approached. After Markle moved on, the woman turned to the person next to her and seemingly smirked.
Some social media users appeared to approve of the snub, with one person tweeting that the woman "deserves a knighthood for not being a hypocrite."
"The Lady in Blue is my spirit animal!" read another tweet.
"Well done to this lady. Meghan and Harry have trashed this country and his family. Nobody wanted her or him after the hurt they caused," another commented.
"That lady is a hero! She did what we all hoped people would do and what we wanted to do. Love her!" a fourth person tweeted.
"Give that woman a medal. She's expressing the sentiments of the great majority of the British public," said another.
Others criticized the woman's actions, saying she was "rude" and "disrespectful."
"A royal well-wisher snubbing a member of the royal family. I'm sure the Queen would have expected better behavior from someone who was supposedly there to pay their respects to her," one person wrote.
Another added, "The woman is just showing ... how rude she is. Glad Meghan didn't let it bother her."
"RIDICULOUS woman EMBARRASSED herself," a third user commented, while another person said, "People refusing to shake her hand are so pathetic."
"It is funny, the same people who complain about people disrespecting the Queen, are loving the disrespect shown here," tweeted another.
Royal author and commentator Phil Dampier seemingly expected such reactions. In a previous interview, the "Royally Suited: Harry and Meghan in Their Own Words" scribe said he believes Markle would not receive a warm reception from the public during her return to the U.K.
"If she met most members of the public in the U.K., she wouldn't get good reception, but on stage with an audience that tends to be on her side - or is inclined to support her - she could get away saying very little and being applauded for it," Dampier told Mail Online.
Despite the snub, one well-wisher, a 14-year-old girl, made sure to make Markle feel "welcome" in the U.K. by giving the duchess a hug Saturday.
The teen later told reporters that it was "the right thing to do" amid "everything that's happened" between the former actress and the royal family.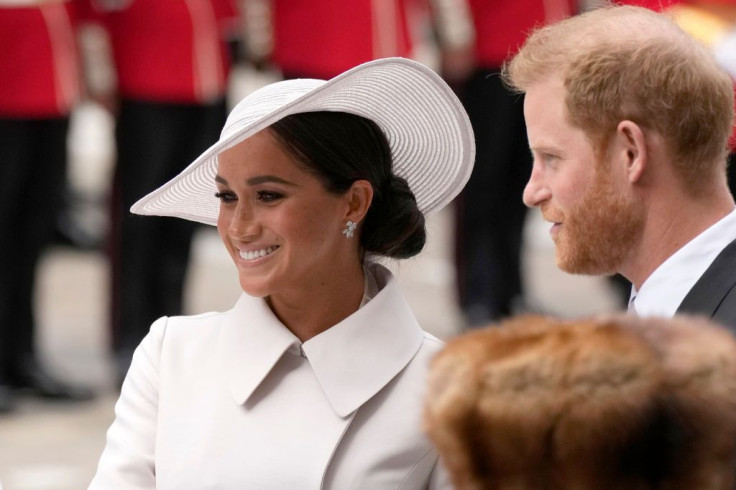 © Copyright IBTimes 2023. All rights reserved.