Woolly Mammoth Bones Uncovered At Oregon State University, Pictures Of Found Fossils Posted To Twitter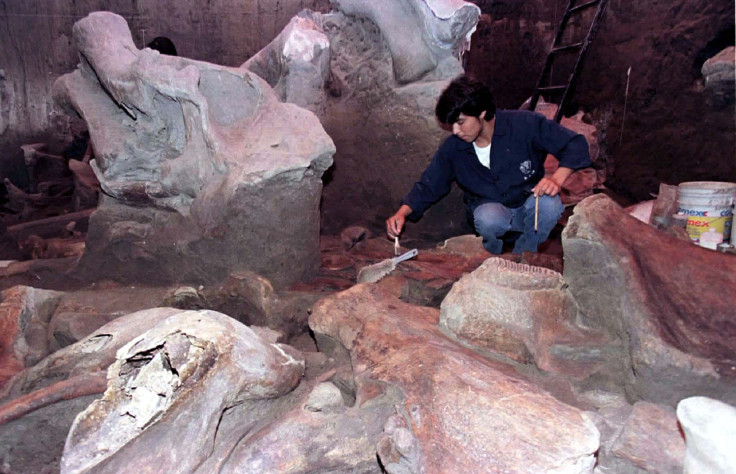 A construction crew at Oregon State University in the city of Corvallis has uncovered what appeared to be Ice Age animal bones, the Corvallis Gazette-Times reported Tuesday. Pictures posted on Twitter showed what appeared to be wooly mammoth's bones at the university's football stadium, Reser Stadium.
Crews uncovered a large femur bone from a wooly mammoth as well as bones from a bison and a camel, according to OSU spokesman Steve Clark, OregonLive reported.
"There are quite a few bones, and dozens of pieces," said Loren Davis, an associate professor of anthropology at OSU, adding that no human bones were discovered, OregonLive reported. "Some of the bones are not in very good shape, but some are actually quite well preserved."
The bones were found at the site of what will be the future locker room for OSU's football team, said Mark Massari deputy athletics director for OSU, the Corvallis Gazette-Times reported.
"Maybe the archeologists can tell you if it's good luck," said Massari.
The bones are believed to be at least 10,000 years old. Since the discovery does not include humans or human artifacts, the bones are not part of an archeological site, nor is the site entitled to any protections under Oregon's law. However, the university is treating the area as a paleontological site and has closed off public access to keep the area undisturbed.
In October 2015, remains of a woolly mammoth were unearthed by farmers in a soybean field in Lima Township, Michigan, the Detroit Free Press reported. Scientists from the University of Michigan and an excavator were able to recover about 20 percent of the skeleton, including the pelvis, skull, two tusks, numerous vertebrae, ribs and both shoulder blades.
Woolly mammoths have been found throughout Europe, Asia and North America. The woolly mammoth, one of the last in the mammoth species, had lived during the Pleistocene era. Researchers have reportedly claimed that woolly mammoths resembled a furrier version of the modern-day elephant and co-existed alongside humans before its extinction.
© Copyright IBTimes 2023. All rights reserved.