World Oceans Day 2015: Google Takes You Underwater To See Dying Coral Reefs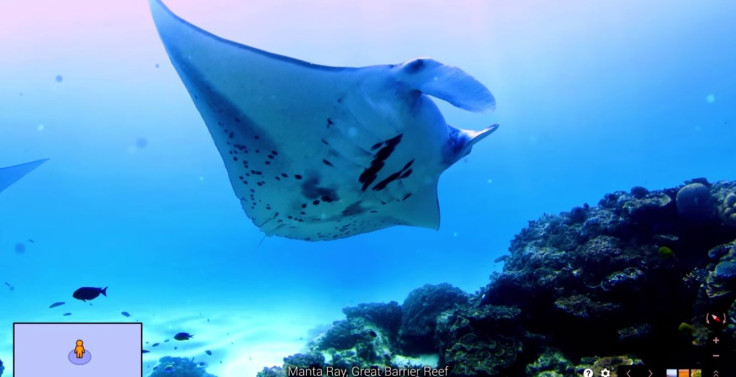 In honor of World Oceans Day, Google will now take you underwater through a collection of online, interactive maps released as part of its Street View program. You can explore 40 locations worldwide, including the Galapagos Islands, the Maldives, and the Great Barrier Reef.
The United Nations General Assembly designated June 8 as World Oceans Day in 2008, but the annual celebration has been recognized by several countries since 1992. The observation follows a global effort to raise awareness of challenges faced by the ocean and its inhabitants.
For the last four years, Google Earth Outreach -- a Google program dedicated to supporting nonprofits with resources to visualize stories -- has worked with Underwater Earth and XL Catlin Seaview Survey on an initiative to digitally map the oceans.
To see how the recordings are done, watch this video from Google:
"We map the ocean so we can better understand it, and we can protect it," the video's narration reads.
You can go to Google Views, and explore a section of Google Maps, to see and click through each of the underwater experiences. Once you select an experience, you can grab and hold onto the images to get a 360-view of the site. Some experiences include images of sea creatures and underwater divers. Each of the locations also includes a description.
Here are 10 of our favorites:
The digital records allow scientists to monitor changes endured by an underwater environment over time. For example, images taken a year apart at the same location in the Great Barrier Reef visualize the deterioration the reefs have experienced due to storms and rising water temperatures.
This public feature was made possible in a partnership with XL Catlin Seaview Survey, the National Oceanic and Atmospheric Administration's Office of National Marine Sanctuaries and the Chagos Conservation Trust. Google is working with more partners to expand its underwater Street View program and publish more imagery, the company announced in a blog post Thursday.
© Copyright IBTimes 2023. All rights reserved.