The World's Largest Cruise Ships: A look Inside [PHOTOS]
The devastating images of the Costa Concordia cruise ship sinking off the west coast of Italy are more than just a disaster for the ship's owner. The terrible accident threatens to inflict damage on the industry as a whole.
The cruise line industry has seen amazing growth over the last 40 years. The number of people taking cruises rose from 500,000 in the early 1970s to nearly 5 million in 1990 and a whopping 19 million in 2010, according to the Italian Cruise Watch report of tourism think tank Risposte Turismo.
With the increased demand has come new ships and an ever growing fleet of floating cities.
In order to attract more customers the industry changed its face over the years, offering new liners with more space, comfort, and entertainment options all while creating scale economies in an effort to cut fares. The result is the megaships we see today with swimming pools, restaurants, discos, movie theaters and more.
The world's top five largest cruise ships were all built within the last six years. The largest, Royal Caribbean's Allure of the Seas, debuted in 2010, snatching the title from another near-identical Royal Caribbean vessel, Oasis of the Seas.
Allure of the Seas is the largest passenger ship ever constructed and boasts seven distinct neighborhoods, 25 dining options, and roughly 2,400 crew at your service.
Several industry officials worry that the disaster on the Costa Concordia, the biggest of the Costa Crociere fleet, will slow the growth of super cruisers in favor of smaller vessels where managing passengers on board is simpler.
In the face of an uncertain future, here's a look inside the world's largest cruise ships: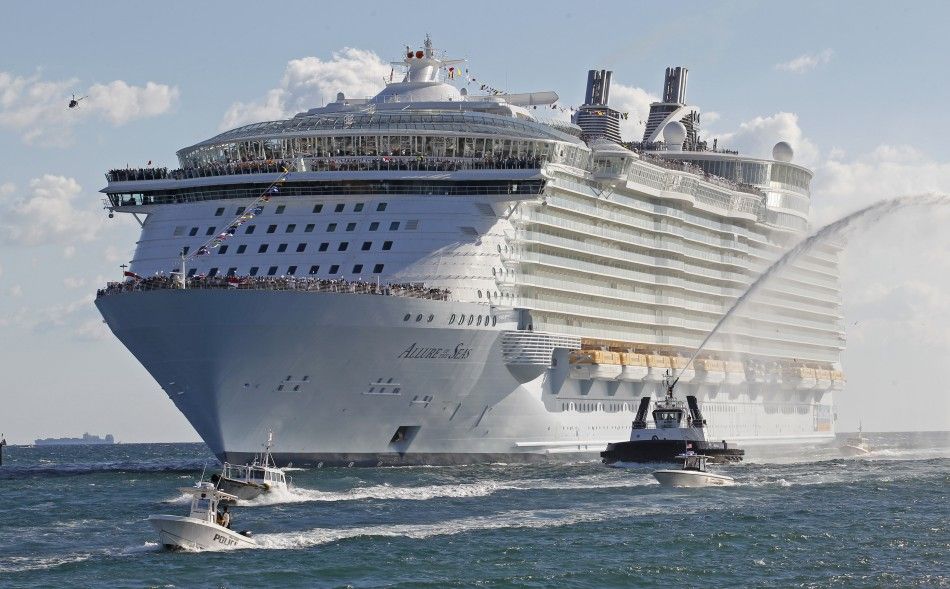 © Copyright IBTimes 2023. All rights reserved.