World's Next Tallest Building, Sky City, Draws Criticism Over 9-Month Construction Goal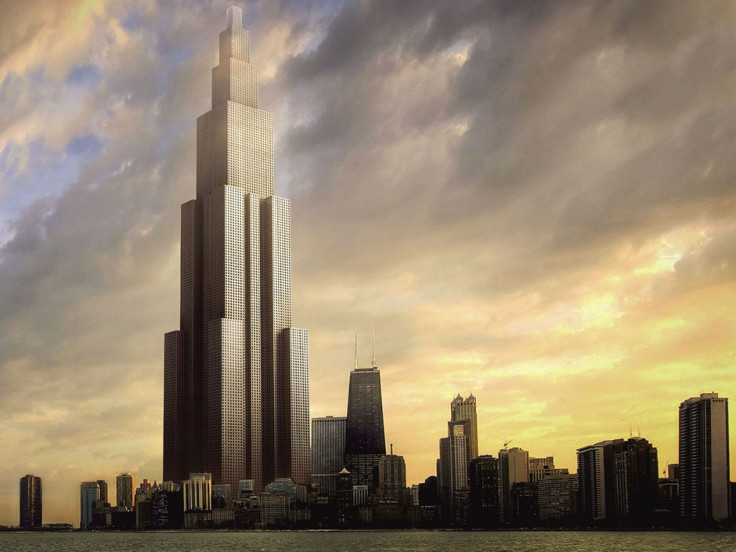 It's a plan so audacious many Chinese don't even think it's possible, but that didn't stop Changsha-based construction company Broad Sustainable Building from breaking ground Saturday on the world's next tallest building, to be completed in just nine month's time.
The firm, a wholly owned subsidiary of Broad Group, initially set a goal of 90 days for the 208-floor, 838-meter (2,749-foot) Sky City tower. As nearly everyone predicted, however, that never panned out.
Saturday's long overdue stone laying ceremony reignited suspicions about the project, with many Chinese saying they didn't think the new plan for nine months of construction was possible either. By contrast, the world's current tallest building, the 829.8-meter (2,722-foot) Burj Khalifa in Dubai, took five years to complete.
"Placing the emphasis on fast progress means sacrificing quality," architect Lu Meng warned on China National Radio. "Human beings can't always decide everything."
His fears echoed those of many others who believe Broad Group is aiming for spectacle rather than structural integrity. China, after all, has experienced numerous infrastructure failures in recent years, largely blamed on rapid construction schedules.
Even the People's Daily, the official mouthpiece of China's ruling Communist Party, criticized the "blind worship" of ultra-high skyscrapers on its Sina Weibo account, China's most popular microblogging platform. Research group Emporis predicts that China will boast four times as many skyscrapers as the U.S. within five years, and Broad Group hopes to redefine how they're made.
The company -- whose founder Zhang Yue is said to have commissioned a classical palace and replica Egyptian pyramid on the firm's corporate campus -- insists its first skyscraper project is sound. Yue issued an open letter on Broad Group's website to address concerns, saying the construction will be so quick because 90 percent of the building is made from Lego-like units pre-fabricated in a factory, while just 10 percent involves on-site construction work.
Some 20,000 workers will spend four months producing the units, while 30,000 workers will finish fabricating them and complete other construction on-site for another four months. The entire project is estimated to cost $850 million (Burj Khalifa cost $1.5 billion) and is expected to be complete by next April for an opening date in June.
The resulting tower will be able to withstand a magnitude-9 earthquake, high winds and fire for more than three hours, according to its developer. The massive structure will contain six floors underground and 202 above to accommodate some 30,000 people transported by 104 high-speed elevators. The Sky City is meant to be just that, a city, with a vertical garden, schools, an elderly care center, malls, a hospital and offices, as well as apartments and hotels on the upper levels.
Broad Group gained worldwide attention two years ago when it constructed a 30-story hotel in just 15 days using similar prefabricated units stacked on top of each other. It announced plans for Sky City soon after, though construction has been delayed several times following claims that the initial 90-day plan was too ambitious and that the grounds on the edge of Changsha would not be able to support the immense weight. Interestingly, the South China Morning Post claimed there were still sheep grazing on the construction site on July 1.
Beyond the structural concerns of building a skyscraper so fast with relatively untested technology, others are worried the project is more ostentatious than practical given the current Chinese economic slowdown. The People's Republic is already littered with newly constructed ghost towns and empty megamalls, including the world's largest.
"The obsession with being number one is actually a manifestation of a lack of confidence," columnist Wang Qi wrote in the People's Daily earlier this week, according to a Bloomberg translation. "For example, in Europe and the U.S., no matter how vigorous their economies, they don't madly pursue 'the tallest building.' The reason is that their strength does not need to be proved via 'the tallest building' and 'the largest project,' because they've already won the respect and admiration of small countries."
China's "tallest building" schemes are plentiful and ever-changing. Recently announced projects include the Shanghai Tower (632 meters/2,073 feet, due 2014), the Golden Finance 117 in Tianjin (597 meters/1,958 feet, due 2015), Ping An Finance Center in Shenzhen (660 meters/2,165 feet, due 2016), and the Greenland Center in Wuhan (636 meters/2,086 feet, due 2017). By contrast, the United States' largest tower, the soon-to-open One World Trade Center, is just 541 meters (1,775 feet).
© Copyright IBTimes 2023. All rights reserved.
FOLLOW MORE IBT NEWS ON THE BELOW CHANNELS